Neapolitan cooking to support CAFOD Lent Appeal
Mariacristina Lubrano works in the Digital team at CAFOD. She is a proud Neapolitan who is writing a cook book of recipes that she has learned from her grannies and mum since she was 13 years old. In her first ever attempt at fundraising for CAFOD, she has doubled her cooking for Lent and will give what she raises from selling her goodies to CAFOD Lent Appeal.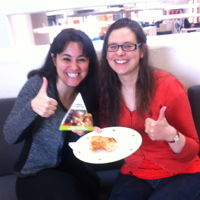 Making lunch for my colleagues: my Lent promise!
When I look back at the day I committed to my Lenten promise, I'm not sure what I was thinking…wait, I actually do! Because this year the UK government is matching every pound raised in support of our Lent Appeal, after some thought, I told my colleagues that I would double the amount of Neapolitan food from the recipe book I am writing and share it with them all to fundraise towards our Appeal.
I was so excited to know that my colleagues would taste some of the family recipes I grew up with and I was taught by my grannies and mum. But more importantly the idea of having double the impact on the lives of people like Martin and Kyin Nu and their communities in Myanmar meant the world to me and got me even more motivated towards my fundraising target.
My Lent plan
My plan did not sound daunting or too strange at the time, but back from work on Tuesday night and ready to start making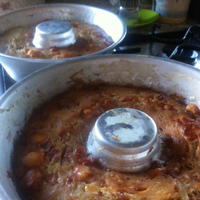 the Babà Rustico – a dish from my childhood I had often eaten but never actually made – I suddenly thought: "I have a feeling this is going to be a tough one." And I was right. Tired from a long day at work it felt as though I would never get there, but in the spirit of Lent, however difficult something might be, we do not give up and keep going, right?! It was a long night and woke up really early in the morning but in the end it was all a labour of love and the time and effort I put in the dish was all worth it!
The next day the lovely colleagues who had committed to giving up buying their lunch from the supermarket were very pleased with my Neapolitan Babà. Watch the video below to see the expressions of Ivan and Mark that really say it all! And I managed to raise £15 pounds, which when matched by the UK government will be £30 pounds!
Learn more about our Lent Appeal and donate.
Watch the video to see how it all went on the day
[youtube https://www.youtube.com/watch?v=ascaq6kNOMo&w=560&h=315]
Want to try it yourself?
Have you ever thought of making lunch for your colleagues to fundraise for the CAFOD Lent Appeal? It has been heartwarming so far to see so many colleagues of mine supporting me, encouraging and helping me raise money for the charity I work for and believe in, despite the hard work and little challenges I have faced.
Take a look at our half way reflections on our Lent challenges and the progress of our Lenten journey.
The recipe for Baba' Rustico
Ingredients
500g flour ('00' grade)
100g butter
100ml sunflower oil
150ml milk
4 eggs
15g dry yeast
2tsp sugar
1tsp salt (heaped)
Filling
450g meat (your choice, but a mix of salami Milano and ham chopped in cubes is best)
350g cheese (matured / smoked works well)
50g parmesan
pepper optional
28cm Babà tin (or equivalent round tin with hole in middle)
Instructions
In a bowl, in this order add eggs, oil, melted butter, yeast, sugar, flour, salt, and 100ml of milk and pepper. Start mixing it until you obtain a sticky dough. Add extra milk if the dough is too dry. Add the cheese and meats and mix it all together. Line your tray with butter and flour, pour in the content evenly and cover with a tea towel. Store in a warm place, away from draughts, for at least 2 hours, by when it should have risen to double its size. Warm up the oven to 180˚C (160˚C for fan ovens) and bake for 40 minutes, until golden. Let it rest and cool down for a bit before taking it out of the mould and serving. This is a great starter, or dish for a buffet.
Buon appetito!
Your Lent challenges
Keep coming back to our blog to find out how CAFOD staff fare with their challenges during the second half of Lent. What did you cut out or double up this Lent? Have you had set-backs? What do you feel you're gaining from the experience? We'd love to hear from you! Send us a message in the comment box below or on Twitter, Facebook, Google+ or Instagram.