Lent 2015: The one thousand pound tea challenge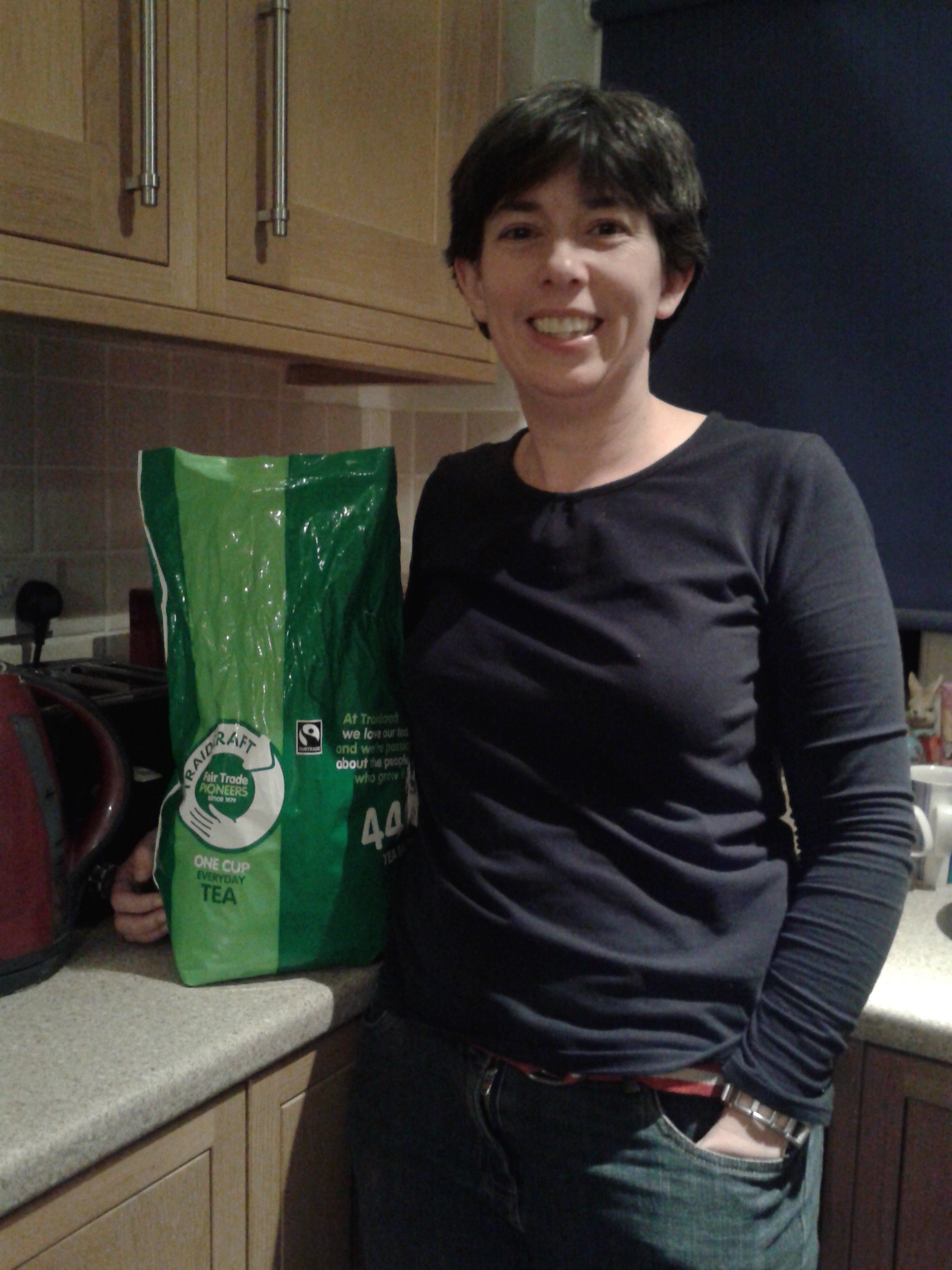 Sarah works in CAFOD's Campaigns team.
It's five weeks now since I cut out drinking tea for Lent, in order to raise money for CAFOD's Lent appeal and generate support for our One Climate, One World campaign to tackle climate change.
Progress so far:
Money raised: £496.10 (doubled by match funding from the UK government, to make £992.20)
Cups of tea not drunk: About 185
One Climate, One World petition signatures: At least 20
Days to go: 9
My fundraising has been going better, much better, than expected, which almost makes up for the caffeine withdrawal. I just need £3.90 more to raise a total of £1,000 towards CAFOD's work. Sponsor me now
£1,000: that's a lot of money. I ask my family what they'd do with £1,000. "I'd get i pads," says my older daughter without missing a beat. My younger daughter takes a little longer to think. "Do we have cucumber?" she asks finally. "I'd like to get a cucumber." I suggest that if she had a thousand pounds she could buy more than just a cucumber. She looks hopeful: "I could get two cucumbers?"
My other half would probably spend it on a new bathroom. And me, well, £1,000 could get about a hundred 1kg bags of teabags (I've got one already – pictured above). That would do me nicely.
But what could CAFOD do with £1,000?
You may have already read about U Than Win, leader of a small village in the jungles of Myanmar. When Cyclone Nargis hit, he picked up his daughter and ran:
"I ran with my daughter to the church. We sat together and I wrapped her in a sheet. She kept saying to me 'I'm cold, I'm cold.'"
After a long night huddled together, battered by wind and rain, unsure if they would survive, they emerged to face a new and terrifying world where all that was familiar had been destroyed.
Since I've become a parent, I've found experiences like this harder to read.
Questions pour into my mind. How do you keep your child safe in the face of disaster? How do you explain to them that there's no food when they're hungry? How do you help them understand why they can't return home or what has happened to their friends who didn't survive? How do you tell them that everything's going to be okay in the end, when you have no reason to believe that it will be?
Questions I hope never to face
I am so thankful that I have not had to face these questions. But parents across the world are facing them everyday.
In regions like Myanmar and the Philippines, which are increasingly vulnerable to storms and cyclones; in countries like Syria and Sudan where conflict pushes families from their homes; and in places like Niger and Kenya, where a changing climate is making seasons unreliable and hunger more common.
The money that I'm raising this Lent, alongside people across England and Wales, could help parents like U Than Win protect their families.
It takes close to £1,000 to supply equip every family in a village like U Than Win's with family survival kits, school lessons on cyclone survival and training in how to live and farm in ways which protect the environment.
Power into people's hands
We can't stop the storms. But we can put the power back into people's hands to protect themselves and their families when disaster strikes.
We can give our money, and we can also stand alongside communities like this by challenging our politicians to take the action necessary to deal with the root causes of climate change. Please add your voice and email party leaders now
That's got to be worth more than a new i pad, a cup of tea or even one, no two, cucumbers.