CAFOD young climate bloggers honoured for their commitment to care of the environment
Maisie, Hollis, Hannah & Theo, of SS John Fisher and Thomas More School, are CAFOD young climate bloggers. They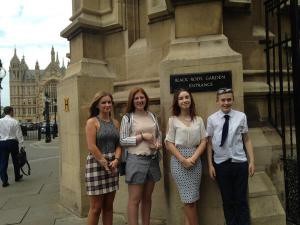 deliver assemblies to raise environmental awareness in their school community, and blog about what they are doing. Quickly realizing that this was an issue bigger than just the school community, the group invited Andrew Stephenson MP to a Q&A session during which he was asked to outline the government's plans for minimising damage to our planet. He went away and brought the questions to Prime Minister's questions. The group was recently honoured as part of Million Minutes' Celebrating Young People Awards, which celebrated how young people live out Catholic Social Teaching every day through taking social action. They were co-winners of the Caring for the Environment award. Here's what Hannah and Hollis had to say:
On 1st July, we embarked on our long awaited journey to London. We were ready to take our first steps into the House of Lords, to celebrate our work on climate change as nominees for the Barbara Ward Award for Caring for the Environment.
As only two people were permitted to attend parliament. Hannah and I (Hollis) had to occupy ourselves in London for 5 hours, which certainly isn't a bad deal! We both agreed we wanted to see Covent Garden, as we've heard it's one of the key places to visit in the capital city. Whilst in Covent Garden, which was amazing, we enjoyed the entertainment and some very much needed ice-cream before freshening up to go and meet Maisie and Theo, for the award ceremony at the Prince Charles Theatre, in Leicester Square.
Sign CAFOD's climate change petition
And Maisie and Theo talk about their visit to the House of Lords!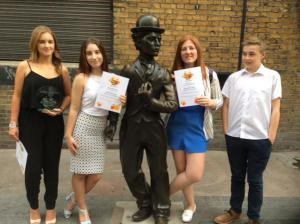 We landed at Euston feeling refreshed and looking smart, ready for our adventure into Parliament. Then we went into the House of Lords, firstly entering the committee room, where we discussed our achievements with the other young people that were also nominated. It was very inspirational to listen to what the other nominees has been up to in their communities.
Join Pope Francis's environment call to action
We then had afternoon tea, which consisted of scones, cakes, tea and sandwiches, which gave us more time to get to know everyone around us. It's great to see other young people who have been empowered to make a difference in our world.
When everyone had finished, we made our way to the Prince Charles cinema in Leicester to meet Hannah and Hollis to receive our award for Caring for the Environment. We felt very privileged to be able to share in this day with other young people, and win the award, it is great to know that our work has inspired others to act for climate change.
Call on the Prime Minister to take action on climate change
To quote their school chaplain: "The bloggers have a determination to make a difference in our world however small…. small things with great love".