Step into the Gap: a gap year with a difference
Applications for the CAFOD Gap Year, Step into the Gap, are now open. Julia Corcoran took part in the programme in 2013 /14, and in this blog describes her experience.
Two years ago I wrote a reflection on why I was really excited to be travelling to Sierra Leone. In those two years my life has taken a completely different turn and that's mainly down to my experiences on Step into the Gap.Find out more about Step into the Gap
During my time on the programme my placement was at YMT, (the Youth service for Hexham and Newcastle) running retreats in the Emmaus Youth Village where groups of young people come to take time out, reflect on their lives, realise the impact they have on the world and hopefully the impact God has in their lives. During my time there I had a variety of opportunities to work with young people from leading Morning Prayer, helping to run youth festivals and running workshops, as well as going into schools for assemblies and speaking during Mass in the local parishes and at the Cathedral.
One of the privileges of being on the programme was the chance to go to a country where CAFOD works. In January 2014, alongside three other people of my age and one accompanier, I went to Sierra Leone. I absolutely loved my time there – it was eye opening in so many different ways and especially as it showed me where my passions lie and therefore helped me in deciding what I was going to do next. One of the people I travelled with, Eleanor made a video about our time there.
[vimeo 100196805 w=500 h=281]
After my year with CAFOD, I went back to university to complete a Masters in Rights, Gender and International Law. I can honestly say that without the programme and my experience in Sierra Leone I probably never would have decided to go back to study, let alone study the masters that I did.
I'm currently working with the Columbans as a Justice and Peace Educator and for the Catholic youth Ministry Federation. The experiences I had during my placement at YMT definitely help me with my current role and I'm enjoying going into schools leading retreats, running workshops and working with staff on INSET days.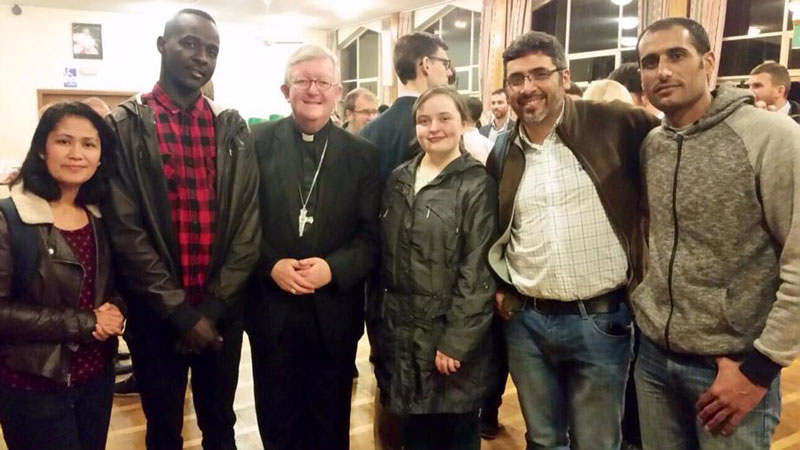 I would really encourage people to apply for the Step into the Gap programme. It is a fantastic opportunity. Whether you know what you want to do next or like me are unsure, it will help you with whatever you do in the future. You'll learn so much, experience so much and be so much more.
The deadline for applications is 11 March 2016, but you can apply to be a Step into the Gap volunteer today.