Lent 2016: Walking to Work for My Water Challenge
Laura Ouseley works in CAFOD's Media team. She shares with us her experience of walking more than 12 miles to work for her Lent Water Challenge.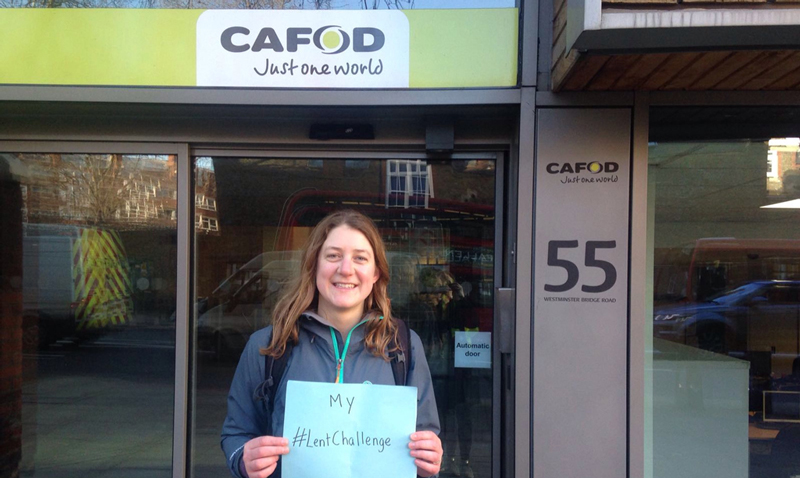 Alongside some of my colleagues (many of whom are taking on much bigger challenges than I am), this Lent I volunteered to take on my own Water Challenge in solidarity with people who don't have access to safe water. For my challenge I decided that, rather than take the tube, I would walk my 12 mile journey into work!
Support CAFOD's Lent water appeal
This Lent, we're telling the story of girls like 14-year-old Proscovia from Uganda, who had to walk every day to collect water for her family until CAFOD's partner built a water pump near their home. Leaving at 6am, it would take her 4-5 hours to collect water and as a result, she would miss hours of school.

Giving up 5 hours of your day
Proscovia's story made me think about what part of my day I would be willing to give up, if instead of sleeping, working, exercising, eating, or socialising, I had to walk for five hours to collect water to drink, cook and clean.
Sleeping just three hours a night is not something I could manage, and reducing my work day by five hours would mean I couldn't pay my bills! But giving up the time I have in the evenings – when I meet friends, play football, eat dinner, and spend time with family – that would be really tough.
So for my Lent Water Challenge I decided to give up some of my day by walking to work rather than getting the tube, from Zone 5 to Central London. Online maps told me the journey was 12.7 miles and would take four hours, so just as Proscovia did, I got up in the dark and started walking at 6am.
What better way to spend the morning than watching the sun rise over the A1000!
In fact, I really enjoyed the journey, walking down London streets I had never visited, being amazed by the strangely happy early-morning joggers, walking past one of Charles Dickens's homes, and watching the Night bus go past, packed with Londoners either returning home from night jobs or nights out. It also gave me plenty of time to think about why I was walking in the first place.
Support life-changing water projects this Lent
Walking for a better life
Walking long distances for water, to school, or for a safer place to call home, are frequent needs of many of the people CAFOD's partners are supporting, particularly those fleeing conflict or natural disasters.
Walking to work this week was a choice for me, but for many girls around the world, walking long distances for water, school or work is a hard, sometimes dangerous part of daily life.
My Lent Water Challenge made me think about the difficulties faced by so many women and girls, and the devastating impacts that lack of access to water can have on their education, health, safety and wellbeing. Improving access to water for women and girls helps them reach their true potential in all aspects of life.
Donate to our Lent appeal today and the UK government will match what you give, £1 for £1.