Lent 2016: My water challenge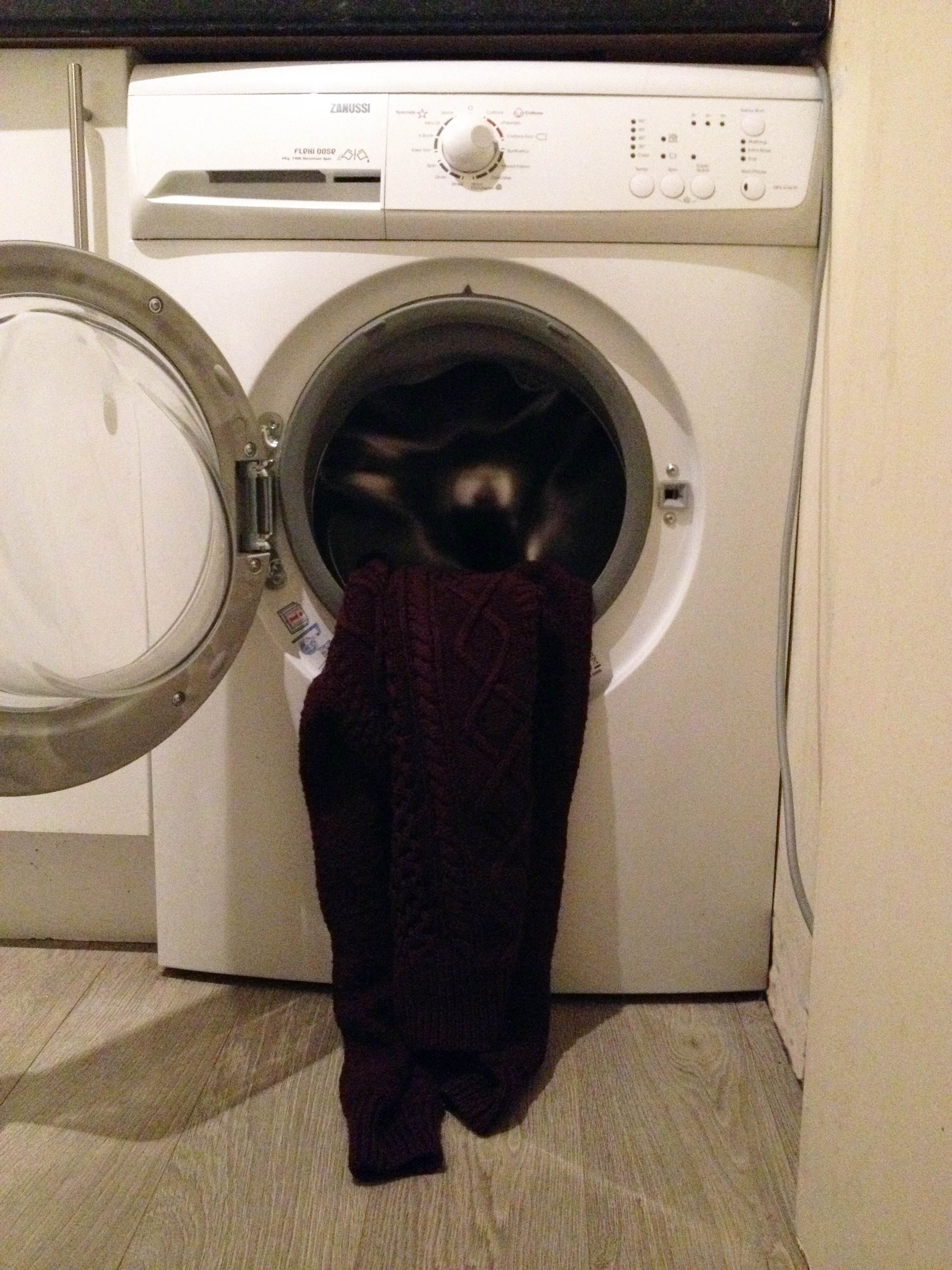 I sat on my kitchen floor last Friday morning looking into the washing machine. I don't know why, but I tapped the door, it seemed to make sense at the time. A shirt, my favourite jumper, a pair of trousers and about a week's worth of socks were stuck in there. The water they were soaking in moved slightly. They had been there since Wednesday.
I had water problems – serious ones. The sink wasn't draining, so the washing machine wasn't either. I couldn't open the washing machine door, so I couldn't do any washing. And because I couldn't run the water in the sink, I couldn't do the washing up.
Serious problems.
Sponsor me and the UK government will match your money
When the plumber arrived, I was wearing my second-favourite jumper. I felt a little embarrassed – it had some kind of food matter near the collar. I almost offered him a tea, but to be honest, I just wanted the job done.
While we chatted – mainly about my serious water problems – I remembered Proscovia in Uganda. How when she had to collect water, she couldn't go to school. She would be late because her family desperately needed water.
I would be lying if I said I pulled myself together there and then and said, 'Perspective please, perspective.' I wanted the plumber to fix the sink so that I could wash my favourite jumper and make a tea.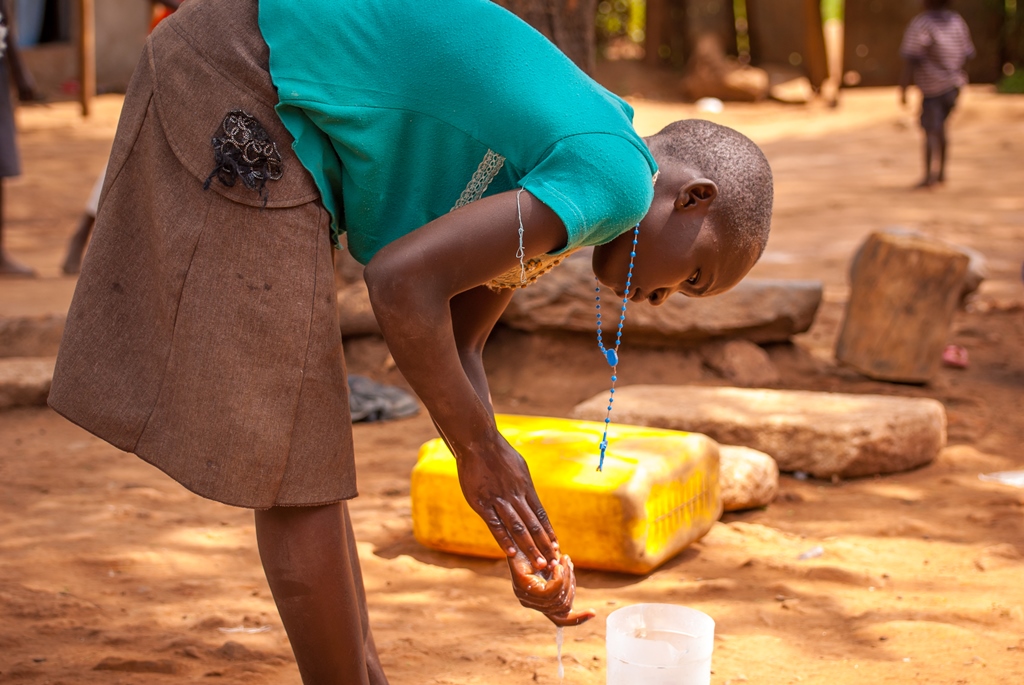 Proscovia's experience of drought
But afterwards, I did think about Proscovia and her family…
If there is a drought, I walk for two hours, wait an hour and walk two hours back with my jerry can. I make this journey twice a day.
Please donate to our Lent appeal
I get back home at midday, take a drink, maybe clean the home, give my animals a drink, then I set off again to find water.
I have no time to earn money to buy food. No time to farm – my crop dies, or is eaten by pests. No time to fetch wood for a fire to cook or stay warm. No time to get money to pay for my children's education. No time to get money for medicines I might need.
My life is focused on water – focused on staying alive.
Serious problems.
The challenge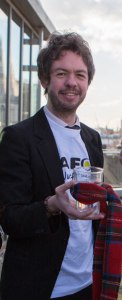 So starting at 00:01 on Friday 11 March and lasting a week, my Lenten challenge will be a #coldwaterweek. The name comes from the principle part of the challenge – cold water, but it also signifies no energy, or low energy usage.
Here are the rules for this seven-day challenge:
Only cold water. I'll only shower with cold water. I'll wash my cups and plates cold water. I'll wash my hands in cold water. Clothes washed in cold water. I'm sorry about this work colleagues and anyone who sits next to me, there will be moments when my pain is your pain.
Only cold floors, cold walls and cold rooms. Heating relies on hot water in my home. That's going off. No room will have heating and I will spend as little time as possible (apart from work) in heated rooms. This reminded me of Razir and her family in the Bekaa Valley in Lebanon and how because the family needed food and water, they didn't have time to collect firewood. Her home was freezing.
Only raw food. I think here it reminds me more of the Ta Loke Kone village in Myanmar after Cyclone Nargis. They couldn't find fuel to cook with and had to eat rice soaked in stagnant water. I've tried soaking rice in water to make it edible. You can eat it, but it's revolting. All my food will be raw. No bread. No cheese. No vinegar. No salt. No food from kind friends. Have no fear, I have a wonderful recipe for oat 'milk' or 'bland-oaty-white-drink' as I like to call it, that I'm willing to share with anyone.
Only natural light when not in work. In many of the villages I travelled to in Uganda, the people lacked fuel. Some might have batteries, but not very many. Likewise in Myanmar, there was little power – the community had to pay for fuel to run a generator.
Walking – no transport. Again, if a family has to collect water, they have very little time to earn money, so they wouldn't be able to hire a motorcycle taxi to take them to hospital if they were ill. I will walk everywhere.
I can use a computer at work and the telephone, but have to minimise its usage. I can't really get round this one, however, I will turn off my computer at lunch and will leave the building. I can also use a camera to record my progress.
Use public phone boxes. While mobile technology is available to many people in even the poorest countries in the world, there is still the matter of paying for it. So, I'm going to turn my mobile off. A confession: I can't say I'm that sad about this part of the challenge.
Send letters to people and use public phone boxes. If I need to make an arrangement to meet anyone, I will send a letter, or prearrange the meeting.
Donate today and the UK government will double your impact
What am I looking forward to?
Turning my mobile phone off.
I want to learn things. I know that women and girls have to spend a lot of their lives collecting water. I know that this has a huge impact on their lives. I know that I take things for granted. But I want to learn more about life for women and girls and the things they miss out on.
But I also want to learn something about my own life. When the lights are out at night and I can't read because it's dark, I want to use this time like my very own urban retreat. Whether I'm walking on the street, or sitting in my home, I want to use it almost like a retreat.
What am I not looking forward to?
The cold. Raw food.
Luck and progress
Do wish me luck…I'm going to need it.
Follow my progress on our blog – I'll write when I have access to a computer.
Please consider a donation today to help people with real water problems