Schools volunteers take our Lampedusa Cross pilgrimage
Susan Kambalu works in our schools team, and recently joined CAFOD schools volunteers reflecting on the refugee crisis with our Lampedusa Cross pilgrimage resource. She describes her thoughts and feelings as she went through the stations.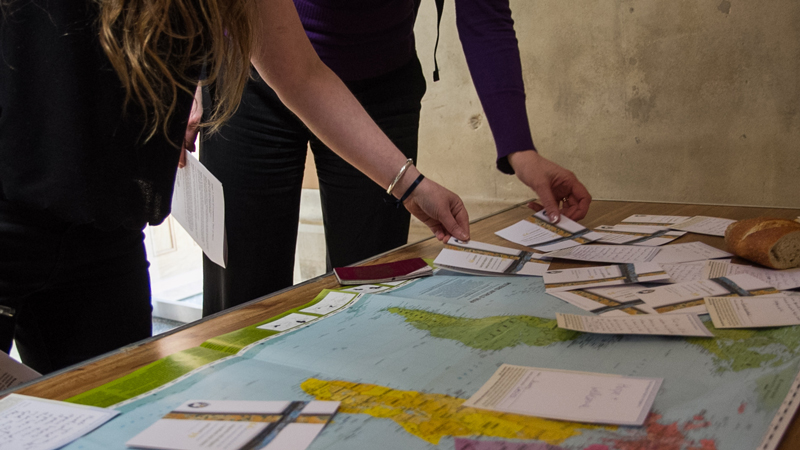 "Look down at what you are wearing. If you have a bag with you, consider what is in it."
It was a warm day; I wore a dress and cardigan but no jacket, and soft shoes. They would not last long if I had to flee like Amina, a refugee in Darfur; if the weather changed I would have no protection against the elements. I happened to have my passport in my handbag that day, an unusual occurrence for me, but an important document that links me to the country of my birth. I had my house keys: but what use would they be if I could not go home? My wallet had a few coins, a bank card, a passport photo of my husband – the money would not get me far, neither would the contents of my bank account if I could no longer go to work. My mobile phone would provide a link with my family, directions to another destination, photos that would provide me with memories of my life and home – but only until the battery ran out, as I had no charger with me.
What prompted me to reflect on my clothes, my handbag? To wonder how I would get on with only the items I had with me, away from home? I was taking part in our new Lampedusa Cross refugee pilgrimage, an ideal opportunity to reflect on "welcoming the outsider" during this Year of Mercy.
Download CAFOD's Lampedusa Cross pilgrimage for young people
It has been a privilege to be involved in this term's training days for our school volunteers. Last week I spent the day with about fifteen volunteers in Portsmouth diocese; last month I spent a day visiting our Birmingham volunteers. Over the past term, 100 schools volunteers have been trained in leading this poignant pilgrimage. They now have the resources to support your local Catholic primary or secondary school in learning more about the current refugee crisis and praying for those looking for a safe place to stay.
Contact your local volunteer centre to book a schools volunteer to lead a pilgrimage
Before we set off on our pilgrimage, around the beautiful St Bede's Church in Basingstoke, I asked the volunteers to imagine they were school children in the schools in the diocese that they might visit. What are your dreams for the future? I asked them. One volunteer suggested, "I want to be a footballer." We then watched a video of children who had arrived on Lesbos sharing their hopes and dreams for the future. One of the boys said, "I want to be a footballer."
[youtube https://www.youtube.com/watch?v=zhEDB_H0A8M?rel=0&w=560&h=315]
Having set the scene, we entered the church. The stations start with a world map. We considered the ten countries where most refugees currently come from: Syria, Afghanistan, Somalia, South Sudan, Sudan, Democratic Republic of Congo, Central African Republic, Myanmar, Eritrea, Iraq. Then we heard the words of a refugee from Darfur, Amina: "I was sleeping when I heard our village being attacked. I didn't know who was shooting at us or why, their faces were covered. First they came on camels and horses, then they came in heavy vehicles, and then they came on foot. There was so much screaming, people running, and fire everywhere. I was so afraid I just ran. I didn't even put my shoes on."
Read stories from refugees like Amina in our Lampedusa Cross pilgrimage
At each station, we prayed for those who have had to leave their homes, to seek a place of safety. The simple reflections brought to life the precarious journeys, and made our prayers more urgent, more heartfelt.
The feedback from our schools volunteers across England and Wales, trained now in leading this pilgrimage, has been unanimous. Here is some of the feedback that we have received from them.
"The pilgrimage was moving and thought provoking."
"The Lampedusa Pilgrimage was very moving and would be a wonderful reflective activity to do with young people."
"The pilgrimage type of experience engages hearts and minds and lingers in the memory."
"The pilgrimage make such a complex (political) issue more real."
"The pilgrimage reflection was very powerful but simple in execution."
Why not book a schools volunteer to help you lead the Lampedusa Cross refugee pilgrimage in school now? I'm sure it will be something that will increase the understanding of your pupils, and an experience that they will remember.
Download CAFOD's Lampedusa Cross pilgrimage for young people