Stepping into the gap between volunteers and volunteers
Susan works in our education team. She recently visited Zimbabwe with young Step into the Gap volunteers from England and Wales. They met members of staff from Mavambo, one of CAFOD's partners in Zimbabwe, who work extensively with local volunteers.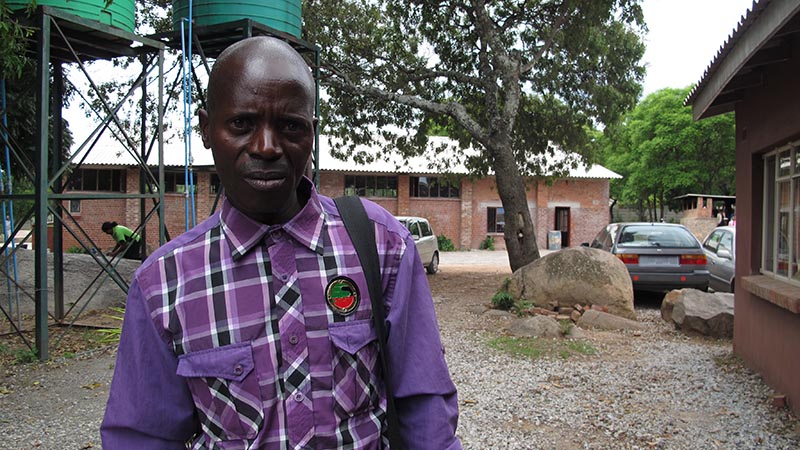 The singing reverberated through the hall, starting quietly, only one man, but swelling as the sixty or so people in the hall joined in. As I picked up the words, my voice joined too: "Here I am, I'm missing my partner. Here we are, your best friends! Here we are, here we are, here we are, your best friends. Here we are, here we are, here we are, face to face!"
Sign up to our webinar to hear more about our Gappers' visits to Zimbabwe and Peru
I was sitting in a circle, with four Step into the Gap volunteers and 60 or so Mavambo volunteers and staff. We had just listened to a number of these volunteers talk about their home visits to children living in their local areas. Many children had been referred to by name, their situations shared with love and care. The volunteers had also broken into small groups around the hall, one of the gappers and myself with each group, to discuss the successes and challenges of the past year and the hopes and plans for the coming one. As we waited to resume the meeting, moving back into the circle, one of the volunteers, Martin, started to sing. "Here I am, I'm missing my partner." And the others responded, "Here we are, your best friends."
Find out more about volunteering for CAFOD
For the volunteers at Mavambo are not known as volunteers – instead, they are known as "Our Friends" – the Shemware Dzedu. The Shamware Dzedu work in the community to identify children in the villages who are more vulnerable and might need Mavambo's support. They carry out regular home visits, can provide counselling in school, and they refer abused children to the police.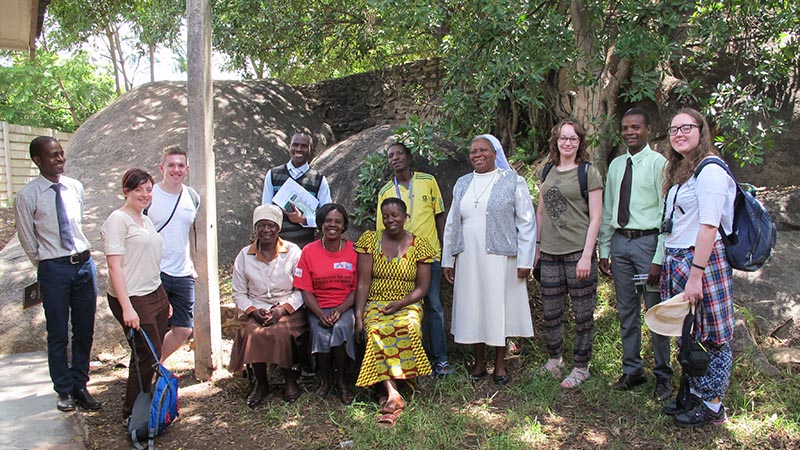 Read more about the work of Mavambo and the Shemware Dzedu
While observing Mavambo's work in Zimbabwe it struck me that their work would not be possible without the large number of volunteers who put so much time, effort and love into their work. This wasn't just the case at Mavambo – all the CAFOD partners we visited worked with volunteers to a greater or lesser extent.
As well as meeting inspirational young people who were giving up their time to act as peer educators and child advisory boards, informing other children of their rights and responsibilities, we also met adult volunteers who:
use drama to inform children of their rights;

A volunteer at St Albert's Mission Hospital taking part in a child rights awareness raising campaign at a local school. Her t-shirt reads, "My child, your child, let's protect our children".

support young people living with disabilities in learning lifeskills such as building chicken coops and rearing poultry;
are caregivers, particularly providing homebased care for people living with HIV;
help identify vulnerable children in their communities and refer them to the social workers that work for CAFOD partners;
are trained in health and hygiene issues and promote that positive message in their communities.
Read about some of the other volunteers in Zimbabwe:
We asked some of the Zimbabwean volunteers what motivated them to give of their time:
"We were motivated when we noticed children left behind without guardians. We want to help the children of the community."
"Through teachings and stories from other districts and countries nearby; we can't only receive help from outside, but we can be of help to others."
"We are motivated by the love we have for children and the teaching we have from our churches."
We also asked the Mavambo volunteers for their message for volunteers in England and Wales:
"As a volunteer you need to give your soul, your heart, everything, for working for free. You don't have to be boastful."
"As a volunteer you should care and be loving and act in a positive way. Always behave ethically."
"It takes a loving heart to be a volunteer."
"Be strong in your work, no matter what. Keep on striving and working hard as a volunteer."
It also struck me that so much of our work in Zimbabwe and elsewhere would not be possible without the commitment, passion and love of the volunteers in England and Wales. Volunteers pray for the work of our partners, fundraise to support the amazing work we saw, campaign to encourage politicians to make laws that will improve the lives of our sisters and brothers around the world, and encourage their communities to live more simply and thus have a positive impact on the world and lessen the effects of our changing climate.
Sign up to volunteer with CAFOD
Our Gappers and I were able to step into that gap between volunteers at home and volunteers in Zimbabwe, to see how we are living in and working for Just One World.
Join us for our webinar to hear stories from Step into the Gap volunteers