Ethiopia Food Crisis: Drought seeps into every part of people's lives
CAFOD's World News Manager, Nana Anto-Awuakye has returned from Ethiopia where 10 million people currently face extreme hunger. She visited CAFOD's partners in the northeast of the country to see how they are trying to tackle the devastating effects of the worst drought the country has seen in 30 years.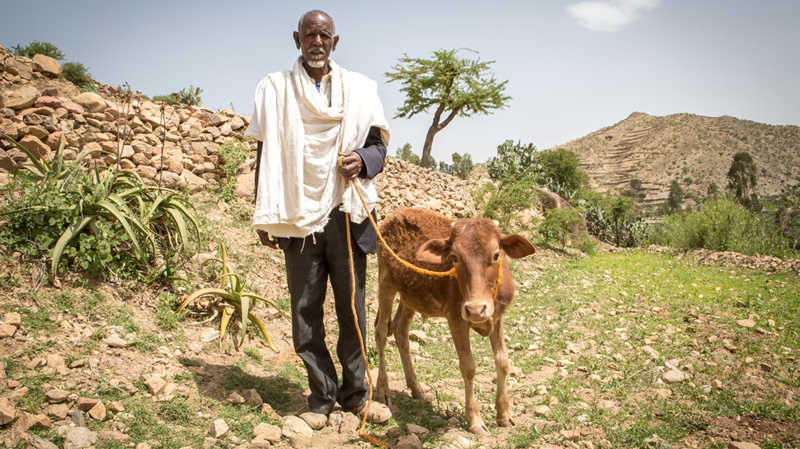 It's time to shout about what is happening to the people of Ethiopia. The crisis they face right now may not have featured in much of our press, but lives depend on us making a noise about it now.
Donate to CAFOD's Ethiopia Food Crisis Appeal
The drought, which has left 10 million hungry and 1.5 million young children, pregnant and breastfeeding mothers in need of food supplements, has been caused by an El Niño weather pattern. The UN's World Meteorological Organisation warned last November that the current El Niño is the strongest in more than 15 years and will cause severe droughts and devastating flooding throughout the tropics and sub-tropical zones of the planet.
Read this simple breakdown of the key issues at the heart of the Ethiopia drought
Ethiopian mothers struggle to feed their children
The figures are stark, but the human face of this terrible crisis is much more shocking. I won't forget the worried faces of the mothers I met in Ethiopia recently. Rahel, 34, with her beautiful dark brown staring eyes and balletic hand movements as she spoke; and Herit, 38, with her determined facial expression, who came across as quiet and shy, but once she started to tell her story, she did so with such force.
And I will never forget their shocking words. Rahel: "This last year has been the worst ever. I have little or no money coming into the house. We are barely surviving. I can't remember when we all last ate three meals a day." Herit, who told me, without the food aid from CAFOD's partner, I would have found her and her children dead in her home.
I read back on my words and I can see they are shocking, but it was shocking to hear the impotency of these mothers not able to respond to the most basic maternal instinct to feed their children. I could see how much it hurt both mothers to accept aid.
Watch this interactive film to see how Rahel, Herit and others have been affected by the drought
[youtube https://www.youtube.com/watch?v=AZv3GQgjvsk?rel=0&w=560&h=315]
A seat at their table – what little food they had they wanted to share
And yet these women insisted they share with me what little they had, a small piece of bread or an Ethiopian coffee. I could not bring myself to accept, but refusing was seen as impolite, as they wanted to honour their tradition of hospitality, a welcome in their homes for a stranger, a visitor. Seeing me partake of their hospitality, brought brief smiles to the worried faces of the mothers, and I was deeply moved by their gesture.
Your donation can help us reach vulnerable families affected by Ethiopia's drought
I witnessed the care and commitment of our local partners. They are well known in the communities we serve, and are doing all they can to reach the most vulnerable families with the life-saving aid that they need.
Every step we take now will help save lives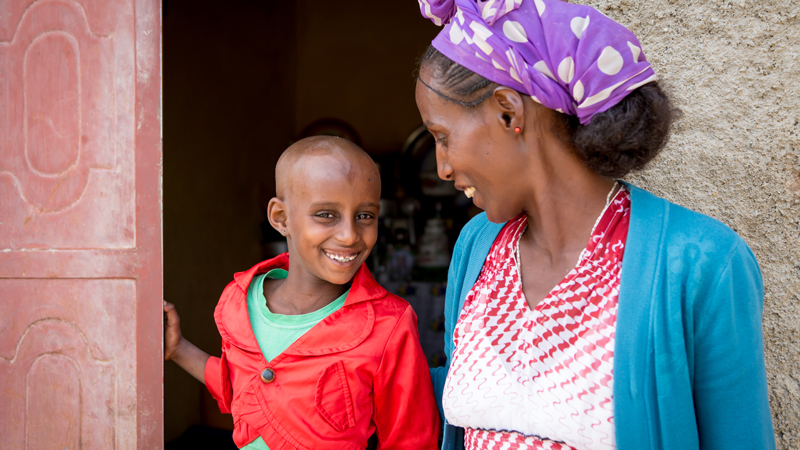 Our local partners want to scale up their emergency response, and the £3 million we hope to raise will certainly support them to do that. The Catholic Church's network reaches across the country and is respected for its emergency response work by the government as well as other local, national and international aid agencies.
There is resilience and courage in the many people I met, but the devastating effect of this drought seeps into every part of people's lives.
In a recent visit to Ethiopia, the UN Secretary General, Ban Ki-moon said: "The people of this beautiful country are facing their worst drought in thirty years." He then urged major international donors, NGOs and organisations to do what they can to meet this terrible crisis.
Strains under severe drought
We've come so far since 1984 and Ethiopia and the international community have become more experienced in early warning systems. But in the face of such an overwhelming crisis, no system is strong enough to cope with the strain. If the rains do not fall in July and if the crops that are planted do not lead to a harvest, this drought and food crisis will quickly worsen, leaving millions falling deeper into hunger.
We cannot waver in our support to save lives and help people live with dignity in an extremely challenging situation.
Let us act now to ensure that the people of Ethiopia and their pressing needs are not forgotten.
Join us in praying for all those affected by Ethiopia's drought