Step into the Gap – Welcome to the new CAFOD gap year volunteers!
We'd like to introduce and welcome the new team of CAFOD gap year volunteers as they settle into their placements this week. Read on to find out a little bit about the 2016/2017 team as they gear up for a year of volunteering with CAFOD.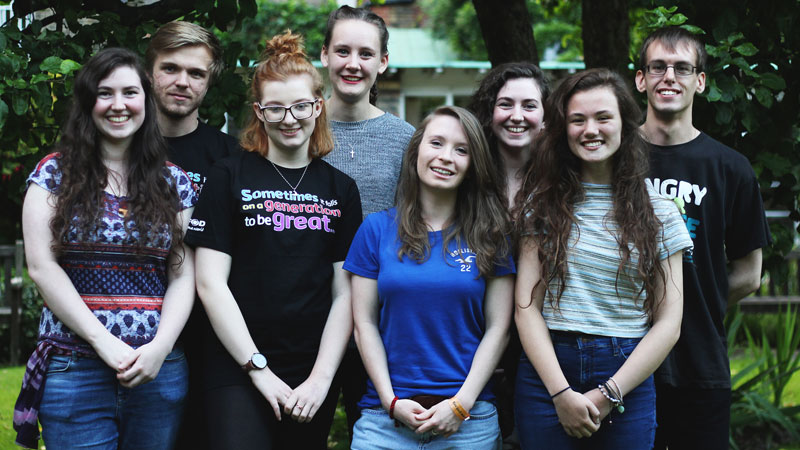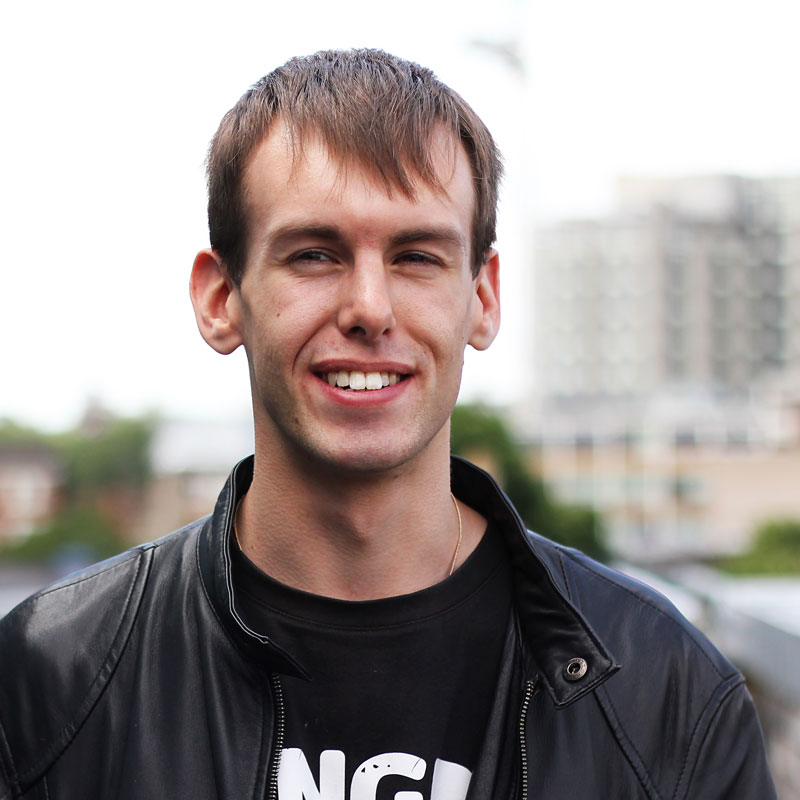 James – St Mary's High School, Lancaster
Six years ago I would have never had imagined I would be where I am today. I first got involved in CAFOD's work in 2010 when I was invited to become another parish representative in church. Since that time, I have helped raise over £7,000 and have taken part in numerous rallies and lobbies, including the Enough Food for Everyone IF Rally in 2013 and the 'Speak up for the Love of' Lobby of Parliament in 2015.
This year, I hope to use my skills and knowledge at St Mary's, where I'll be part of the chaplaincy team, to put my faith into action. We'll be supporting the college students at St Mary's and pupils at Christ the King primary school, and will be fundraising and getting students involved in CAFOD's work.
Explore CAFOD's resources for primary schools and secondary schools
I am very excited about the opportunities that lie ahead and the stories I will be able to share with students, staff and CAFOD supporters over the coming year.
Sophie – Just Youth, Salford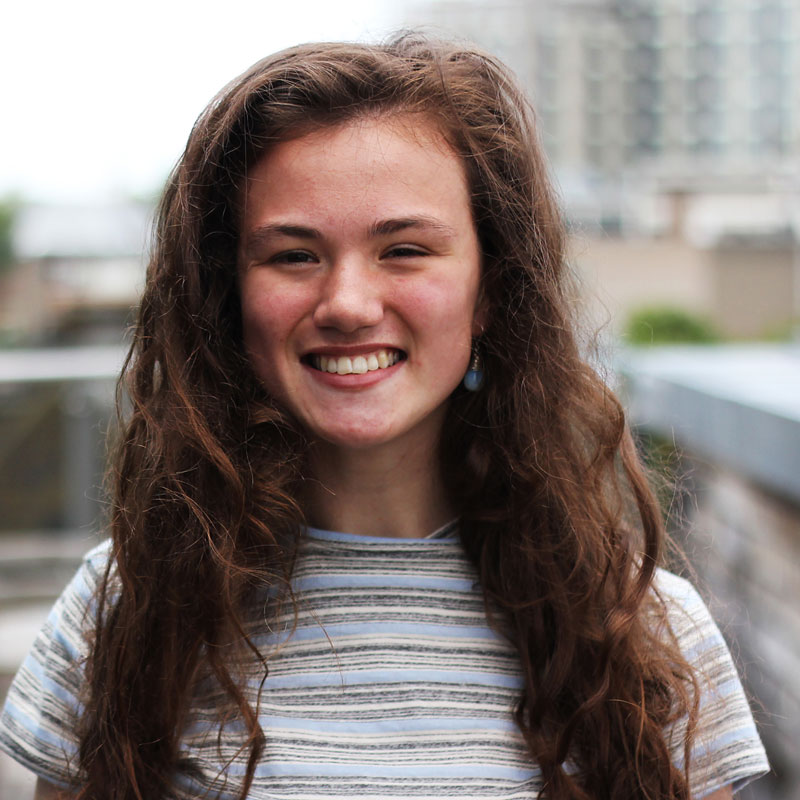 Hello, my name is Sophie Hull, I am 18 years old and I am from Blackpool.
I am very much looking forward to is meeting new people in my UK placement and overseas, learning about their journeys and the challenges they have faced along the way. I can't wait to go overseas to gain a better insight into CAFOD's work and see the work of CAFOD's partners and the difference they make to the wider world.
By participating in Step into the Gap, I hope to be able to educate the people I come across in my UK placement about the work of CAFOD and show them the things I learn and see overseas so that they to have a better understanding of CAFOD's work as a whole.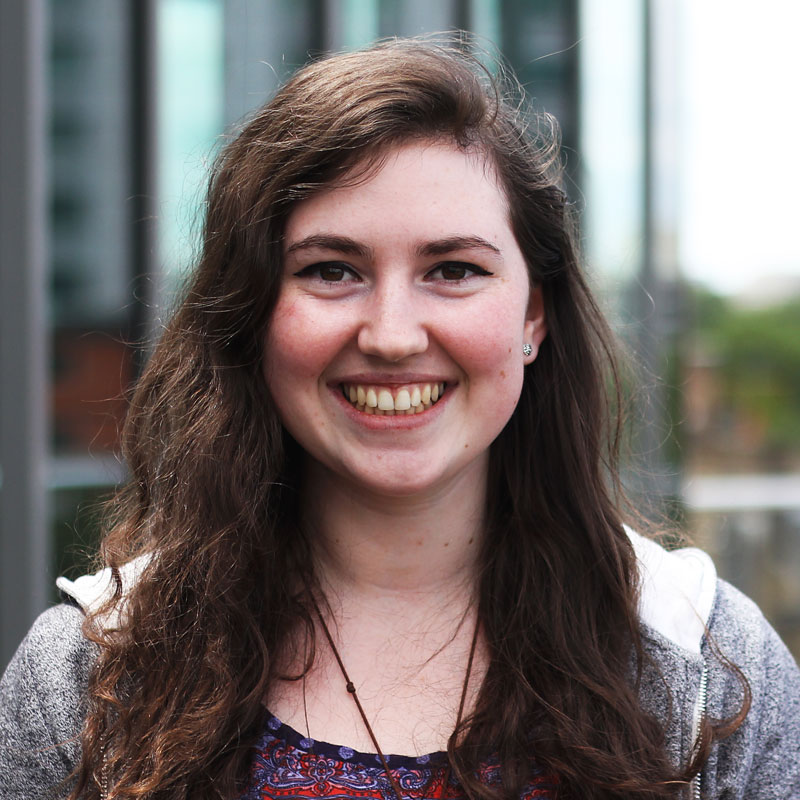 Charlotte – Newman University, Birmingham
My name is Charlotte, I am 21 years old and am originally from Hereford. This year as part of my work for CAFOD I am going to be placed at Newman University in Birmingham, where I will be raising awareness of issues to do with global justice among the staff and students.
I have just graduated from University, and instead of following the same route as my peers I decided that I wanted to take a gap year with a difference! I wanted to put my faith into action and dedicate a year of my life towards working for global justice. I am passionate about social justice so would love to be instrumental in helping the Catholic Church to embody Pope Francis' vision of a poor church in solidarity with the marginalised.
Watch this animation based on Pope Francis' letter, Laudato Si'
But more than that, I would love to help transform the whole world into one where people of all faiths and none are in solidarity with those living in poverty. So this gap year programme with CAFOD is the first step in what will hopefully become a lifelong journey for me.
Rod – The Briars, Nottingham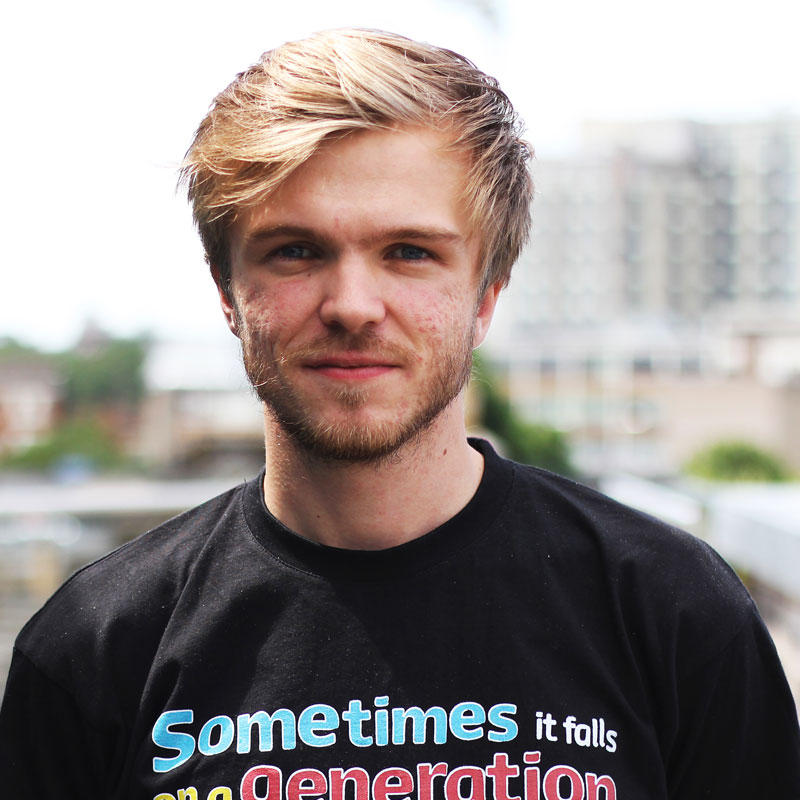 My name is Rod (short for Roderick). I am one of this year's Step into the gap volunteers, based at the Briars Residential Centre. I'm using this year as a way to try to promote the message of CAFOD's work and the work of its partners amongst young people and parishes in the Diocese of Nottingham. In doing so, I hope to be able to further the work of CAFOD, as well as my own understanding of living out a practical faith, before I go on to postgraduate study in Theology and/or Philosophy in 2018. If along the way I can go and make some life-long friends and do some cycling and running in the beautiful setting of the Peak District, that will be bonus!
I am interested in understanding how NGOs increase education about global and local social justice at the grassroots level. In my case, by grassroots, I mean churches and schools – the two groups I will be working with most. I want to be able to come away from the year being able to say that I have educated both individuals and communities. I hope that this education will inspire these groups to help further in eradicating the problems that face the global south and our own problems in the UK.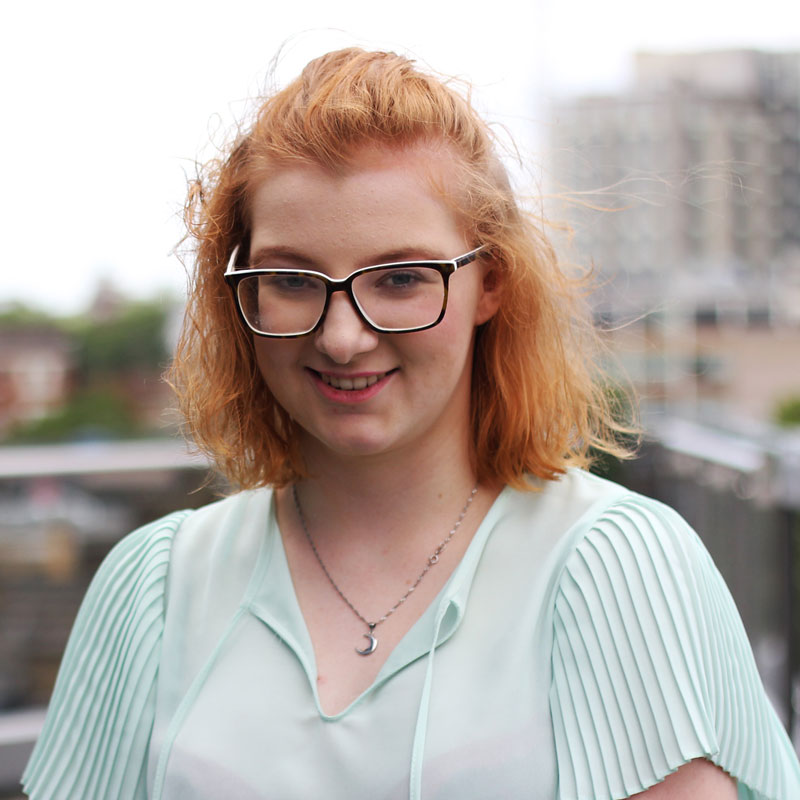 Hannah – St Mary's High School, Lancaster
Newbie alert! I'm Hannah, 18 years old, fresh out of sixth form and ready to conquer the world… ish. I've always been Catholic and I've always been passionate about social justice so I think I pretty much fit the bill.
I'm sure you're expecting me to write about how excited I am to start – and I'm super excited but also a little scared as I'm leaving home for the first time. Don't get me wrong though, a large part of me can't wait to get stuck in and I'm bursting with ideas. I'd love to get CAFOD's message across using crafts and videos as well as CAFOD resources, so that the young people I'm working with can really engage with what we are trying to do.
Find resources to use with children and young people
I grew up in Newcastle so if nowt else at least I have a class accent. Surprisingly, I'd never been to Blackpool before but I'm looking forward to working as part of a team and leading group activities, for instance turning Bible stories into comic book strips and applying this activity to CAFOD's work. I'm most excited about travelling overseas and seeing the great work CAFOD's partners do, as well as experiencing a new culture and strengthening my faith.  That just means this year will be full of lots of big adventures, sharing and glitter!
Bridgid – Youth Ministry Team, Hexham and Newcastle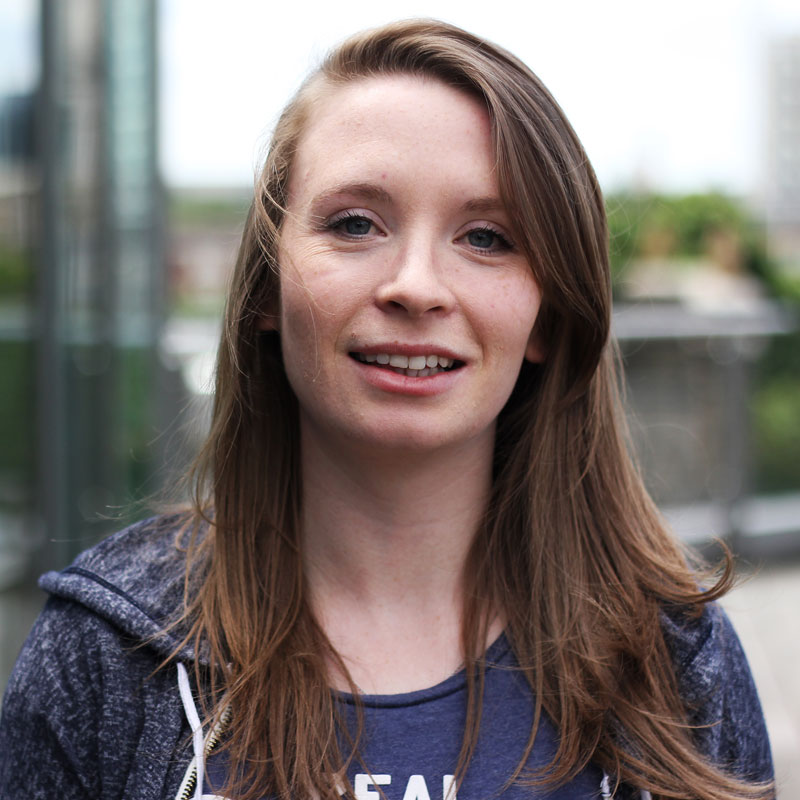 Hi! My name is Bridgid; I'm 23 years old and I'm from Newcastle upon Tyne. I have recently graduated from the University of Dundee with a degree in Psychology.
I am really looking forward to working with young people from a range of different backgrounds during my placement at YMT. I hope I will be able to channel my enthusiasm for life and passion for social justice, to make those I meet aware of issues close to CAFOD's heart. I am also especially excited for the trip overseas, which I know will be a phenomenal experience where I hope I will gain a greater insight into the inspirational work of CAFOD's partners.
All in all, I know this year is going to be fun, challenging and productive, but most importantly I feel very motivated and driven to make a change in this world.
Work with children and young people? Explore our resources.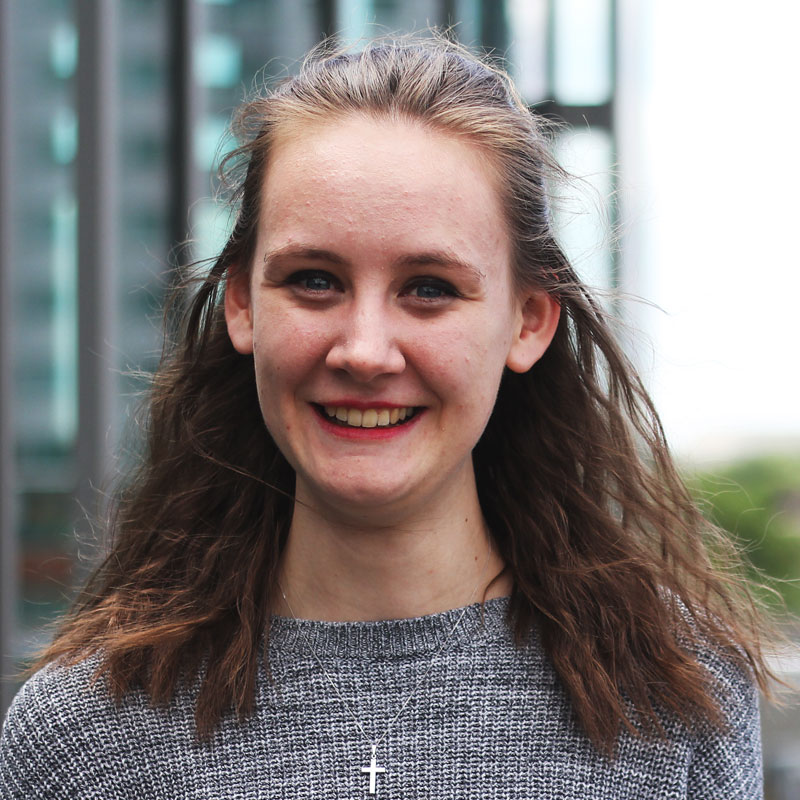 Lizzie – Just Youth, Salford
Hey! I'm Lizzie and I'm about to start my Step into the Gap placement at Just Youth in Salford. I'm originally from Blackpool, but spent the past three years in Chester, completing my degree in Geography and International Development Studies.
I'm really eager to work with young people from a range of backgrounds. I'm currently a Cub leader at home and I love helping to form and shape the ideas of young people. I can't wait to focus my enthusiasm for this into teaching children in Salford about CAFOD. Studying International Development helped me to deepen my passion for social justice and I'm really excited to start planting those seeds in the minds of the next generation of parents, teachers and leaders.
Find teaching materials and classroom materials for primary schools
Another part of the year I cannot wait for is the international trip! My desire to make a change started when I was given the opportunity in year 11 and sixth form to travel to Nepal and teach there for 2 weeks! I absolutely loved it and returned the year after; seeing the children grow and get closer to achieving their dreams was something I'm privileged to have witnessed.
Sophie – The Briars, Nottingham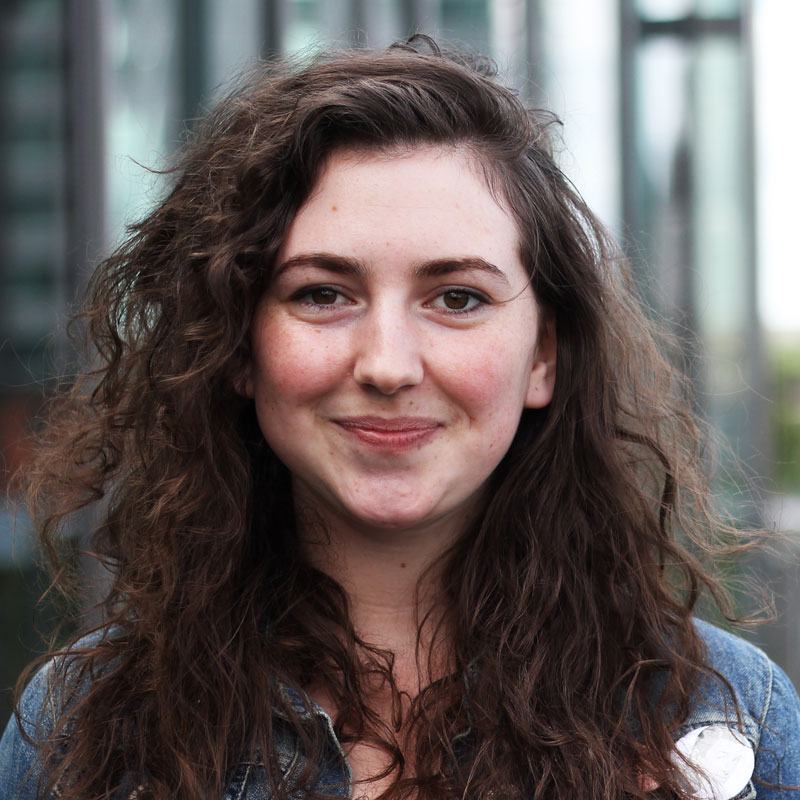 My name is Sophie Bray, I am 21 years old and originally from that tiny city on the border of Wales called Hereford. .
I have admired and supported the work of CAFOD for many years, and I have always felt called to give as much of myself to CAFOD's cause as possible. I am absolutely delighted to have a small part to play in this agency to help bring about social justice. (Although I pray for a time when it is no longer needed.)
I am excited to become a part of this faith community at The Briars. This celebrating of a common faith and a commitment to a shared cause among the collective.
I made the decision to take part in Step into the Gap because social justice is one of the cornerstones of my faith. In this Year of Mercy, I feel that Jesus' mission of mercy and justice for all humankind is more important than ever for us as Catholics to actively undertake. With all of us fighting for justice together. Inspired, humbled, scared. Ready to make a difference in this world. One that is safe, sustainable and peaceful for all.
Wishing our new gap year volunteers the very best for the year ahead. Keep up to date with their blogs to find out how they are getting on.
Want to keep up to date with our education resources? Sign up for our primary, secondary or youth leader and chaplains emails.