Step into the Gap: Thank you for wanting to help the Khmer people
During her visit to Cambodia, Lizzie Haydon, who is taking part in the Step into the Gap programme, spent time with a Cambodian community and spoke to a family, who have worked with CAFOD partner Srer Khmer, to receive training and resources.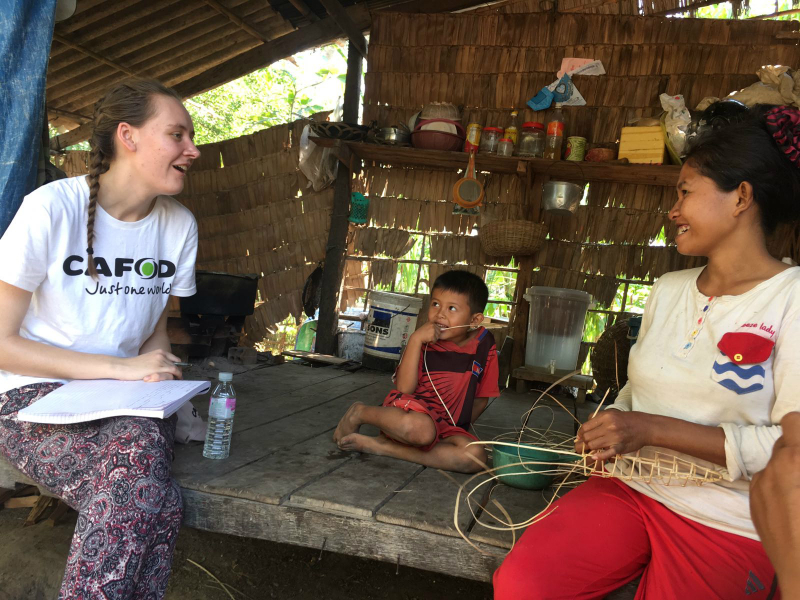 During our second week in Cambodia, we visited rural communities supported by CAFOD partner Srer Khmer. One of the communities Srer Khmer work with is Lvear village in Pouk district, Siem Reap and we were honoured to be able to spend the night in the village, getting to know the villagers and understand their lives that little bit better.
Find out more about Step into the Gap
On our first day, we met with the village chief, helped to plant seeds and met with families who have already been supported by the 'Socio-Economic Empowerment of Rural Communities' project funded by CAFOD and Caritas France. The village made our stay a celebration, dancing the night away to traditional Cambodian music performed -by members of the community.
The next day we joined in a community meeting, with villagers creating community action plans. After lunch, we split into two groups; James and I stayed in the village to meet with a local family who had been part of the Srer Khmer project.
Srer Khmer holds empowerment at the centre of all they do, supporting communities in all aspects of life. Communities are encouraged to find their own solutions to any issues they face, with support in implementation.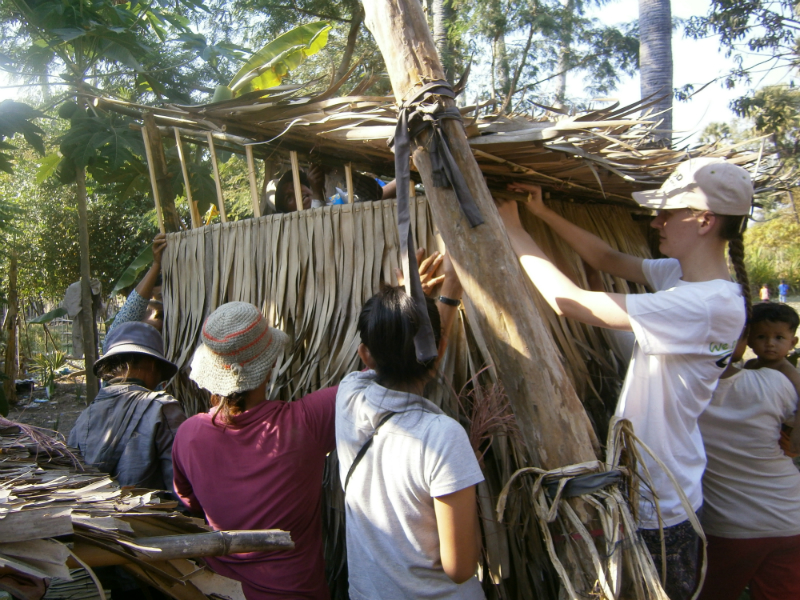 I met Samorn, a 30-year-old mother of two, as the community was coming together to finish the latrine's construction. She said: "whenever someone asks for help, the community will come together to help as best they can."
Samorn and her husband have been involved with Srer Khmer projects since they started working in the community. When the community found out that Leng Samorn and her family needed a latrine, they all came together to help with construction.
Before the family had their own latrine, which they have been able to purchase with the help of Srer Khmer, they were using the latrine owned by Samorn's mother which they had to share with 12 other family members.
Read about the placements available in 2017
Although the latrine was only around 20 meters away from the family home as Samorn's children were so young, six years and twelve months, even this was a significant distance. At night, it would be especially difficult to reach her mother's latrine, and the family would be unable to implement hygienic practices, which would make her children sick.
This was becoming a major issue in the day to day life of her family, and Samorn explained that seeing her children get sick, was something which she "wished to end."
The family now have a working latrine and her children now no longer fall ill.
Samorn knows that although the latrine is a good starting point, it does not hold all the answers. Sanitation training is necessary to make it successful, something which Srer Khmer can support her family with. As part of Srer Khmer's Water, Sanitation and Hygiene project (WASH), they are helping towards providing latrines, they also work together with the Ministry of Rural Development to provide training around sanitation and hygiene to families.
As construction was completed, Samorn turned to us and simply said: "thank you for wanting to help the Khmer people; thank you CAFOD for helping my community to build resources and strength".