Giving thanks for our little one by helping other babies
Julia, who works at CAFOD, shares how her reflections on the lives of others around the world changed with the experience of being pregnant with her first child.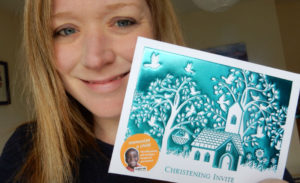 Living in the UK, I  knew that if there were any problems with my baby that I would immediately receive the care I needed. I chose to buy World Gifts for my son's Baptism as a way of giving something back to those living in poverty.
Browse our Baptism World Gifts
Maternal and infant mortality rates, when mums and babies die in and after childbirth, are very low in the UK. Only nine in every 100 000 don't make it. Yet, globally, despite improvements, the maternal mortality rate in 2013 was still 210 women in every 100 000. I've worked out that this is equivalent to 800 women dying daily. The highest rate of maternal deaths today is in sub-Saharan Africa and Southern Asia.
Working for CAFOD, and seeing our appeals and campaigns, I learned of people from Syria and in East Africa, including pregnant women, displaced from their homes, living in refugee camps with access to very limited healthcare. I heard about women who lived in rural communities where healthcare could be many miles away. I felt the vulnerability of these women more viscerally than I had before.
Sharing our love with others
After our baby boy was born safely, my husband and I wanted to show our appreciation. We know that CAFOD's World Gifts do amazing work, and the Healthy mum and baby (which I've heard is one of the most popular gifts) seemed perfect. This was a wonderful way of sharing a little with others who do not have the healthcare support that we were fortunate to receive.
Order a special Baptism poster for your party
Gifts that make a difference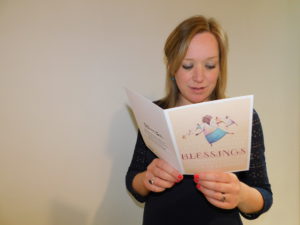 At £30, the Healthy mum and baby charity gift can help pay for vaccinations, HIV testing, pre- and post-natal care, malaria treatment and extra food for children at risk of becoming malnourished. We were delighted that the gift included a beautiful card explaining the gift, with an example of a project that the money can support.
We have kept the card in a photo album along with our son's Baptism photos to show him when he is bigger.
World Gifts stickers
We also bought some Immunise a child World Gift stickers to add to our Baptism invitation cards.
Each sticker costs 50 pence, and represents a vaccine that could save a child's life. We felt so grateful that our son automatically received his eight, 12 and 16 week vaccinations that we wanted to share this gift with others.
Receiving a World Gift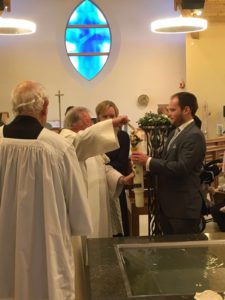 We had another surprise – we were delighted when my parents gave our son the World Gift of Make a child smile. My mum, Liz, says: "We love our grandson, and it made us think about other children around the world. Our love extends to them too. Our grandson has so many things to make his life comfortable: toys; food; clothes and people who love him. We wanted to share some of that love and some of the blessings of life, so we bought the World Gift for his Baptism".
"Also we thought when he's bigger and able to understand, his mum and dad can show him the World Gift card and teach him about other children around the world so that he will become interested in them as part of our global family."
Browse our Baptism World Gifts and help transform the lives of others.