When football falls in love with the planet
Carolina Serra is a Corporate Partnerships Manager at CAFOD. She reflects on the recent victory of the Forest Green Rovers Football Club (FGR), the greenest football club in the world, and how this also means a victory for our common home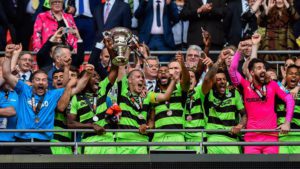 I am not really a sporty person and certainly I am not the most knowledgeable person when it comes to football.
However, on Sunday 14 May 2017 something special happened in the English football world and I want to celebrate it. Forest Green Rovers won the National League promotion final, jumping to the English Football League.
FGR is one of the oldest football clubs in England. Most importantly, after being acquired by CAFOD's corporate partner Ecotricity in 2010, they have become the greenest football club in the world – and the only vegan club in the entire sport.
Find more about CAFOD's partnership with Ecotricity
The greenest football club in the world
Since the acquisition of the club by Ecotricity, Britain's greenest energy company, Forest Green Rovers Football Club has been completely transformed – from a club on the verge of relegation to a progressive, 21st century football club that has put sustainability into every aspect of its activities. In so doing, it's become an inspiring example for fans and football followers.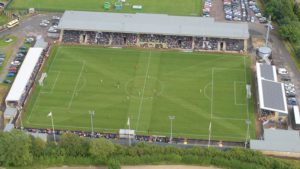 I recently visited The New Lawn, where the football club is based in Nailsworth, and was impressed by its green features, including an organic pitch that recycles rain water, a stadium powered by solar and wind energy, and even low-impact vegan food served to fans, staff and players – which I loved trying!
For the love of our planet
Certainly, the fans had to become used to a few changes, but they now have an extra reason to be proud of their team. The team's victory last week is proof that caring for our common home can become a powerful part of your strategy.
In business terms, it is increasingly recognised that companies focussing on the needs of the communities they serve can be more successful than those who solely focus on profits. A safe and just world is certainly one of the main needs of communities around the world.
This is the spirit that led us to collaborate with Ecotricity to encouraging our supporters to switch to renewable energy for their homes and offices.
Since April 2016, more than 150 CAFOD supporters have chosen 100% renewable energy and switched to Ecotricity. This outstanding achievement has helped to generate about £10,000 in donations to CAFOD.
Find out more about switching to renewable energy with Ecotricity