Rohingya Crisis Appeal: Working together our aid response gives back dignity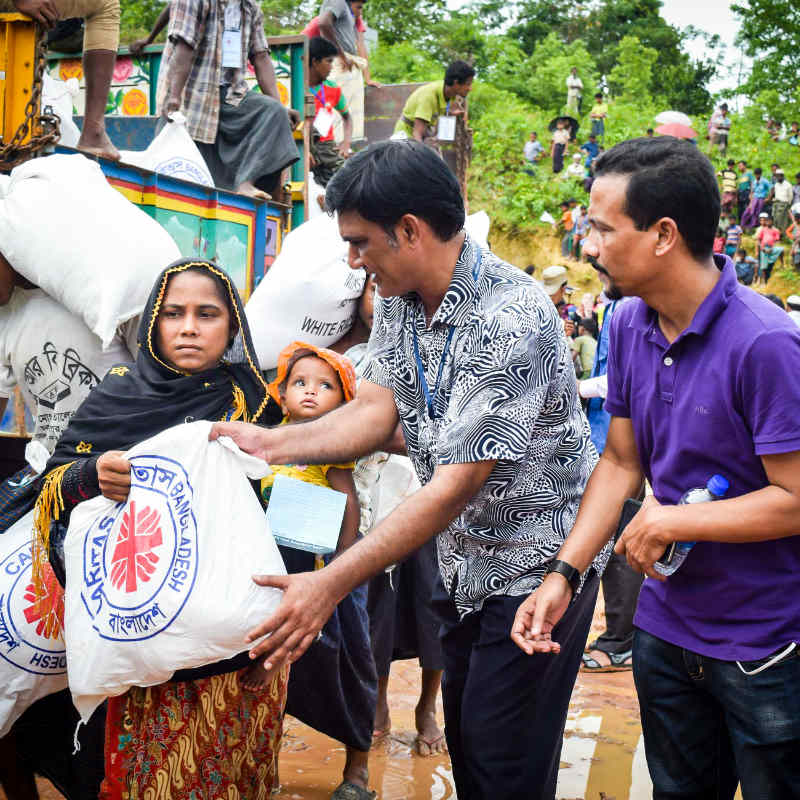 Francis Atul Sarker is the executive director of Caritas Bangladesh, our local partner who is working around the clock to get emergency aid to the mainly Rohingya people, fleeing violence in neighbouring Myanmar. He gives this eyewitness account of life for the refugees in Bangladesh's Cox's Bazar district.
Please donate to CAFOD's Rohingya Crisis Appeal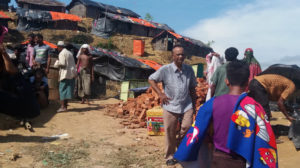 When I think of the refugees that I visited in southern Bangladesh last week, I keep seeing a young girl with trauma written across her face. I asked where her parents were. She told me she was an orphan, being looked after by a neighbour from their village in Myanmar's Rakhine state. It was heart-breaking.
Eyewitness accounts from people fleeing violence
I spent three days visiting refugee camps around the town of Cox's Bazar with Cardinal Patrick D'Rozario, Archbishop of Dhaka. We spoke to many people who, like that orphan girl, had to flee for their lives, with no time to get their belongings. There were young boys and girls who had to escape without their parents, and did not know where they were. Many women told us that they had to walk for up to ten days to two weeks to reach safety.
Working together our aid response gives back dignity
The plight of these refugees is now in the spot light across the world; and in the UK, CAFOD, one of our Caritas partners, has joined the Disasters Emergency Committee (DEC), Appeal, which will support us reach many more vulnerable families.
More than half a million people have now crossed into Bangladesh in just over a month to escape the violence in Rakhain state. Local agencies as well as the Bangladeshi military have brought some order to the aid effort, which was previously chaotic. But the situation is still fragile. Though food supplies have improved, thanks to the co-ordinated efforts of the local district administration, and many humanitarian agencies, most people continue to live scattered across the hillsides, under makeshift roofs or plastic sheeting, without adequate water supplies. They are in a traumatic state.
Help provide life-saving aid for vulnerable families
Getting aid to where it's needed most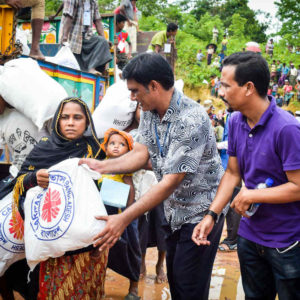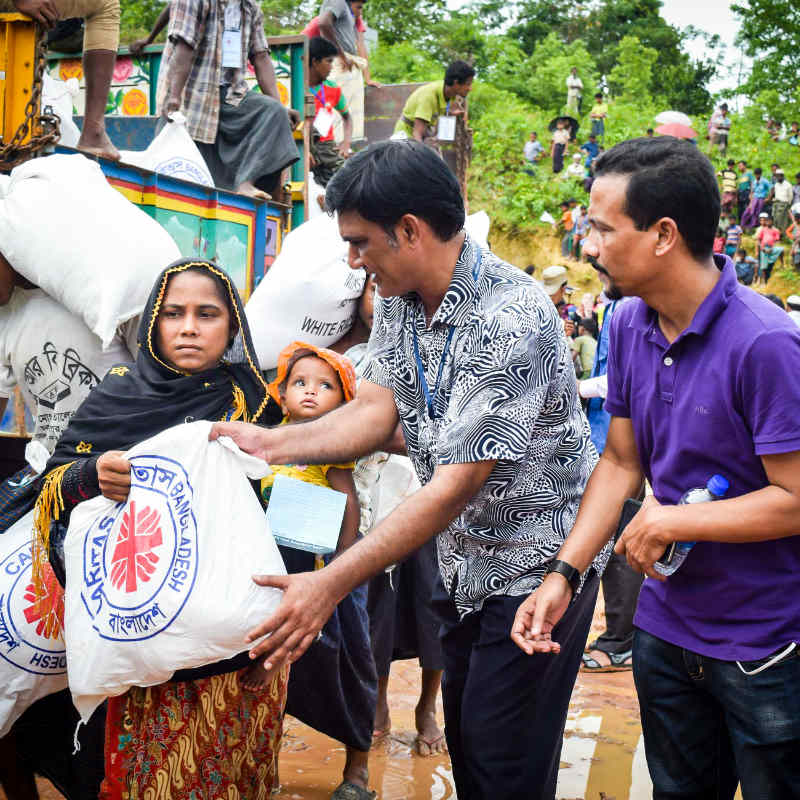 The greatest need for the refugee population remains emergency support. My organisation, Caritas Bangladesh, is able to supply basic things like pots, pans, plates and spoons, and essential foods like lentils, oil and sugar to supplement the rice being provided by the  UN's World Food Programme. But with the backing of the DEC, of which CAFOD is a member, we will help to provide 60,000 people in desperate need with food, clean water and sanitation, and shelter.
Please pray for people affected by this crisis 
Our faith tells that we all belong to the same human family. And Catholic social teaching states the primacy of the human person. The crisis has given this opportunity, to serve these values of one human family and to uphold the respect and dignity of the human person, irrespective of their faith, race, colour or culture.