Feliz Natal from São Paulo – Happy Christmas from our Connect2 friends
Some of our Connect2 Brazil friends look back on 2017 and share how they are preparing for Christmas in their communities.
News from our partner MDF and the community of St. Joseph the Worker Pastoral Area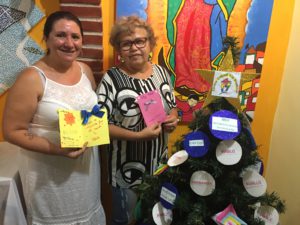 Jenilda – Vila Prudente Cultural Centre in the St Joseph the Worker Pastoral Area
"At the Vila Prudente Cultural Centre (CCVP) this year we organised different workshops with the children. Each month we had a different area of focus. From solidarity, to the family, the environment, which included a visit to the recycling cooperative. We worked on children's rights and empowerment, Black History month against racism and discrimination, and in December we will celebrate the arrival of baby Jesus with a children's concert.
"Around 60 children from the Cultural Centre will be in the Christmas concert at St. Joseph the Worker church with the theme "How to be a child in the world."  There will be music and dancing."
Zeza – Update from Divineia
"Terezinha had an operation last week to remove an aneurysm. The operation lasted 7 hours. It went well. She is now back at home and will have to take it easy to recover for a few months. She is in our prayers and we wish her good health and recovery."
Please keep our friends in Sao Paulo in your prayers this Christmas.
Update from Neti on the Mauá Community this Christmas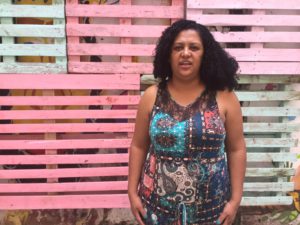 "Hello CAFOD community! I want to thank you for all you have done to help us to stay in this building, in our Mauá community. Thankfully, we have taken a big step forward. It is very gratifying and is a big achievement.
"I am sure you were with us as we camped outside the doors of the Courts of Justice. Our lawyer presented an emergency petition and the judge brought the eviction case to a conclusion. Now we cannot be evicted for another 3-5 years. At the same time, the negotiations for the purchase of the building are going really well. The building was valued at 20,150,000 Reales (about £4.6 million). Now we are taking the next steps, which are to examine the needs, decide which housing project, and the details of the finance. But it is truly gratifying that all these families who were going to have to leave on 22 November, thank God are still here, and have somewhere to spend Christmas and the New Year.
"I am so happy knowing our link has no frontiers, that our supporters are not limited by frontiers. We are very grateful to you all, to CAFOD, and to everyone that supports CAFOD. Our huge thanks, because thanks to this achievement, and thanks to God, our families will be able to have a good Christmas. Thank you."