Step into the Gap: Planting, Harvesting and Saving in Sierra Leone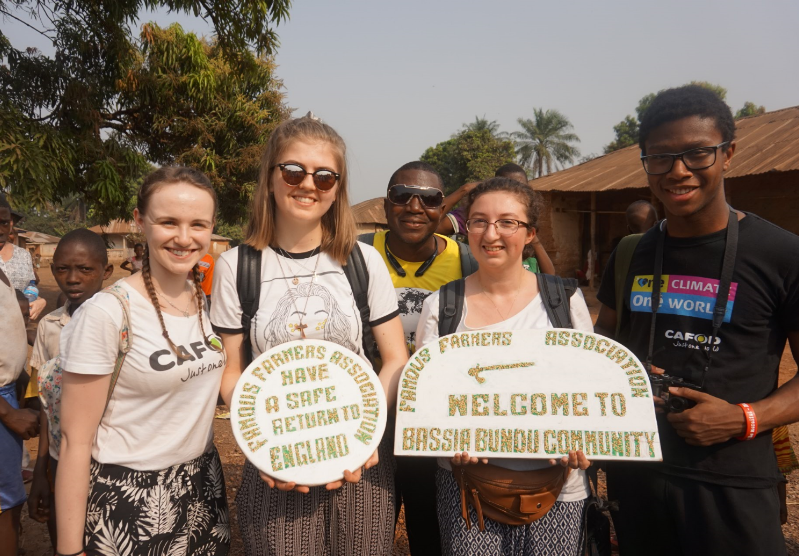 Kayleigh Margetts, one of the Step into the Gap volunteers, who is currently on placement at The Briars retreat centre, shares her experience of seeing CAFOD's partner work in Sierra Leone.
Find out more about Step into the Gap
In our second week, we travelled to Modia in Gbinleh Dixon chiefdom to visit the cassava farm and the vegetable garden that belonged to the community.
After having a wonderful experience meeting the community of Maforay the day before, all of us were excited to meet this new group of people with inspiring experiences and an incredible culture.
Arriving in Modia
About an hour into our car journey to Modia, a few of us started to feel travel sick from the very bumpy roads, so we stopped for a breather. A short while later, we stopped in the middle of a cassava field – we were all really surprised as the cassava filed was in the middle of the community and we were surrounded by buildings and houses.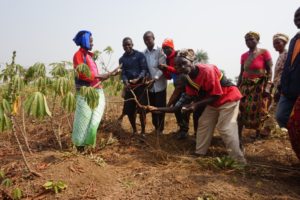 About 200 metres away we noticed a crowd of people, some of them tending to the cassava and others were waving.
Siobhan and I were feeling very faint at this point, so we sat in the shade of a small tree. Members of the community immediately came to us with the head scarfs of some of the women so that we wouldn't have to sit on the dusty floor. This was a wonderful indicator of the kindness of this community; from this point onwards we were shown such consideration and respect.
Our driver Alusine said we should rest whilst everyone else talked to the workers in the cassava field. I couldn't help but feel that it was a bit ridiculous that I felt unable to cope with the heat whilst many people – including mothers who had their babies on their backs – were working for hours outside.
A thoughtful greeting
Soon, everyone started walking back to the village and Alusine slowly drove behind. There were children running after the jeep, furiously waving at us. They had the biggest smiles on their faces.
As we were getting closer, we heard music gradually get louder. We realised that the group were being greeted at the village with hand-made plaques and songs.
I felt a pang of envy that I had missed this wonderful celebration. However, when the jeep arrived in the village, the crowd of people came over to welcome us and my jealousy vanished as quickly as it arrived.
Read more blogs from previous volunteers
The children of the village ran over to us saying "orpoto!" (white person). We could see the excitement on everyone's faces. It was so infectious – I couldn't wipe the grin off my face if I'd tried!
Meeting the community
After the glamorous greeting, we visited their gardens which were established due to the collaboration of KADDRO and CAFOD. Our guide from KADDRO, Maliki, introduced us to the chair lady of the community, called Kadie Humu.  She explained about the harvesting process, how KADDRO had helped them to harvest, and how the community had banded together to get the best crop possible.
Kadie had moved away from the village to the garden so she could constantly tend to it. She'd moved with her younger children, the youngest being 6 years old. Kadie said she was "constantly watering" but she did not feel separated as she had her family.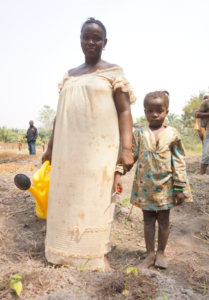 Kadie's dedication to the garden and the responsibility that she took on left me in awe. To move away from your village to the garden is such a huge commitment – I can't even remember to water my one little plant in my room!
During lunch, we spoke with the villagers about their savings scheme that was introduced by KADDRO. We were told how the village didn't bother with savings before, but we arrived on the day where we could see they had changed their ways!
They had a ceremony to give out people's annual savings. The community had a buzz of joy and excitement. They were so grateful and some of the women were dancing towards a man, called Molay, who was handing out the savings.
We then went to a cassava harvesting machine, which CAFOD had helped funded through KADDRO. We performed a 'handing over ceremony' where Siobhan and I cut an improvised rope, (which looked like a strand from a palm leaf), with what I can only call a mini machete!
"momo" which means "thank you"
We then exchanged gifts, but ours felt incomparable to the gifts we'd received. We were given beautiful plaques that wished us a save return and all we had to give was some shortbread and CAFOD items.
Apply to Step into the gap now 
I remember saying "momo", which means "thank you", to the women that we had met, and they had grins emerging on their faces.
As we went to leave, the children were writing their names in the orange dust that had accumulated on the jeep. I felt really sad leaving Modia but also inspired.
One thing that this community has taught me, or maybe reminded me, is that I should remember to be thankful for everything I have as some people in the world are living with far less.