The Rohingya crisis: Personal stories from Cox's Bazar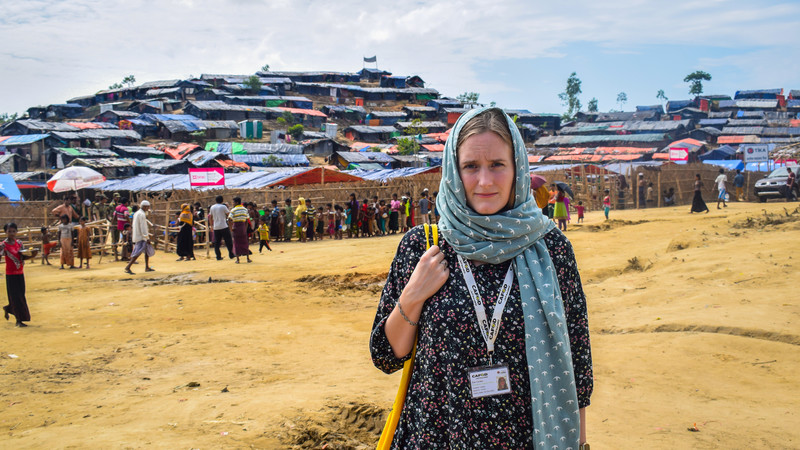 Zoe Corden from CAFOD's Emergency Response Team has been in Cox's Bazar supporting the emergency response. She shares the personal stories of Rohingya refugees forced to flee Myanmar, and now facing the upcoming monsoon season.
I met Solima when she was only 15 days old, and had known nothing but trauma in her short life. Wounded and hungry, she was held in her mother's arms among hundreds of people sitting on the ground at the entry point to Bangladesh, just waiting in eerie silence.
Solima's mother, Khodesha, gave birth to her in Myanmar. "Our house was burned," said her father, Selim. "They took our land and cattle. We hid ourselves in the jungle. We have nothing left." Eleven of their neighbours were killed, and every house destroyed, when their village in Myanmar's Rakhine province was attacked.
Her parents waited until Solima was a week old before embarking with her and their three other children on the long, dangerous and exhausting journey to safety in Bangladesh. They were just the latest of 680,000 Rohingya refugees who have had to flee Myanmar since 25 August 2017, arriving with virtually nothing.
Read more about the Share the Journey campaign
A short life has seen so much
The back of Solima's head was badly bruised and covered in sand, and part of her scalp the size of a biscuit was missing, the result of an accident on the trek to Bangladesh. Flies were buzzing around the wound, despite her mother's best efforts to keep her head covered with a scarf. Whenever the baby stirred, she immediately cried.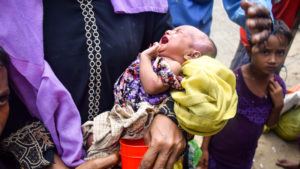 Solima was also malnourished, her mother told me, because they could not find enough food during the long journey. After several days walking through the jungle, the family reached the border, where they waited for three days before being allowed to cross by boat. With no food or money, they survived by begging from other refugees.
"We left our home with four pieces of luggage," said Khodesha. But as their exhaustion grew, they were forced to abandon everything and concentrate on just getting themselves to Bangladesh. "We packed clothes, but now we only have what we are wearing."
Responding quickly
International attention on the crisis has allowed aid agencies like CAFOD, and our local partner Caritas Bangladesh, to respond quickly and effectively. But the scale of the emergency became clear as I visited an area known as "TV Tower", where a huge broadcasting mast is now surrounded by thousands of refugee tents.
Most families are living in small shelters made of bamboo and tarpaulin that they have built themselves. They are squeezed eight, nine, ten people to a hut – with extended families often joining those who have arrived earlier.
Flooded paddy fields at the bottom of the hills offer swathes of bright green, with mud pathways criss-crossing them to connect each small hill. As the land rises, so do the makeshift shelters, built on terraces that until recently were used for crops. The camps are enormous: as you reach the top of one hill, more rise in the distance, the tarpaulin roofs stretching to the horizon and beyond.
Many of the Rohingya refugees are unable to carry  donated items back to their tents, because they are too weak from hunger, have children to carry, or are elderly or disabled – so Caritas Bangladesh also provide porters to help people get their food safely back to their tents.
A gathering storm
The crisis continues. Having fled violence, tens of thousands of Rohingya refugees living in camps in Cox's Bazar face great risks from the upcoming monsoon season, due to start in a matter of weeks.
The refugees are living in precarious conditions. Their shelters are on hillsides which will turn to mud when the heavy rains arrive.
CAFOD and Caritas Bangladesh are working around the clock, ramping up efforts to protect vulnerable families. Working with around 3,500 local aid workers across the country, Caritas Bangladesh are experienced and well-placed to respond to this emergency and a possible cyclone.
Read more about preparations for the upcoming monsoon
Hope for the future
Apart from the food and items given to them by aid agencies, the refugees have nothing. In the heat and damp, and with little to do, many sit exhausted, often traumatised by the repression and hunger they have experienced. But as I made my way through the camp, friendliness was still evident, with people happy to speak and eager to share their experiences.
Sajeda, 40, fled her home in Myanmar in August with her four children. "There was no warning [of the violence]," she told me. "Our house was burned to the ground and we lost our belongings. We had a small shop selling groceries. All the stock was burned." Her family was given rice, lentils, sugar, salt and oil by Caritas Bangladesh – food which should last the family for 15 days.
As I left, I could not help thinking about baby Solima. Her family escaped the violence in Myanmar; I didn't see her again, but I just hope that in Bangladesh her parents obtained the medical help needed to save their daughter's life.