Freetown's long road to recovery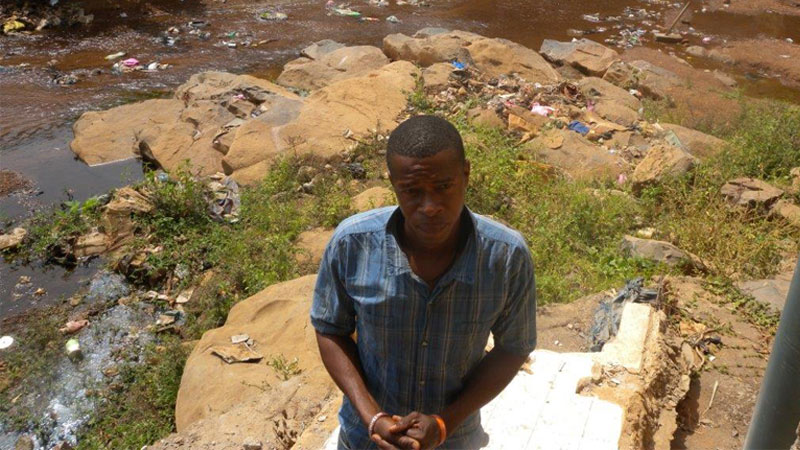 Kathleen O'Brien works in the schools team and travelled to Sierra Leone with the Step into the Gap volunteers earlier this year. 
Entering Sierra Leone's capital on a quiet morning, I could hear the happy cries of children echoing out of the glassless windows of the Malamakaningo pre-primary school.
This was a stark contrast from a year ago. In August 2017 the school was used to shelter people who had lost their homes in a disaster from which Freetown is only beginning to recover. Torrential rain battered the city for three days, and in the early hours of August 14, floodwaters and landslides ploughed through the areas surrounding the capital, killing 1,141 people and displacing three times that number.
Help us respond to emergencies
"I fainted when I saw my friends and family dead," said 21-year-old Matthew Sesay. "I did not even find my siblings' bodies intact." Such was the force of the floods that many of the victims were dismembered. One of a team of young community volunteers set up to aid people in the aftermath of the disaster, Matthew said he had helped to move up to 15 bodies out of his mud-filled home. They were collected by the authorities and taken to a mass grave.
Matthew and the other volunteers received support from Caritas Freetown, which is supported by CAFOD. The team helped to clear 316 houses of mud and dead bodies in the immediate aftermath of the disaster.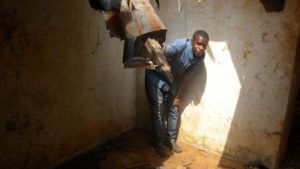 Matthew showed us the remains of his house, which is still a shell of a building, with the roof collapsed and floors strewn with mud and debris. "Now I have no one to take care of me," he said. "I hope that God will help me, and God will guide me."
When the disaster struck, Matthew had been a student teacher at university, looking forward to a good career. But with all his books destroyed, and lacking the money for university fees, he can no longer study. He stayed in the temporary camps for the first three months after losing his home and family, but is now staying with some friends. He does some teaching in one of the local primary schools to earn some money as well as to continue helping his community.
Help us to be there when emergencies happen by making a regular gift
Matthew plans to spend the anniversary of the landslides in prayer. "For me it will be a very sad day," he said. "I will just pray to God to have mercy on their souls and that such destruction will never befall Sierra Leone again."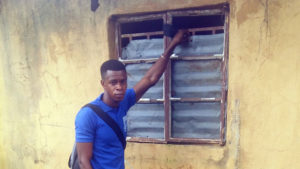 This is not the first disaster the people of Sierra Leone have endured. In the 1990s, political instability led to a nearly decade-long civil war which affected nearly two million people, with many forced to flee to neighbouring countries as refugees. Then in 2014, the country was one of the worst-hit by the Ebola virus outbreak, which killed nearly 4,000 people and infected more than 10,000 others.
Yet these trials have bred resilience. As we crossed Kaningo stream on stepping stones formed of sandbags to visit one of the houses that had been cleaned by the young team of volunteers, I asked Grace Jones, the lead supervisor from Caritas Freetown, what people could do if they feared another disaster. Most would not have enough money to move elsewhere, she replied.
But even though people have no choice but to rebuild and carry on moving forward, they still have hope – hope that this rebuilding will not just be on a small scale, but an opportunity to grow the country and watch it thrive.
Join our Emergency Response Team by giving a monthly donation so that we can respond as soon as disasters happen.