The Child Breadwinners of Bekaa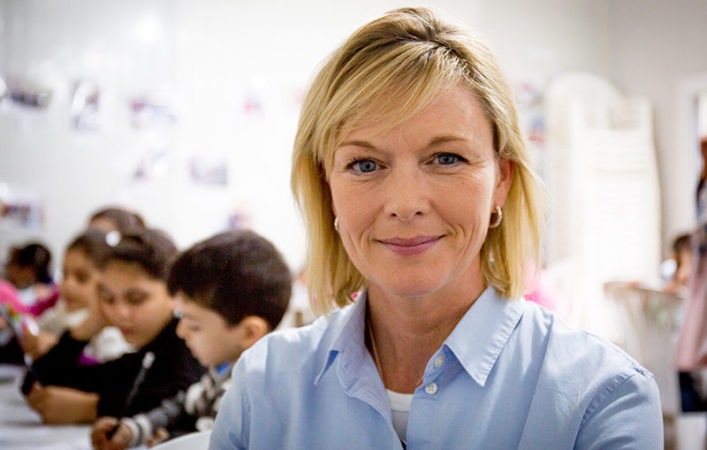 Presenter and reporter Julie Etchingham travelled to Lebanon to see the work of CAFOD partner Caritas Lebanon.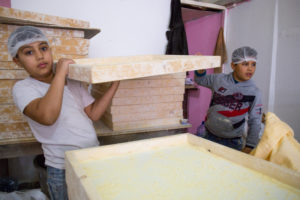 In a side road in a small town in the Bekaa Valley Yazan and Majed are hard at work. They are brothers aged 10 and 11. Their day started in darkness, getting up at 4am they were a bit scared to be going out before dawn, to get to their jobs in a local bakery.
The tiny bakery turns out flatbreads for local restaurants. The boys work alongside two grown men. The adults receive $40 (£30) a day. The boys get $3 (£2.30) a day between them. But these meagre earnings are vital for their family to survive after fleeing the war in Syria.
Donate to CAFOD's Syria Crisis Appeal.
Covered in flour and dust, the brothers clean the industrial mixing bowl, sweep the floors, and pile the flatbreads neatly when they come off the hotplate. They do this sometimes until 10 o'clock at night.
Life as a refugee
When the school bus goes past, carrying some refugees fortunate to be able to go to a local school, the boys stare out in sadness. "All we want is to go with them," one of them tells us. "I want to go to school, so someday I can become a teacher." His brother wants to be an engineer. When they remember their life in Syria, tears come to their eyes.
I have two sons, one just a little older than Majed – but living a life a world away. It is heartbreaking to see that this is the reality of the lives of the children of the Syrian war. They've escaped the immediate danger of conflict – but their childhoods are slipping away in its wake.
It's children like these CAFOD's partner Caritas Lebanon are desperately trying to support. Having met Yazan and Majed, they're now trying to work out how they can help the family and find a way to get the boys some schooling.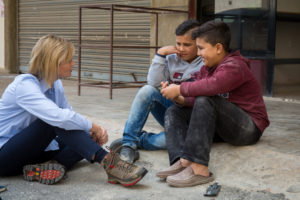 It can be done. Lebanon has opened some of its schools for a "second shift" to accommodate the hundreds of Syrian refugee children in the area. The Lebanese children use the school buildings in the morning. The Syrian refugee children have to go in the afternoon often packing out the classrooms to capacity. CAFOD's partner Caritas Lebanon is helping the refugee children access these places, supporting their families with the costs of clothing and equipment, and transport to get there.
It's a massive logistical challenge. Many of the refugee families are in makeshift camps, or staying in poor quality rented accommodation, and they can sometimes be hard to reach. But CAFOD and Caritas Lebanon know that after the basics of life support, the most vital thing the children of Syria need is to get some schooling. Whenever the terrible war ends, an education – even at a basic level – will give them options.
Conflict grinds on into its eighth year
When the war in Syria began there were dire warnings of a lost generation of its children. As the conflict grinds on into its eighth year – and the world is distracted by other disasters – the needs of that generation grow ever more desperate.
CAFOD and Caritas Lebanon are helping as many as they can to reclaim some of their childhoods and their right to an education.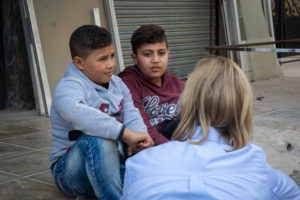 It's simply what every parent would want. And for Yazan and Majed, who long to return to their homes one day, it could make the world of difference.
Donate to CAFOD's Syria Crisis Appeal.
*Yazan and Majed are not the brothers' real names.
Presenter and journalist Julie Etchingham reported for ITV News at Ten on CAFOD and Caritas Lebanon's work with Syrian refugee children. The full story is available below.
Check out the second and third blogs from Julie's trip to Lebanon.