Get 2020 off to a green start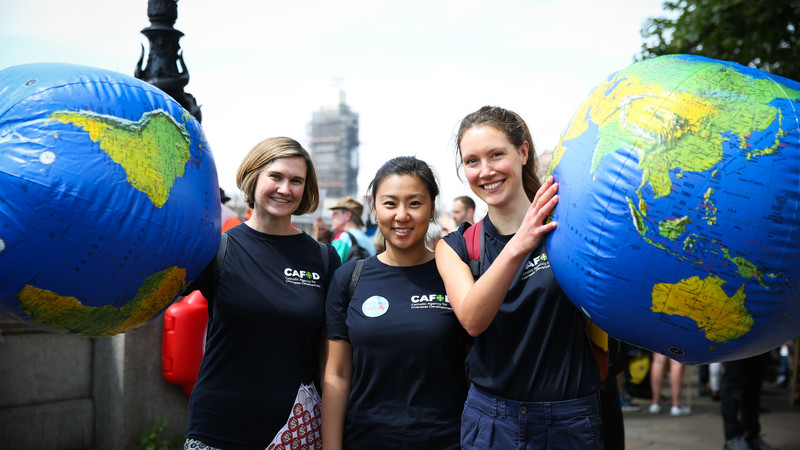 Christmas Day is behind us and 2020 is arriving at last. As the New Year approaches and we look ahead to COP26 in Glasgow – the UN's climate summit for world leaders – it's a crucial year in the fight for our world and its poorest communities.
Grace Cowley, CAFOD's Community Fundraising Manager, explains how you can start the year with people and planet in mind.
New Year's revolution
What could you resolve to do or to change in your daily life this year? How could you do your bit to fight the climate emergency?
Here are some ideas!
Try to cut down your electricity usage by turning appliances off at the plug and washing clothes at a lower temperature.
Get to know your MP this year and get proactive about the issues you care about. This is an important year for our local communities and our world – be part of it!
Plastic is not just rubbish – its production has a high carbon footprint. Cut it out for 2020! Make a list of ways you can cut down on single-use plastics.
Volunteer with CAFOD and give your time to build the world you hope for. You could campaign with us or become a climate champion. Your local CAFOD office will have a variety of volunteer roles you could take on.
Break the ice
Christmas might be out of the way now but it's still winter. There are lots of things you can do to be more eco-friendly in the cold.
Check who supplies your heating and consider switching to an entirely renewable provider. Already done this? You're an eco-champion! How about looking into your workplace, school or parish energy suppliers?
Learn about climate change and become part of the positive response – caring for Our Common Home. Millions of people worldwide are writing a new story about how we live with our planet – 2020 is a new chapter.
Turn the heating down a notch and keep warm with blankets, jumpers and good insulation. Cosy is so 2020 – you're changing the world one woolly sock at a time!
Christmas aftermath and New Year's Eve
As you wind down from all the festivities and see in the new year, here are some tips to make your twelve days of Christmas green and bright:
Keep food waste minimal by making Christmas leftovers into curries, soups or pies – and freeze whatever you can't eat.
Recycle your cards and as much Christmas wrapping paper as you can – or better yet reuse them. This year's cards are next year's gift tags.
Look for ethical ways to get rid of your Christmas tree. A lot of councils will compost them and some animal sanctuaries will take them for their birds.
Send a message of solidarity to those risking everything to defend our common home.
Start the new year with an act of love: give now to help families hit by climate crisis in Zimbabwe and Zambia's current drought.