Step into the Gap 2020: What have we been up to so far?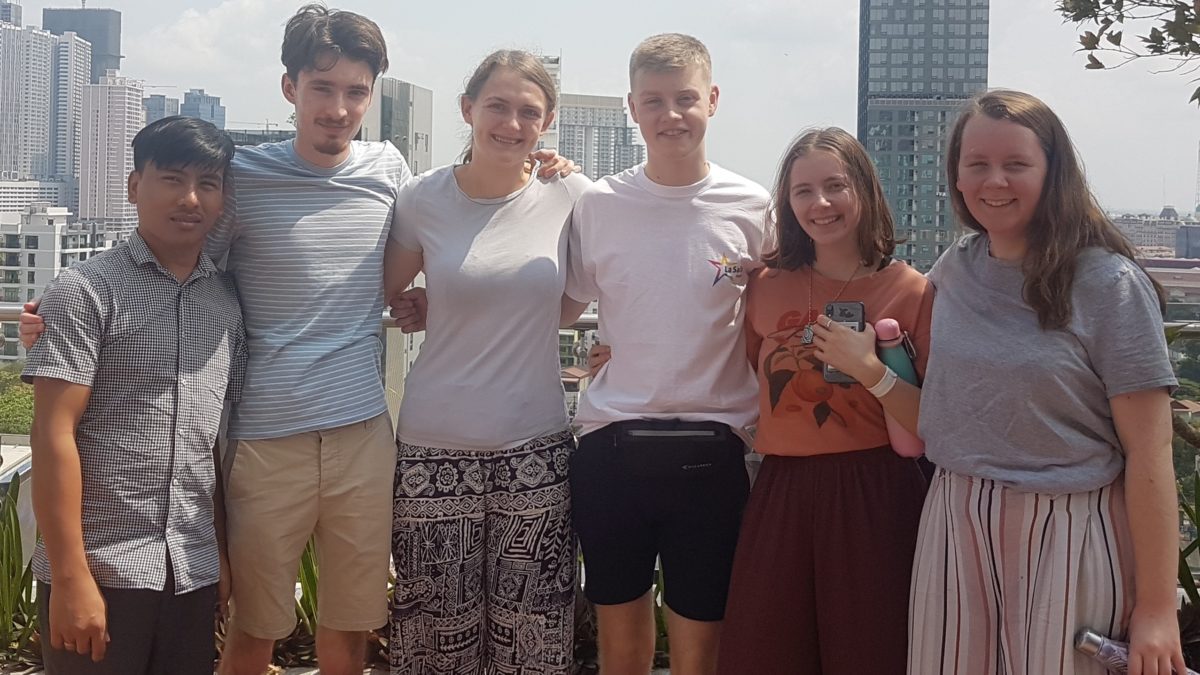 Rebecca Maxwell, a Step into the Gap volunteer based at Castlerigg in the Lake District, has recently travelled to Cambodia to meet some of the communities that CAFOD works alongside. Here she explains what has happened so far on her trip.
Hello from Cambodia!
The flight to Bangkok was 11 and a half hours but we came fully prepared with headrests and plans to watch a few films. Most of us managed a slightly broken sleep but a sleep nonetheless while on the plane. After arriving, we played a few short games of 'Mind the Gap' before boarding the flight to Phnom Penh.
Meeting the team
After breakfast on our first morning at the hotel, Vutha, the Programme Administrator for the CAFOD team in Cambodia, greeted us and took us to the office. There, we were shown around and welcomed into the meeting room.
Learn more about the Step into the Gap programme
It was a surreal moment for all of us when we realised that we were sitting in the room where so much of CAFOD's wonderful work in Cambodia is done. The surreal feeling continued when we met Sorphoarn and Huong and were given an extremely insightful talk on Cambodia's culture and history.
We then learnt more about the partners that we will be visiting: Cambodian Organisation for Children and Development (COCD) and Karuna Battambang Organisation (KBO). After going through the itinerary, we took some pictures of everyone together and ended that section of the day.
Travelling around Phnom Penh
As well as learning in the office about how the next two weeks will go, we learnt about Cambodian culture through a mini tour of the city that Huong and Vutha carried out. As we whizzed through the streets of Phnom Penh [on tuk tuks], they pointed out key areas and buildings, giving us extremely useful context to the country we will be spending more time in. We saw the Statue of King Father Norodom Sihanouk as well as the Choeung Ek Genocidal Centre and Wat Phnom Historic Hill.
For different reasons, these sites gave us a sense of the intensity of Cambodia's history and its people. It gave us the opportunity to reflect on the background of the Cambodian people and respect the depth of the country. Wat Phnom Historic Hill was a beautiful place of worship to see, and Huong was a fantastic source of information while we were there.
Sign up to Step into the Gap now
As well as talking about Cambodia's past, we thought about the present as well. Looking at Boeun city development was an interesting part of the day. Due to the increasing investment in the Lakes area, many local farmers and families who lived there for many years were evicted. This experience has definitely given us something to think about as we move on from the city into rural areas too.
In a short space of time we have learnt many things, mostly about Cambodian culture, but also about each other as a CAFOD team along with Huong, Sorphoarn and Vutha.
Attending Mass in Cambodia
Something that I think will be useful to keep in mind over the next couple of weeks, as we travel to visit COCD and KBO partners and communities, is a message of hope. We attended an International Mass in the city on 1st February and it was there that we received this message of hope. The music, we all agreed at dinner, was joyous and so beautifully calming.
The Homily was inspiring too, as we reflected on the Gospel of the Presentation of the Lord. We were encouraged to actively try our best to recognise God in our daily lives, giving praise for those moments of joy. We were encouraged to be hopeful.
Find out more about CAFOD's work in Cambodia.
At the end of the day, we gathered for a reflection on the day. The reflections have been a favourite moment of the day for me, as we come together in our thoughts and share highlights, as well as challenges. Reflecting at the end of each day has been helpful in remembering what we have learnt and preparing for the day ahead.
As a team, we continue to bear in mind God Our Father at the end of each day, in our nightly reflections. We hope to continue being inspired by the people we meet as we journey through our time here. Remembering what we have learnt and having the courage to learn new things. That is what we hope to be taking with us tomorrow as we journey on.