Step into the Gap 2020: Work hard, farm harder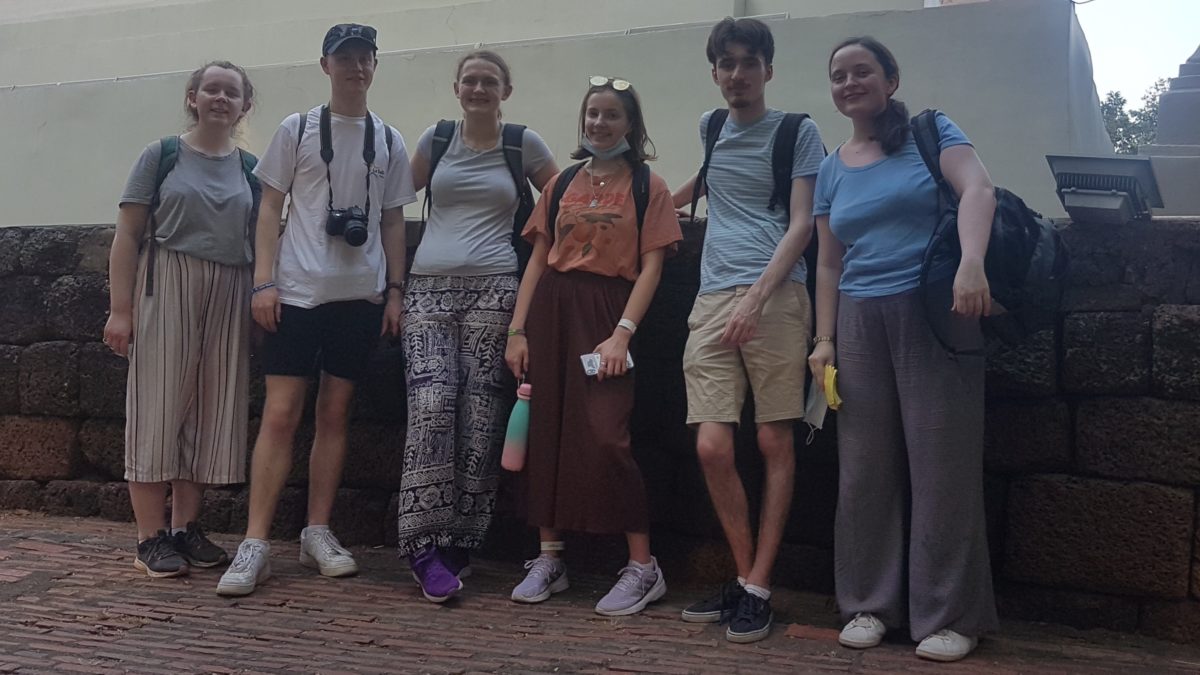 Orla Tanner, a CAFOD Step into the Gap volunteer, writes about how CAFOD's partners in Cambodia, COCD, are helping to educate families to help improve the whole community.
Cambodia is an electric country. The happiness and joy of all the people we have met so far has been undeniably infectious, making each encounter as beautiful as the next.
Learn more about CAFOD's Step into the Gap programme
However, it is equally as clear that this country is going through huge difficulties. From the shiny capital of Phnom Penh to the lovely countryside towns – the levels of poverty are eye-opening.
The struggle to find water
We met one community that had been living for over a month without access to water due to a broken pipe, meaning they were unable to give water to their chickens or vegetables which was their entire livelihood.
They took us on a 5km walk in the burning, dry heat to the pipe, which happened to be utterly breathtaking as we walked through the tropical forest and past the stream coming from the nearby mountain. The community members that came with us were in their 60s and 70s – but that did not stop them.
They walked faster and more fearlessly than us, clearly showcasing how hard these people work in order to provide for their families every single day. They had been manually bringing this water for their farms every single day.
Find out about CAFOD's projects in Cambodia
This encounter with the community showed me how integral CAFOD's work is to their lives. The local CAFOD partners COCD allow communities like this one to have access to the chickens and vegetables in order to survive.
These people are powerful and full of life – they are capable of doing so many amazing things. CAFOD's work in Cambodia fully fulfils its values of empowering the people and allowing them to have the dignity to help themselves. It is impossible to go into these communities and not be a changed person by the end.
The importance of education
This idea of working for everyday survival reflects a lot about the opinion of school and education in Cambodia. From the people we spoke to, many people seem to believe that education is a waste of time. This was because if they were going to be spending their life working on the farm, then they would not need to go to school.
This meant that many of the community members we met were illiterate, and COCD estimated that from the town we were in around 50% of the population there could not read or write. This is an opinion that COCD is slowly changing.
Could your parish link with a Cambodian community to help provide education and training?
They are doing this by telling people about the importance of education, and they even recently renovated a pre-school meaning that children can be brought into the education system from an earlier age. That very same community with the broken pipe had three of their children going to university, and one was even training to be a doctor which is such amazing news.
The opportunity for income through farming vegetables and animals means that many people can use this money to support their family through things like a university – showing how perceptions are changing, but they still have a long way to go.
Community education helping farms to thrive
COCD has also given the community education on chicken farming, meaning they now have knowledge on how to prevent chickens from getting diseases – as well as how to deal with it if they do. They were able to get start-up capital for the whole community so they could all buy chickens, and now they are able to survive on that.
One villager we visited had started with four hens, but now a year later she has over 20 hens. The absolute delight of the lady highlighted how that had completely changed her life. This was a common trend for every single person we met.
Despite the struggles they have living in a rural community, the gratitude and respect they have for the CAFOD partner just shows how important CAFOD is to these communities.
Partners may not be able to solve every single issue of every single community, but at least these people are able to use their amazing intelligence, diligence and drive to build a living for them and their families through the help of CAFOD partners like COCD.
A new perspective on 'free time'
One woman we met from the community was called Khoeun and we had the chance to visit her home and see her vegetable farm. It was such a beautiful afternoon, as we got a chance to feed the fish with her and sit and laugh with her.
Her husband would go out to work, mostly doing construction work and she would stay home and look after the farm. Before, they would only be able to receive the income from the husband, but now she was able to make a stable income herself at home.
Sign up to CAFOD's Step into the gap programme now!
There was one answer we received that really struck me, which was to the question: "What do you do in your free time to relax?" Khoeun answered, "I usually just clean out the chicken pen." This answer just summed up what their life is. She barely even understood the concept of having free time. They dedicate their entire lives just to ensure they have food on the table every night.
This experience so far has totally changed my perception of my own privilege. You realise the government, school and family systems that you take for granted. We truly can be the change we want to see in the world. The opportunities to fundraise are endless, and we all need to work harder.
These communities don't even know what 'free time' is, we all have way too much. I can assure you first-hand that the communities in Cambodia need and deserve the support of CAFOD and would not be able to survive without it. CAFOD is changing people's lives, so I strongly urge you to continue supporting them and the amazing work they do!