A Christmas fun run like no other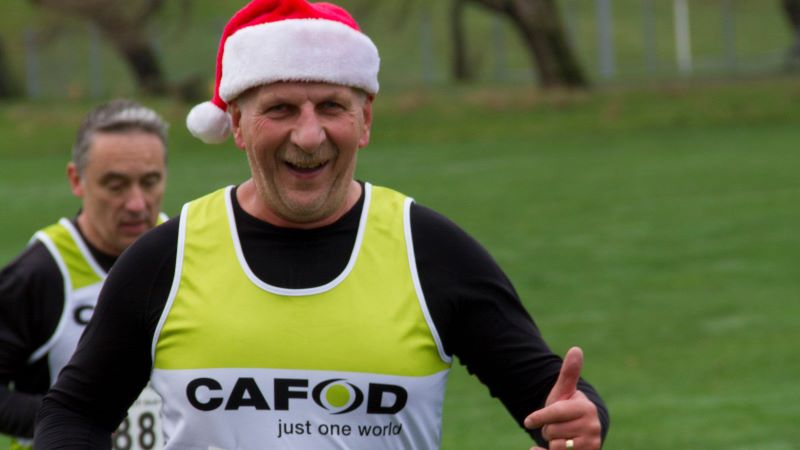 Neil Roper, our Fundraising Events Executive, invites you to run, walk or toddle 5km for CAFOD in our 'Virtual' Christmas Fun Run.
I am a keen runner, and normally take part in organised runs with hundreds or even thousands of other runners. Sadly, this year, due to coronavirus, these have all been cancelled. But there is a solution! I will be running the CAFOD Christmas Fun Run this year with lots of other people around the country. How? Because it's virtual!
It's all happening on Sunday 27 December and we would love you to join us. You can do it at any time you want, and you can walk or toddle, dress up or dress down, play music, or find some peace and quiet. Whatever you do, it will be a chance to work off some of that Christmas excess, as well as helping those living in poverty.
What's the difference between a 'virtual' run and a 'real-life' run?
Well, I (along with 40,000 others!) recently took part in the Virtual London Marathon, which was a great experience.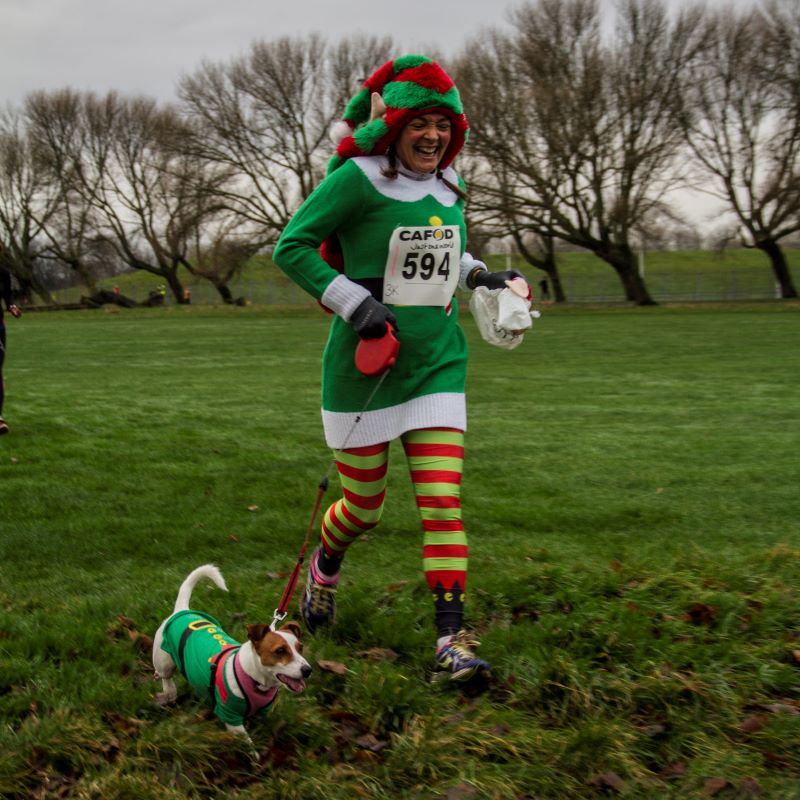 The first thing is that it requires a lot less organisation. I didn't need to get to a specific place to start – I could do it wherever I wanted.
Another difference is that I didn't need to worry about how fast people were going around me. I could run at my own speed and walk when I needed to (and I did need to!).
Also, I could run whenever I wanted to during the day. For the Virtual London Marathon they gave us the whole day to complete the 26.2 miles, so I went out at different times and broke up the distance.
One of the drawbacks is that there aren't any crowds to cheer you on. But on our virtual run, you could go out with your family, or get them to cheer you on at the start and finish. And you can take heart from the knowledge that people all over the country will also be running for CAFOD.
Finally, when you finish you are at home! (Or some other venue of your choosing!)
Someone else who will be taking part in the Fun Run this year is Tim O'Brien. He will be walking with his wife Donna and granddaughter Faith. They live in a village called Abermule in Wales and will walk from there along the canal, then cross at the lock before heading back towards Dolforwyn Castle.
"My dad died earlier this year aged 90. He and my mum have both been long-term supporters of CAFOD and this has rubbed off on me. Back in the 1980s I was a student for the priesthood studying at St John's Seminary near Guildford. I took part in a sponsored half marathon for CAFOD, and I ran a good time. Maybe I can't quite manage that right now but walking 5km should be achievable – God willing!"

Tim O'Brien
Raise vital funds for our Advent Appeal
It would be great if you could join us. All you need to do is make a donation to CAFOD or go to JustGiving and set up a page to ask your friends and family to sponsor you. And if you get to £100, we'll send you a CAFOD running vest!
The money you raise will go towards our Advent Appeal, to provide shelter for people like Saba to find comfort and joy this Christmas. You can check out the event on Eventbrite and Facebook, so there are loads of ways you can connect to and get involved.
We'd love to see photos of you training and taking part (including pets and children, especially if you're dressing up or just being Christmassy!). Please share them on social media tagging @CAFOD and email them to events@cafod.org.uk.
However you get involved, have fun, enjoy Christmas and raise lots of money for people who need our support and love at this time of year.
---
Fancy a bit more of a challenge? We have places in the Royal Parks and London Landmarks Half Marathons next April and May. Email events@cafod.org.uk if you are interested!