Volunteering in my gap year is an experience I treasure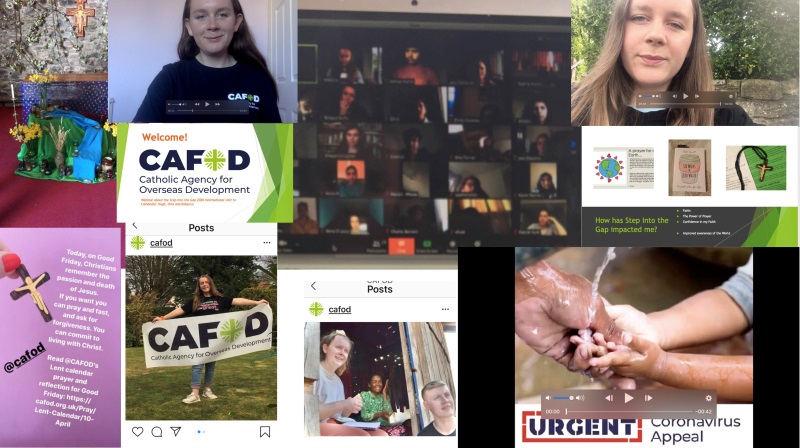 Back in January 2020, Rebecca Maxwell travelled to Cambodia with the Step into the Gap programme. A year on, she looks back on why volunteering with CAFOD during her gap year was so inspiring.
Before we travelled to Cambodia, I reflected on how I had been inspired to do the Step Into the Gap programme.
I wrote: "It has been a whirlwind so far after graduating, and the retreat centre work has kept me busy! It has been fun to have two single focuses, being Castlerigg and CAFOD, that I can put my energy into. Working to meet short deadlines has been completely different to uni, where I was managing larger projects. I have no doubt that Cambodia will be another whirlwind experience for me. But I also do not doubt that it will be something I will treasure for a long time."
A year on and I can definitely say that it is an experience I treasure and am extremely grateful for.
Find out how to volunteer for your gap year
Learning new skills in a faith community
I had decided in my second year of uni to take a gap year after graduating. I was in the process of thinking about what I might like to do for it during the summer of my second year, in August 2018.
I decided from a visit to Walsingham House, a retreat centre, that spending a year gaining skills working with young people and being creative with how we talked to them about faith would be extremely exciting. I researched into the CAFOD gap year and thought that the overseas experience as well as the role of bringing CAFOD's work into retreats would be a fantastic opportunity for me.
I was truly blessed with my team – the 8 volunteers that I lived with, worked with, laughed with and had community nights with. They were exactly who I needed at that point in my life. We were all different, with different backgrounds, countries, ideas about life and our faith, and different talents.
Every person taught me something and made my time at Castlerigg fun as well as challenging. We grew in faith and I especially loved being introduced to some new Christian music. Seeing each other conquer challenges was also a highlight of my time there. It was fun to be able to live in a faith community and work together.
As well as the team I lived with, I also had the other Step into the Gap volunteers. In some ways I had two teams to be a part of, learn from and be encouraged by.
Turning hope into action
As a result of Step Into the Gap, I have been inspired to include issues of global justice in my prayers. I often think of Cambodia whenever I light my CAFOD candle. Remembering the people that we met encourages me to think of the hope they had and carry that inspiration through in my own actions. It also encourages me to pray that they are experiencing moments of joy amongst any struggles and they can remain hopeful when in need of support with their livelihoods.
Through volunteering with CAFOD, my awareness of global issues increased and there is still so much I do not know, but I am grateful that the awareness has started to become a part of my prayer life – something I slowly became determined to take action in every day. Castlerigg was the ideal place for this to start.
At Castlerigg I had the opportunity to write blogs which gave me space to talk about CAFOD and raise awareness about current campaigns. It was beneficial to be able to do this during lockdown. I was glad to be able to have an outlet for how my faith was changing and a place to raise awareness about CAFOD and their Covid-19 emergency work as well.
Find out how to join the Step into the Gap programme
Creating memories together
During the first lockdown, the Castlerigg team were sent home but we kept in touch on Zoom and even did an online Easter retreat. Step Into the Gap continued virtually as well. We had regular Zoom meetings and I started taking part in a Young Adults CAFOD volunteering call each week. This motivated me to keep raising awareness about campaigns as we discussed current issues, got to know each other and listened to talks from CAFOD staff.
I learnt so much about different areas of their work through this and enjoyed being able to share hopes for rebuilding after the pandemic, remembering climate change amongst it all and being able to reflect together on various world events.
Step into the Gap came at a really good time in my life. I am very glad to have had the opportunity to be part of the Castlerigg community as well as the CAFOD one. I am glad that Step Into the Gap encouraged me to learn more about global justice and reflect on my role as a young Catholic to take action in helping bring about the Kingdom of God. I met some wonderful people and am very grateful for the time we did have to create memories and learn together.