Meet our new Step into the Gap volunteers!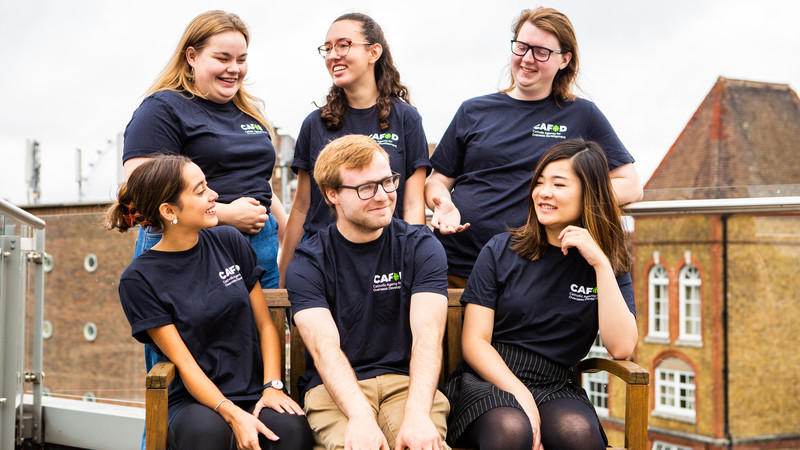 We are excited to introduce and welcome our new team of CAFOD gap year volunteers as they start their new placements. Read on to find out a little bit about the 2021/2022 team as they get ready for their year ahead.
Emma Parlane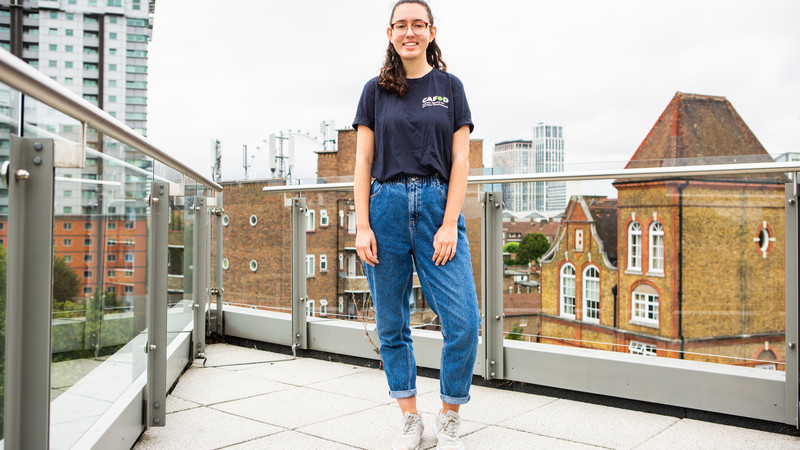 Hi, my name is Emma and I'm 22 years old. This year I'm going to be based as St Cassian's in Kintbury. I've just graduated from the University of Sheffield with a degree in Chemistry. As part of my degree programme, I studied for a year at the University of Sydney.
I applied for Step into the Gap as I want to make a difference in the world, and it is a great opportunity to make a real impact by raising awareness of global justice and CAFOD's work. I enjoy exploring new places. I also like spending time with my family playing games and watching movies. I play the flute and play as part of Mass.
Everyone inspires me as each person has a unique perspective and experiences and I have learnt so much from others.
Lorley Shelton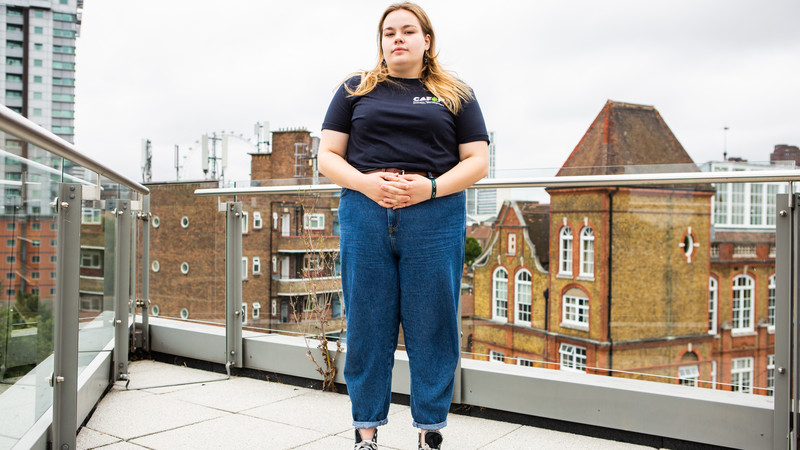 Hi, I'm Lorley. I'm 19 and over the coming year I will be at the Briars in Nottingham Diocese. This is my second year with the team, and I am looking forward to being a part of Step into the Gap as I hope the programme will offer me new experiences and challenges I haven't had before.
I am passionate about youth work and this year I'm hoping will be an opportunity to experience local, national and international change. I have always been aware of the work CAFOD and its partners do, and I knew that I wanted to be involved as much as possible. The Step into the Gap programme is an opportunity to do something a little bit different and I can't wait to bring CAFOD's values to work.
I am very excited to be a part of COP26 in Glasgow and have a passion for climate change activism. I think this will be a great opportunity for personal growth and think this is just one life-changing experience I will get this year.
I enjoy getting out into nature when I can, especially going on bike rides with my dad. I love the chance to get fresh air and appreciate the world around us. I am also passionate about learning new skills whether that's baking a cake and getting creative in the kitchen, playing chess or learning BSL.
I am constantly being inspired by the young people I have the pleasure of working with. I think we often see the youngest members of our society as insignificant or naive, but they are our future. I want to be inspiring the young people I will work with in the next year to be more and I am sure they will help me achieve the same goal. They help to keep me motivated in my own personal mission and my work with CAFOD on the Step into the Gap programme.
What is an interesting fact about me? My parents actually made up my name 'Lorley' – it kind of popped into my mum's head one day and suddenly it's my name! I've never met anyone with the same name and would be very excited to in the future.
Rhiannon Kennedy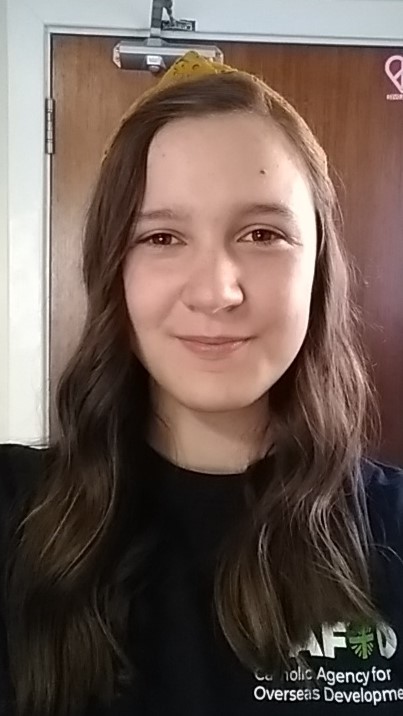 Hello, my name is Rhiannon. I'm 18 years old and will be joining Lorley at the Briars.
I've just finished my A Levels in Music, History and Mathematics. My main instrument is the flugelhorn, but I also play the trumpet out of necessity. I also know my way around a piano. In my free time, I enjoy playing in various ensembles and have been involved in brass bands, a wind orchestra, concert orchestra and a big band. This means plenty of music to practise! I mostly listen to showtunes. At the moment it's mostly Newsies, Hadestown, and Come From Away, but I also frequent Les Misérables and Hamilton. I can't list all the shows I listen to as that would take too long! I am also currently learning Welsh on Duolingo, but I haven't got very far.
I applied for Step into the Gap because I wanted to deepen my own faith while sharing it with others. Step into the Gap is a once-in-a-lifetime opportunity to gain experience working with young people and my faith. I also wanted to learn more about the work CAFOD does and help out in any way I can.
I know it's a cliché, but my family inspires me. My mum faces every challenge head on and always finds a way to keep smiling. She is doing her PhD alongside teaching, yet always finds plenty of time for family and for God. Her dedication, perseverance and resilience inspires me to be a stronger person.
Richard Keane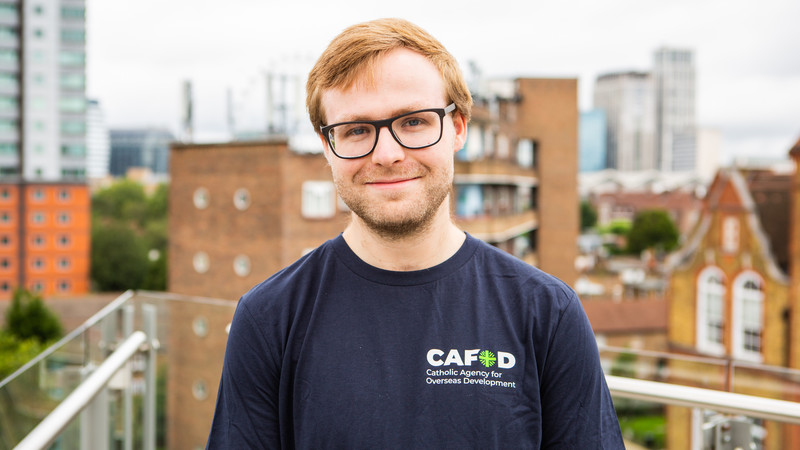 I'm Richard, I'm 25 and I will be doing Step into the Gap at YMT.
I have a degree in history. Reading is a great interest of mine, especially classic novels, history and religious books. I also run to keep fit and look forward to going on country walks. I was part of a running club, and I would run 5km and 10 km runs as well as play tennis. I listen to a lot of music, especially classic rock and classical, and I enjoy classic films. I can play piano, to an extent. I completed my grade 5, and I occasionally practise.
I want to grow into my faith, and I believe Step into the Gap will be a good way to help me in this journey. Step into the Gap is also a great opportunity to use my faith to help others, and to make a difference in the world, particularly concerning climate change. By attending COP 26, I hope to spread awareness and show there is a brighter future ahead. I also wish to help young people grow in their faith as well and spread awareness among them.
Most people inspire me, especially leaders who work for the better. Pope John Paul II and Pope Francis particularly inspire, as they have done so much good in the world.
My favourite bible verse is 'Blessed are the pure in heart, for they will see God' (Matthew 5: 8)
Shawn Kwan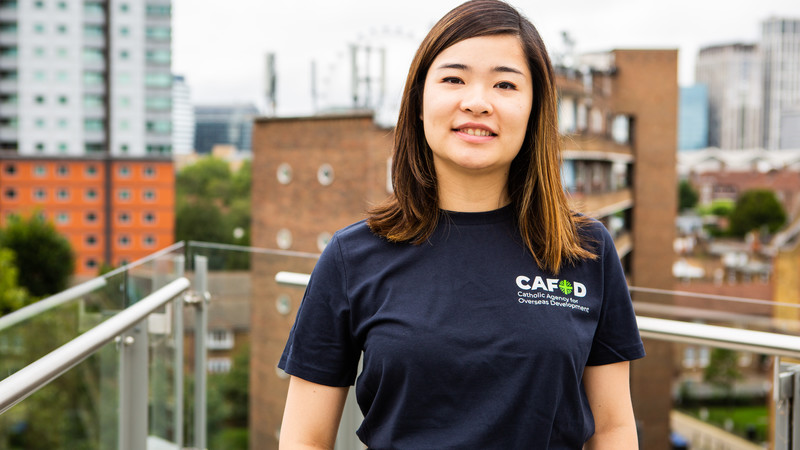 Hello, my name is Shawn and I'm 25 and have a BA in Ceramics. My Step into the Gap placement will be at St Mary's Catholic Academy in Blackpool. I am originally from Hong Kong. I moved to the UK when I was 16 and have been living here for nine years since then.
I enjoy doing creative activities such as drawing, baking, knitting and sewing. I have also taken an interest in creative writing, and I am currently testing myself by attempting to write a novel. I learnt how to play the piano at the age of five until 18. I also enjoy watching musicals in the West End and listening to any genre of music that I like and enjoy. I did ballet until I was 16 and played badminton.
I applied for Step into the Gap in order to challenge myself by stepping out of my comfort zone. I feel that it is a great opportunity to meet new people, garner new skills, and to better my understanding as well as to rediscover my faith in God.
As a child, one of my biggest inspirations was Florence Nightingale. She was a nurse who improved and modernised the hygiene conditions at hospitals after helping soldiers during the Crimean War. I admired her determination to pursue what she wanted rather than doing what she was expected to do as a woman during her time.
Sophie Pereira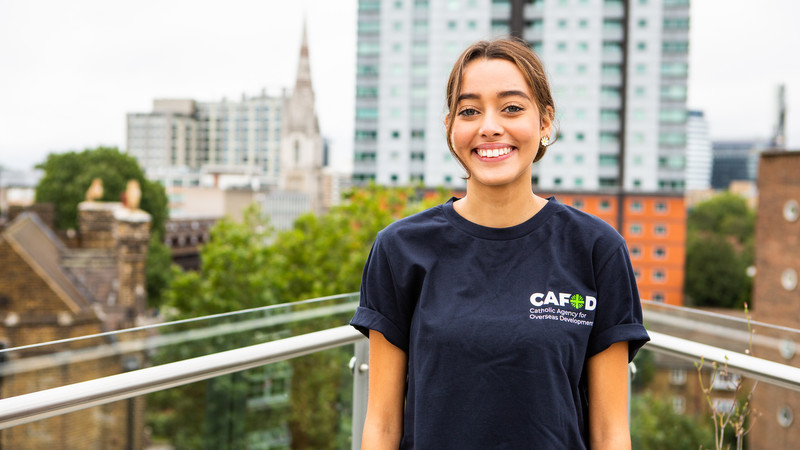 Hi, I'm Sophie and I'm from Colchester. I'm 18 and will be based at Walsingham House in Brentwood Diocese. I've just finished my A levels.
I enjoy musical theatre and have been a part of Theatre Arts Academy for five years. There, I have performed in the Edinburgh Fringe festival in 2018 and around Colchester, working and interacting with a variety of people of different ages. I enjoy music and theatre as well as reading, watching films and gardening. I like spending time outdoors with my family and friends and making people laugh. I occasionally play tennis with friends.
Step into the Gap is a great opportunity to meet new people while educating myself on the global issues around the world and fight for global justice. It's a great way to make a real impact while inspiring others to do the same. I believe being part of CAFOD is a great way to continue to use my faith for the better and a good stepping stone for my journey into primary education.
My mum really inspires me. Over the years, she has inspired me to use kindness and love in her daily life, helping those in need and dedicating her life to putting others before herself. I really admire how kindhearted and caring she is, and I am incredibly grateful to be her daughter.
"The LORD is my strength and my shield; in him my heart trusts, and I am helped; my heart exults, and with my song I give thanks to him."

Psalm 28:7
I like this Bible verse because sometimes it can be difficult to trust God's plan. God knows everything we are going through at this very moment and everything we will go through in the future. He knows the best way to handle every situation, so we get the best possible outcome, and we need to trust him with that.
Declan O'Brien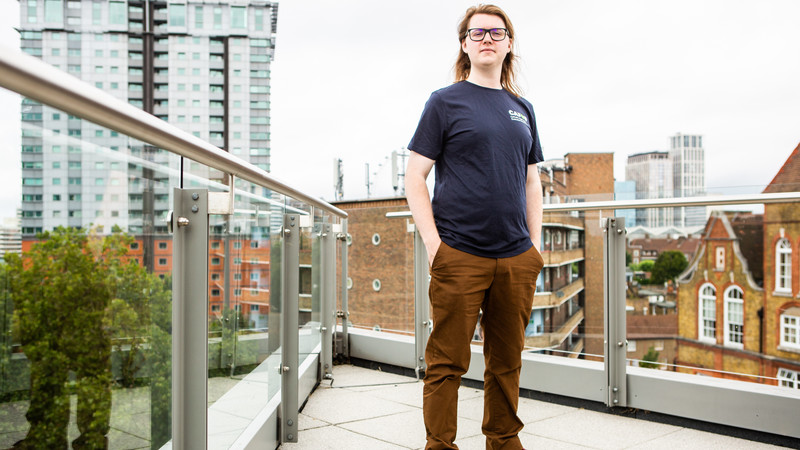 I'm Declan, I'm 26 and from Stockport. I will also be at St Mary's Academy in Blackpool. I have a degree in Chemistry.
I enjoy physical training at my local gym, martial arts, gaming online with friends and playing tabletop RPGs. I once restored a 1946 Ariel NG motorcycle that had been unused since 1969 to full usability, maintaining the use of as many of the original parts as possible. It was a very rewarding project!
I decided to apply for Step into the Gap as I wanted to test a vocation for working with young people and Step into the Gap gives me an excellent opportunity to do that while making a difference in the world.
Pope Francis is a huge inspiration for me at the moment with his holistic approach to society and environmental stewardship.
Bethany Bowe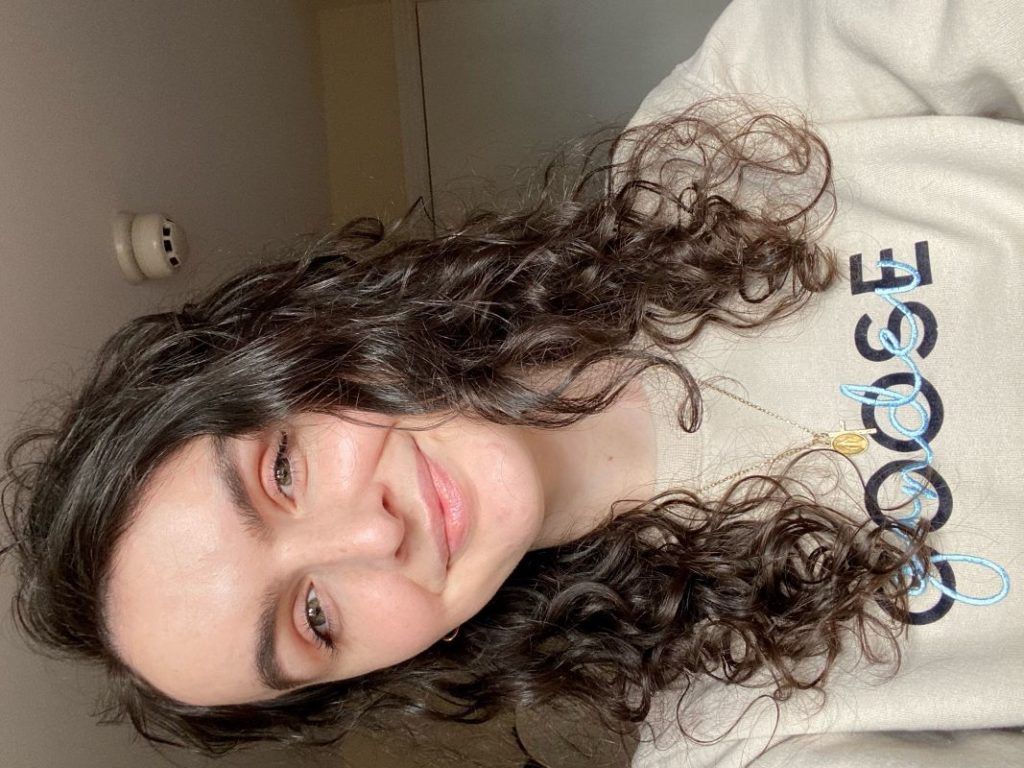 Hello, I'm Bethany. I'm 22 years old and I will be based at Castlerigg Manor in Lancaster. I have just finished my degree in Education and World Religions. In my free time I like to meet up with friends or go out for walks (especially with my dogs Milky and Poppy). I grew up around the Lakes so I enjoy the outdoors and make the most of them when I'm home.
I enjoy singing and I have just recently started to learn how to play the guitar. I don't currently play sports but I was part of the women's rugby union team at my university and became captain in my last year on the team. As well as playing rugby at university, I'm also a qualified rugby coach.
I applied for Step into the Gap as I have seen what amazing things CAFOD has done to help to improve the lives of people from all over the world. I have always been interested in working with an organisation like CAFOD, and doing all that I can to help others around me. The Step into the Gap programme will help me to do this and help people see that we can each make a change in the world. I have also applied for the programme because it will help me to develop my faith more and help others to do the same, and to see where God is in the world around us and be more conscious of how we live in this world that God has created for us.