"The eyes of the world are on us": Message from 50,000 Catholic schoolchildren to the government
More than 50,000 Catholic children and young people have united to show the government that we want them to stop the climate crisis, and support those living on the frontline of climate change.
The eyes of the world are on us as the UK hosts world leaders for COP26 in Glasgow, and Catholic schools across the country have been discussing the greener, fairer world they wish to see.
The travelling banner
An Eyes of the world banner is making its way across the UK to COP26. It first showed up in Cornwall in June at the G7 summit and has since travelled to:
Brighton Old Pier
Dover
London's Houses of Parliament
Oxford's Radcliffe Camera
the Senedd in Cardiff
Liverpool Cathedral
Salford Cathedral
Blackpool Tower
York Minster
Angel of the North in Gateshead.
Being photographed outside famous landmarks serves as a reminder to the government that young people from every corner of the UK are watching the decisions they make at COP26.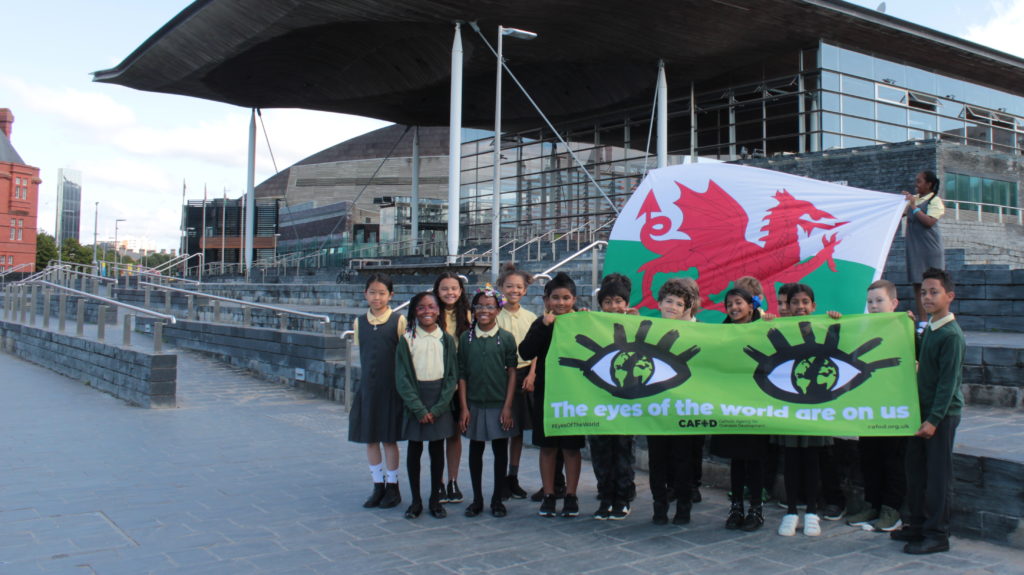 In Brighton, one of the young people said:
"We're here today because we need our young voices heard on the problems of climate change by the government, who need to help people who have already been affected by climate change."
Dan Davis James, a teacher at St Joseph's primary in Oxford shared this need for children's voices to be heard:
"If children believe they are listened to and their ideas matter, then it gives them a stake in becoming responsible leaders of tomorrow. We want this campaign to help children to imagine a more sustainable future. The more children involved, the greater the awareness and drive to change, which in turn empowers them to demand positive action from world leaders."
Learning about climate justice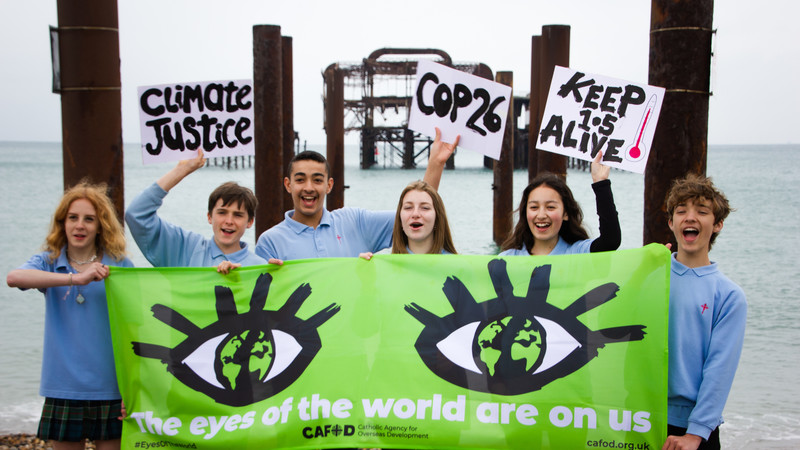 Schools have been learning about people around the world already affected by climate change, like Florence in Zimbabwe. Here, climate change has caused the rains to come later and now they are hard to predict. It is now very hard to grow crops and people are going hungry. Florence has to walk for four hours to collect water.
Around the UK children and young people have been sharing artwork on Twitter to show that their eyes are on the government this year.
Look at this display wall of artwork
There's still time to take part!
There is still time to take part! As Pope Francis remind us in Laudato Si' "climate change can no longer be left to a future generation".
Over 50,000 children and young people are already united in the fight against the climate crisis, and there is still time to join us!