Thank you for joining CAFOD's Christmas Fun Run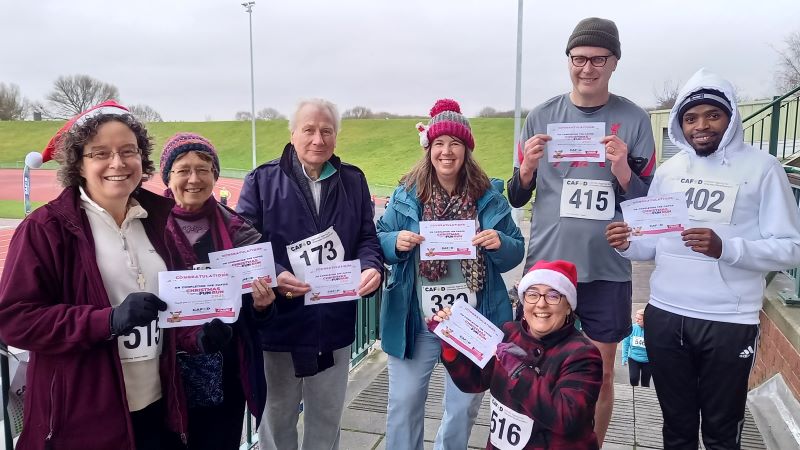 CAFOD's Christmas Fun Run took place on Monday 27 December in Liverpool and Bollington, and 'virtually' across the country. CAFOD's Neil Roper, who took part, tells us all about it.
On Monday 27th December I got up and went for a run with my wife in Norfolk, where we were visiting family. It was a lovely place for our CAFOD Christmas Fun Run. It was also the venue from which I joined the virtual start line on Facebook and watched the pictures from the two in-person events, in Liverpool and Bollington.
Liverpool
The race in Liverpool was started by Frank Cottrell Boyce and he was also interviewed by the BBC. During the interview he said, "If we've learned one thing through COVID, it's that we're all connected. There is only one world, and doing this fun run is a way of putting something back into that. It feels so good to be with people from all over the region, after all this time, it's fantastic!"
Hundreds of people joined Frank in Wavertree (Liverpool). This included Sr MaryAnne Francalanza FCJ. (Pictured above with members of her parish)
She commented on the Fun Run, "It was a great post-Christmas get together with friends and parishioners. A healthy event with a justice edge – we walked off some of the Christmas dinner and supported CAFOD's wonderful work at the same time."
Another runner was Kieron Walsh. Kieron and his parish have been long time supporters of the CAFOD Fun Run. He takes up the story, "Once again the CAFOD Fun Run delivered an opportunity to get us out over the Christmas Season to raise awareness and some money for CAFOD. A group of 21 runners and walkers from St Joseph & Holy Family Parish Sale (Shrewsbury Diocese) turned out to support this wonderful event in Wavertree. Some of our group have been doing the Fun Run for over 30 years."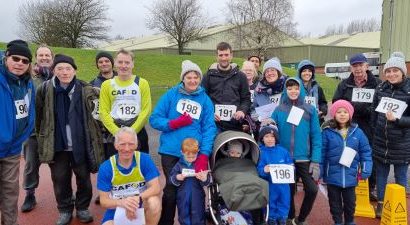 "The youngest participant was Hugo Walsh and the eldest Peter McBride (who has supported the Fun Run for over 20 years) with an age gap of over 88 years!"
"Our Parish Priest Fr Stephen Woolley did his walk with his Labrador locally (@ Sale Water Park) and managed to collect many sponsors who have contributed considerably to the total amount being raised. His encouragement and promotion of CAFOD has been greatly appreciated."
"The organisation was (as ever) slick and the Dixie Band was enjoyed by all, and it didn't rain!"
Bollington
The event in Bollington (nr. Macclesfield) also featured over a hundred runners taking on the course, and was very much appreciated, especially as it was cancelled last year.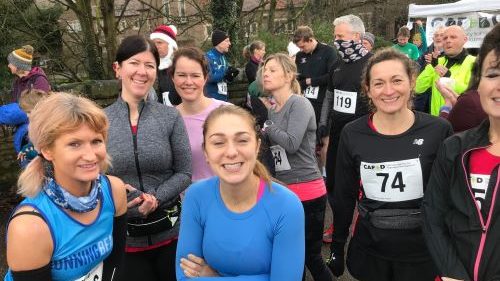 John, one of the organisers said, 'After a virtual event in 2020, the 10th annual CAFOD fun run in Bollington was back in-person for 2021! It was wonderful to see regular supporters young and not-so-young returning in force and great that the hard work of our volunteers paid off. The weather was kind, even if it was a bit muddy under-foot in places!'
Virtual
As with last year, there were many people taking part in the Fun Run wherever they were around the country. One of these runners was Abigail.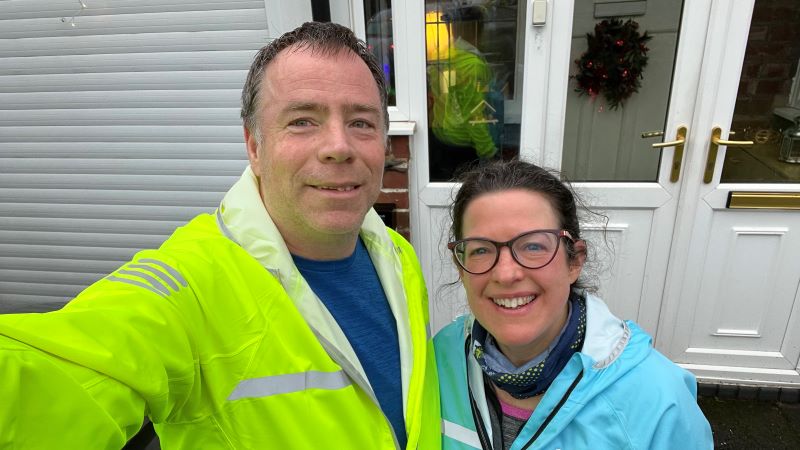 She tells her story, "I did the Fun Run this year as it was a great opportunity to join with others running virtually and having that moment of community with other CAFOD runners over Christmas. And it never does me any harm to wrench myself away from the excess of Christmas to spend some time outside in nature remembering why I volunteer for CAFOD for the rest of the year. My friends and family are so generous that I really feel that the half an hour or so of discomfort make a real difference in bringing about a world of justice."
"The run actually went really well, I surprised myself by relishing it, although I never run that distance usually. And my usual very short jogs are often broken up by chats with my dog-walking friends. At that time over the festive period, no one was out, so it was a non-stop 5k run, which I definitely felt the effects of the next day – so thank you to everyone who sponsored me when the legs were aching."
"I have been a CAFOD volunteer for over 20 years now and doing something very practical to fundraise appeals to me. CAFOD is dear to my heart as it brings my faith alive and links my own parish with the rest of the world, in a small, but very real way."
So, the CAFOD Christmas Fun Run is done for another year. It's not too late to donate to the efforts so many people have made, and why not think about whether you could get involved next year? What about getting a few people together to make it more of an event? If you'd like to organise something or have any other questions, please get in touch with Neil Roper at events@cafod.org.uk.
If you'd like to run for CAFOD, please visit the link below. You could do a marathon, half or any other event you fancy!