March 9, 2017
CAFOD Writer Mark Chamberlain collects three recipes from his colleagues to share with you in case you need inspiration for your Friday fast. Thank you to everyone involved!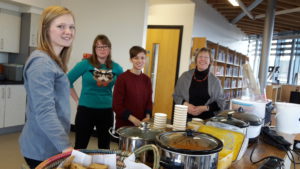 Simple soups are all the rage here at CAFOD this Lent. I sat down with a colleague on Monday and we each shared some. If food was music, his was a clever symphony of kale and spinach. Mine was a panicked free-jazz improvisation on the theme of black beans and veg.
In advance of our fast on Friday together, here are three recipes from my wonderful colleagues' families, just in case you needed inspiration.
Share a simple Fast Day soup lunch and donate what you save Continue reading "Fast Day: Three simple soups to share from our families"