October 13, 2017
Francis Atul Sarker is the executive director of Caritas Bangladesh, our local partner who is working around the clock to get emergency aid to the mainly Rohingya people, fleeing violence in neighbouring Myanmar. He gives this eyewitness account of life for the refugees in Bangladesh's Cox's Bazar district.
Please donate to CAFOD's Rohingya Crisis Appeal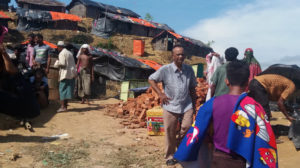 When I think of the refugees that I visited in southern Bangladesh last week, I keep seeing a young girl with trauma written across her face. I asked where her parents were. She told me she was an orphan, being looked after by a neighbour from their village in Myanmar's Rakhine state. It was heart-breaking.
Continue reading "Rohingya Crisis Appeal: Working together our aid response gives back dignity"