May 26, 2017
Carolina Serra is a Corporate Partnerships Manager at CAFOD. She reflects on the recent victory of the Forest Green Rovers Football Club (FGR), the greenest football club in the world, and how this also means a victory for our common home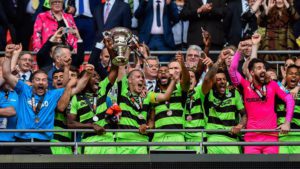 I am not really a sporty person and certainly I am not the most knowledgeable person when it comes to football.
However, on Sunday 14 May 2017 something special happened in the English football world and I want to celebrate it. Forest Green Rovers won the National League promotion final, jumping to the English Football League.
FGR is one of the oldest football clubs in England. Most importantly, after being acquired by CAFOD's corporate partner Ecotricity in 2010, they have become the greenest football club in the world – and the only vegan club in the entire sport.
Find more about CAFOD's partnership with Ecotricity
Continue reading "When football falls in love with the planet"