May 2, 2017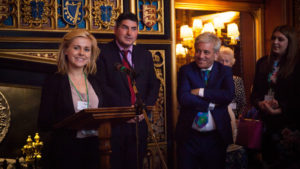 Eleanor Margetts is a young CAFOD volunteer, who spoke at CAFOD's parliamentary reception for MPs and MP Correspondents. This extract is from her inspiring speech.
I have been involved with CAFOD for about four years. The organisation has been a huge part of my life and continues to shape me.
I must admit, when I first chose to volunteer with CAFOD, I applied for the Step into the Gap programme, hoping that it would give me a leg up in the education sector.
But, unexpectedly, I encountered what Pope Francis calls the 'cry of the poor'. Through working alongside CAFOD, something switched on inside me: a sense of responsibility for the rights of my global family.
Speak up on poverty and climate change this election
Continue reading "General election 2017: Hearing 'the cry of the poor'"