July 30, 2018
Dadirai Chikwengo is CAFOD's Governance Advisor supporting work across Africa, Asia and Latin America. She is currently in Zimbabwe ahead of the first elections since former President, Robert Mugabe – who had been leading the country for over 30 years – stepped down.
In the last five days, I have been taken back to my childhood days. The days when I was a little girl in Gweru. The euphoria and the excitement in the country have taken me back decades to 1980 when Mugabe came into power.  It is winter in Zimbabwe. Not that our winters are grey and wet as some place in the North where I now live. Here most of the vegetation looks brown like fields of wheat ready for harvest. But this winter, the colours on the brown barks of the trees have been unusual. From green, yellow, red, blue, you mention it!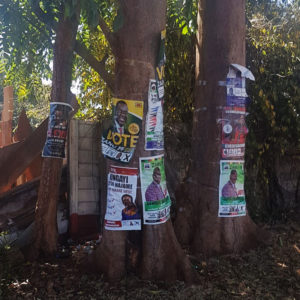 In case you think I am out of my mind – surely who has seen a blue tree? I am not. These are all the colours of posters tied up or pasted on the trees. The colours of posters that are lining the streets or on walls whenever you go. Posters of political parties, the Church or the Zimbabwe Electoral Commission about this election.  I meet people in the streets who are fearlessly open about their candidate of choice. Clad in the colours of their party every time they see someone in the same colours they acknowledge them and loudly say out the slogan ED Pfee (ED enters) or Chamisa chete chete (Chamisa the only one).
Follow us online for more stories from around the world