August 14, 2015
Maisie, Hollis, Hannah & Theo, of SS John Fisher and Thomas More School, are CAFOD young climate bloggers. They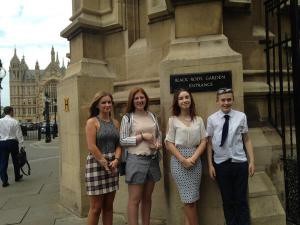 deliver assemblies to raise environmental awareness in their school community, and blog about what they are doing. Quickly realizing that this was an issue bigger than just the school community, the group invited Andrew Stephenson MP to a Q&A session during which he was asked to outline the government's plans for minimising damage to our planet. He went away and brought the questions to Prime Minister's questions. The group was recently honoured as part of Million Minutes' Celebrating Young People Awards, which celebrated how young people live out Catholic Social Teaching every day through taking social action. They were co-winners of the Caring for the Environment award. Here's what Hannah and Hollis had to say:
On 1st July, we embarked on our long awaited journey to London. We were ready to take our first steps into the House of Lords, to celebrate our work on climate change as nominees for the Barbara Ward Award for Caring for the Environment.
As only two people were permitted to attend parliament. Hannah and I (Hollis) had to occupy ourselves in London for 5 hours, which certainly isn't a bad deal! We both agreed we wanted to see Covent Garden, as we've heard it's one of the key places to visit in the capital city. Whilst in Covent Garden, which was amazing, we enjoyed the entertainment and some very much needed ice-cream before freshening up to go and meet Maisie and Theo, for the award ceremony at the Prince Charles Theatre, in Leicester Square.
Sign CAFOD's climate change petition
And Maisie and Theo talk about their visit to the House of Lords!
Continue reading "CAFOD young climate bloggers honoured for their commitment to care of the environment"