October 11, 2016
David Mutua, CAFOD's Africa News Officer based in Nairobi, reflects on some of the invaluable projects he has seen helping people to grow food in Kenya.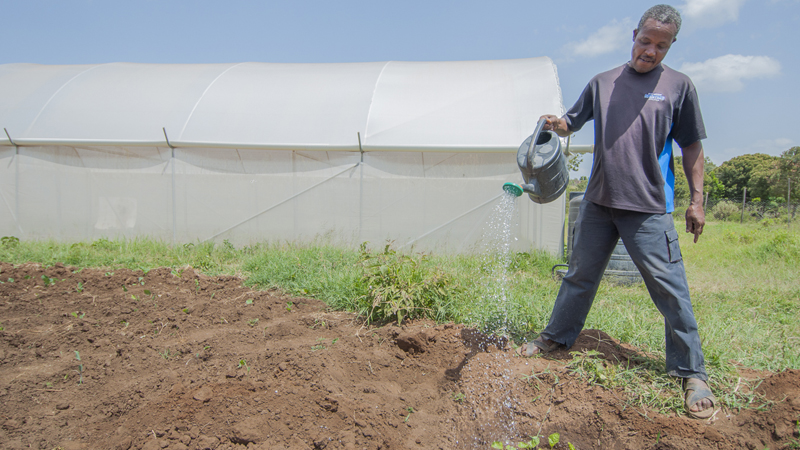 Kenya is renowned not only for its award-winning beaches but also the breathtaking safaris. Alongside the 47 million citizens who call Kenya home, many people across the United Kingdom have a special place in their hearts for my country. Members of the British Royal Family have holidayed amidst some of our natural beauty spots on the foothills of Mount Kenya.
Away from the tourist brochures, the lives of so many are being disrupted by the adverse effects of climate change. For people who have always lived off the land, who depend on it to feed their families and earn a living, these changes are having a dramatic impact.
CAFOD food and farming projects in northern Kenya
In June I headed to Maralal and Marsabit in northern Kenya, where CAFOD is working on a climate and agriculture programme funded by our Lent 2015 appeal. The UK government matched pound for pound £5m raised by CAFOD's supporters, and we are using part of this money to work alongside our partners Caritas Maralal and Caritas Marsabit to teach more than 97,000 community members sustainable farming methods that can be adopted in the very unforgiving environment.
This Harvest, fast for a day and send in the money you save
In Maralal town, climate change has caused rainfall to decrease and become erratic. Water sources have dried up and there's less pasture for the predominantly pastoralist Samburu community to graze their cattle. Continue reading "Harvest Fast Day: bearing witness to life-changing work"