November 12, 2018
Presenter and reporter Julie Etchingham travelled to Lebanon to see the work of CAFOD partner Caritas Lebanon.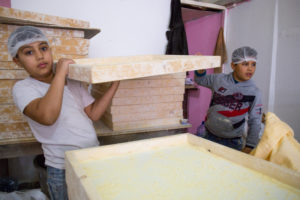 In a side road in a small town in the Bekaa Valley Yazan and Majed are hard at work. They are brothers aged 10 and 11. Their day started in darkness, getting up at 4am they were a bit scared to be going out before dawn, to get to their jobs in a local bakery.
The tiny bakery turns out flatbreads for local restaurants. The boys work alongside two grown men. The adults receive $40 (£30) a day. The boys get $3 (£2.30) a day between them. But these meagre earnings are vital for their family to survive after fleeing the war in Syria.
Donate to CAFOD's Syria Crisis Appeal. Continue reading "The Child Breadwinners of Bekaa"