March 16, 2018
Hal and Cherrie from London based east-meets-west electronic pop group Ooberfuse have been finding sticking to their Lent Give It Up Challenge a little tricky – especially when Hal had to face the cold of the 'Beast from the East' without hot food or drinks!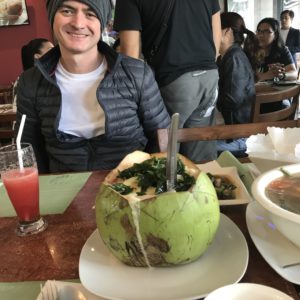 Hal: Giving up hot food and drink on the basis that it starts with the first letter of my Christian name sounded like a great idea before the season of Lent began. What I never foresaw, however, was that London would experience its coldest winter with temperatures dropping to sub zero levels.
It's a primitive instinct when you're cold to take in hot fluids and hot foodstuff. For example, nothing tastes better than a baked potato on a cold winter's night. So when the Beast from the East burst in to our lives, I was struggling with these basic instincts.
Continue reading "Facing the Beast from the East with no hot food"