February 26, 2018
Jeremy, from our Hallam volunteer centre, has never considered himself a 'shopaholic'. But a shiny new camera lens and a letter from the bank led him to wonder – is there more he could be doing to fight back against the culture of consumption?
I had a shock a few weeks back. For once it wasn't the emptiness of my bank account, though that was the catalyst. Instead, I was surprised, and a little dismayed, by my powerful attachment to possessions.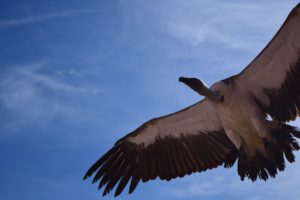 Let me explain. I'm an occasionally keen amateur photographer and, as we're planning to visit Mull after Easter, I thought it would be a good idea to buy myself a zoom lens. We're mostly going for the birds of prey and I had dreams of getting the perfect shot of a sea eagle plucking a fish out from the water. I'd spent days scouring the internet and was on the verge of clicking the buy-it-now button when the bad news from the bank came through. Just for a moment, I was tempted to click anyway but the thought of having to explain to the kids why we had no food to eat held me back. They can be quite aggressive when they're hungry.