May 20, 2016
Susan Kambalu works in our schools team, and recently joined CAFOD schools volunteers reflecting on the refugee crisis with our Lampedusa Cross pilgrimage resource. She describes her thoughts and feelings as she went through the stations.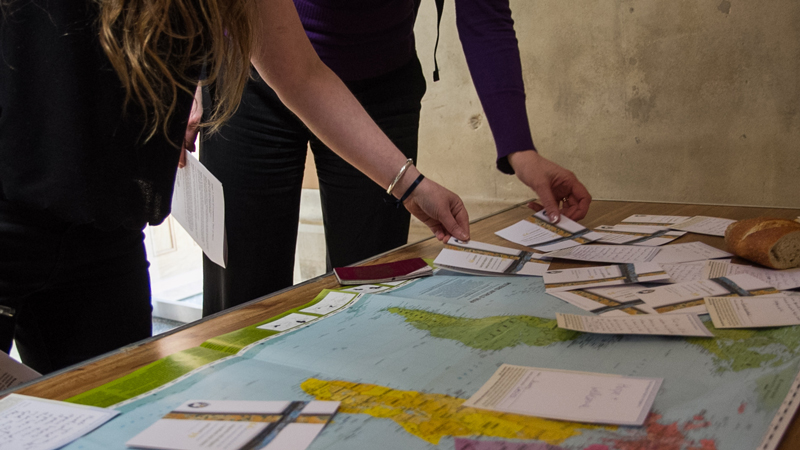 "Look down at what you are wearing. If you have a bag with you, consider what is in it."
It was a warm day; I wore a dress and cardigan but no jacket, and soft shoes. They would not last long if I had to flee like Amina, a refugee in Darfur; if the weather changed I would have no protection against the elements. I happened to have my passport in my handbag that day, an unusual occurrence for me, but an important document that links me to the country of my birth. I had my house keys: but what use would they be if I could not go home? My wallet had a few coins, a bank card, a passport photo of my husband – the money would not get me far, neither would the contents of my bank account if I could no longer go to work. My mobile phone would provide a link with my family, directions to another destination, photos that would provide me with memories of my life and home – but only until the battery ran out, as I had no charger with me.
What prompted me to reflect on my clothes, my handbag? To wonder how I would get on with only the items I had with me, away from home? I was taking part in our new Lampedusa Cross refugee pilgrimage, an ideal opportunity to reflect on "welcoming the outsider" during this Year of Mercy.
Download CAFOD's Lampedusa Cross pilgrimage for young people
It has been a privilege to be involved in this term's training days for our school volunteers. Last week I spent the day with about fifteen volunteers in Portsmouth diocese; last month I spent a day visiting our Birmingham volunteers. Over the past term, 100 schools volunteers have been trained in leading this poignant pilgrimage. They now have the resources to support your local Catholic primary or secondary school in learning more about the current refugee crisis and praying for those looking for a safe place to stay.
Continue reading "Schools volunteers take our Lampedusa Cross pilgrimage"