Flame2: Expressing our faith this Lent
Nathaniel and Remi are CAFOD young leaders and students at St Joseph's College, Reading. They tell us about their experience at Flame2.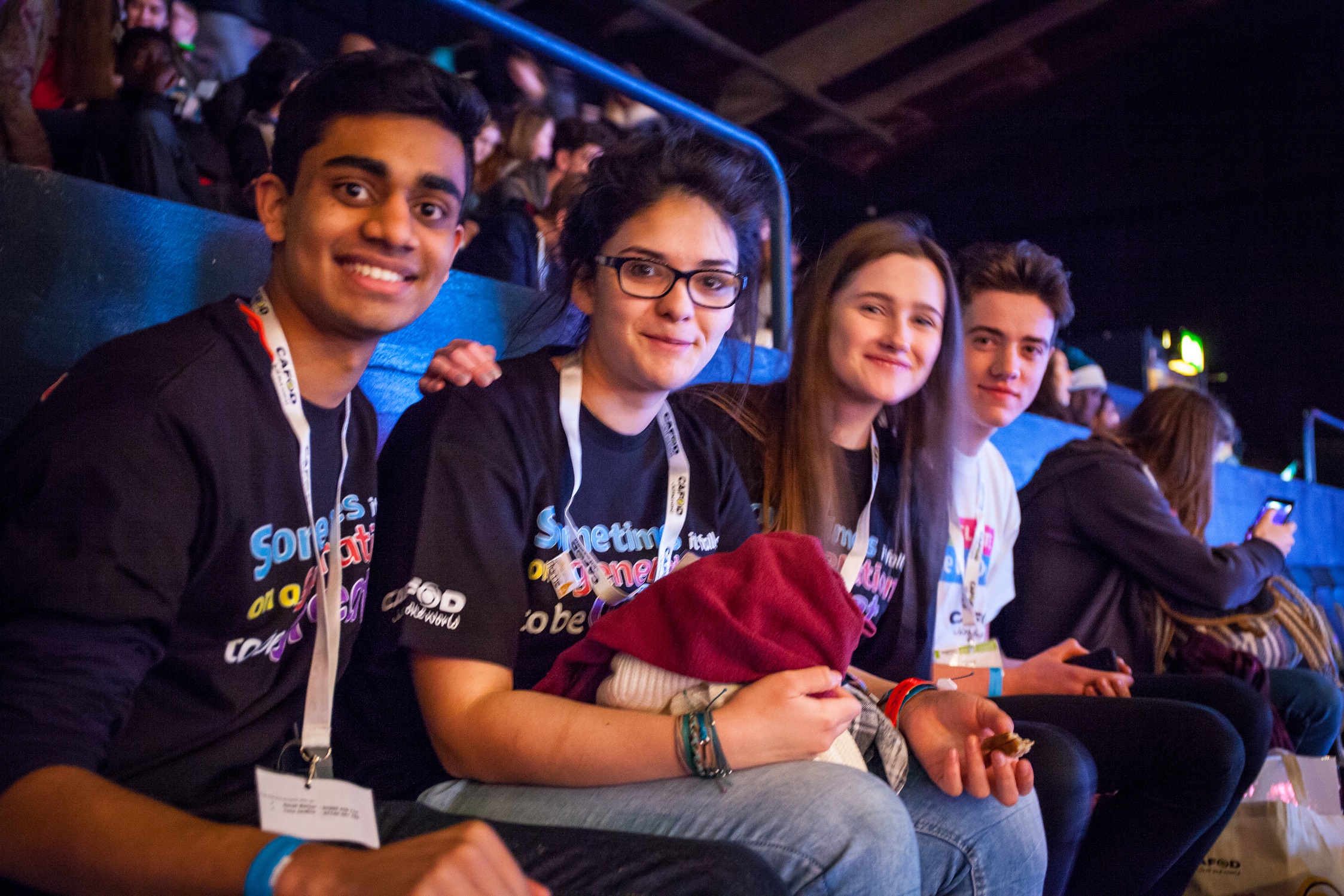 As we progress through the season of Lent, it is important that as Catholics we take the time to reflect on how we can contribute to our community.
The CYMFed Flame2 event at Wembley Arena earlier this month was an opportunity to reflect along with thousands of other young Catholics. You could feel the presence of God in the hearts and minds of everyone as we gathered to kindle the flame of Christ.
Aged 11-18 and want to express your faith?
As we took to our seats, the event roared into life with uplifting and exciting music by liturgical dancers and double-Grammy award winning songwriter Matt Redman. Thousands of pinpoints of light from the mobile phones of the audience shone around the arena, as everyone joined together in musical worship.
Lighting the flames of our faith
CAFOD had prepared a series of lunchtime activities for us as young leaders to use to engage and inform people. During the balloon challenge, participants were asked to race each other to inflate the balloons the fastest, not knowing that one of the balloons had a hole pierced through it. The balloon with the hole symbolised how not all of us have equal opportunities in life, because many people are born into areas which are disadvantaged by the climate, resources or political systems. CAFOD young leaders also contributed to getting #Flame2 trending on Twitter, by sharing photos of activities and of friends wearing the One Climate, One World heart costume.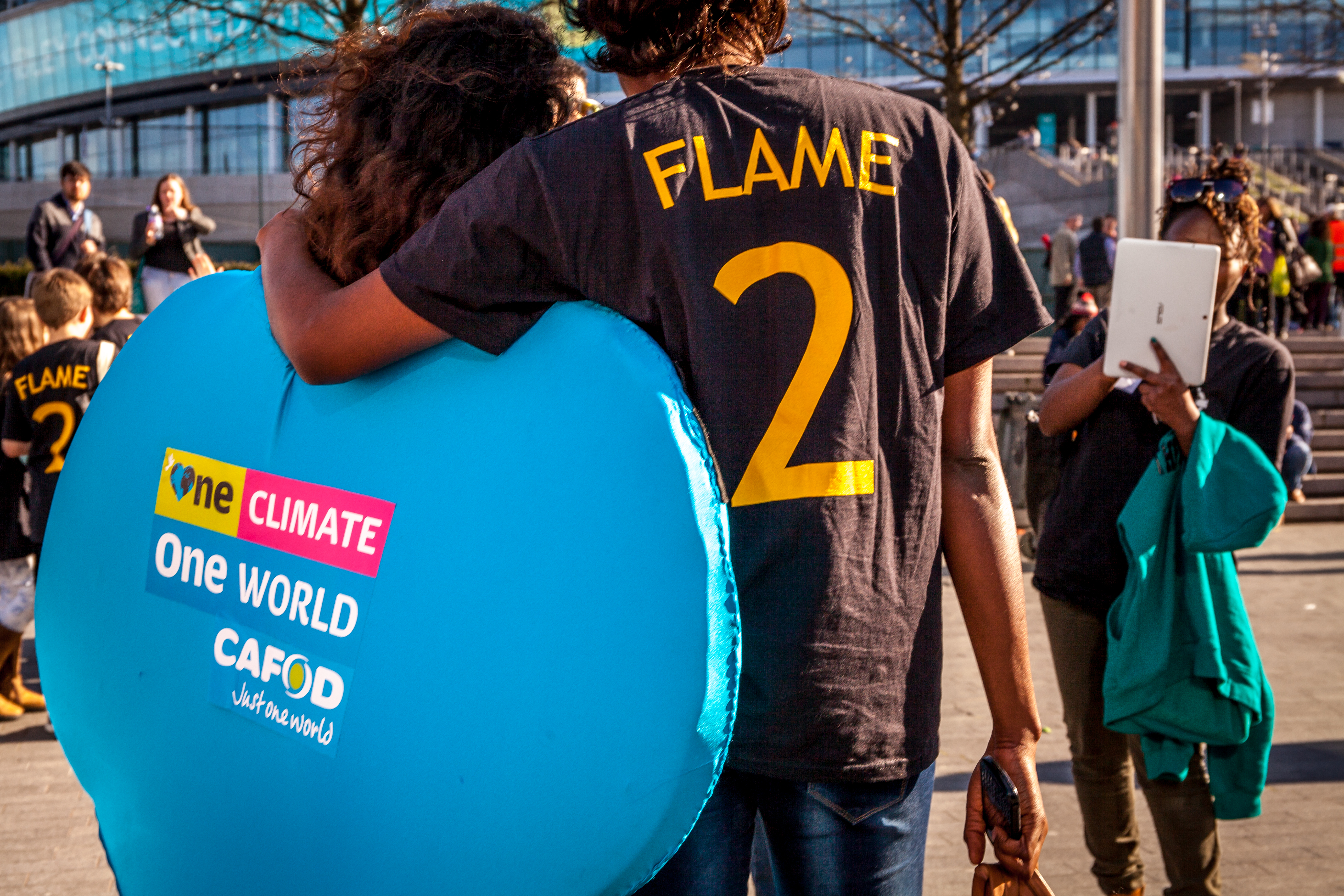 There were several inspirational speakers, a message from the Pope, and CAFOD's gap year students giving input. Cardinal Tagle from the Philippines challenged us to "be living signs of the joy of the Gospel of mercy". CAFOD's input showed young people around the globe taking action in and beyond their own communities.
This was followed by a heartfelt testimony by Matt Redman about his personal life and where he finds inspiration for his music. Through the rest of the afternoon, through all the talks and speeches, the underlying metaphor of spreading the joy of the Gospel and keeping the flame alive was clear. The day ended with Adoration of the Blessed Sacrament, and Matt Redmond's final reprise was one of the most uplifting and energetic moments of the event, closing with the song Dancing Generation.
People arrived that day with various levels of intensity in their faith in Christ, but as the crowd dispersed at the end, we felt that all our flames were burning brighter. It was such an enriching feeling to be able to witness first-hand just how much our Christian community respect each other, and to feel the positive vibe resounding from the arena.
How can we express our faith?
As we left, the main question we took away is what we can do as individuals to express our faith. Having been inspired by the event, we have thought of three ways we are going to express our faith this Lent.
The first is giving. There are many ways we can give this Lent. There are CAFOD fundraising events already in place, and there are also many we can organise in the future in our school. Ask yourself: "What can I do to help my community?" And this Lent, the UK government will match every pound donated to CAFOD's Lent appeal up to the value of £5 million, until Friday 17 May. This means that donations from schools like ours will have double the impact, helping even more people living in extreme poverty overseas.
The second is acting. CAFOD's One Climate, One World campaign encourages us to act to bring about change in our own lives and more widely in the world. We can act by lowering our personal carbon footprint and our negative impact on the environment. We can do this by walking more and driving less, and reducing our energy and water consumption. Furthermore, we can challenge our local MPs to get them to take action to push for a global agreement to reduce carbon emissions and to ensure everyone has access to sustainable energy.
The third is praying. This is especially important since Lent is a season of prayer and self-reflection. It's important to take a look at your own life before making any actions. After Flame2, a lot of our prayers have been focused on the people we have heard about who live in poverty, and prayers of thanks for the things we have in our lives.
Overall, Flame2 was a full day of excitement and celebration, but also of great reflection and learning. As young people who came away feeling full of life and gratitude, we would like to thank all at CYMFed and CAFOD and all the groups of people who worked so hard to make Flame2 possible. It was a memorable occasion like no other.