"I wanted to be more dead than alive." Meet one woman building peace in Colombia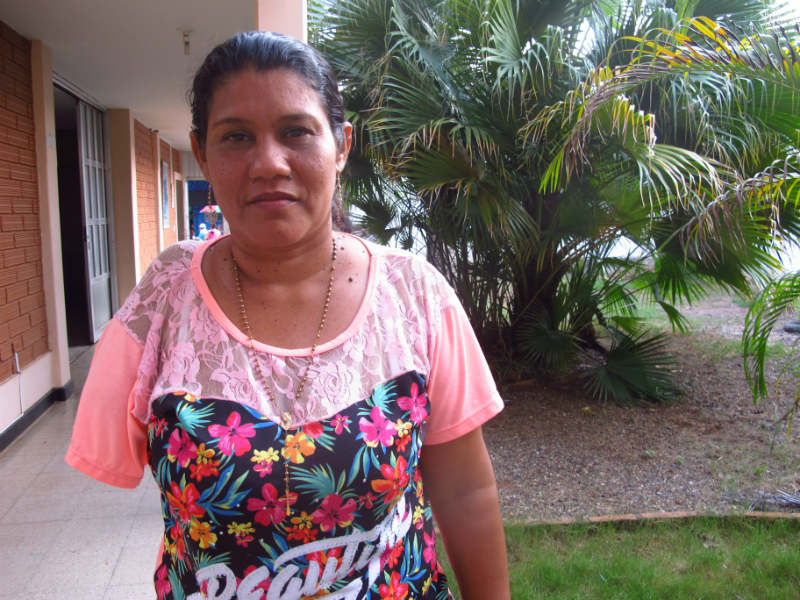 For more than fifty years Colombia has been ravaged by an armed conflict that has impacted the lives of millions of people. Despite a peace deal with the FARC guerrillas, there has been an alarming increase in attacks against human rights defenders.  CAFOD's Laura Ouseley meets Liney Contreras, one the women who is speaking out.
"When I was younger I wanted to be a teacher" says Liney. "But that all changed. After the attack I wanted to be more dead than alive. My dreams went out the window."
Liney Contreras, from Colombia, is telling me about the moment her life changed forever when she was just 16 years old. She was in Medellin to register for university, walking with two friends when a car bomb went off. "I lost my right arm and broke my leg in the explosion. I spent 6 months in hospital."
She was an innocent student caught up in the war against the country's most notorious drug baron, Pablo Escobar. The attack meant Liney's name was added to the list of over 7 million victims of Colombia's five decades-long conflict.
Speak out – sign up to our campaigns e-newsletter
Returning to her home town of Montelibano, and with her hopes and dreams for the future shattered, Liney had to rebuild her life. She married and moved to a village outside of town so they could work on the land and support their two young children.
But this didn't turn out to be the idyllic move Liney hoped for.
Another tragic blow
"My brother later came to live in the same village, he was 18 years old and working on a farm in front of our house," she says. "He didn't realise the farm owner was in trouble with armed groups and early one morning they arrived looking for him. When they couldn't find the owner, they took my brother and two other young men who worked there and killed them, cutting off their heads and hanging up their bodies."
Liney is clearly still affected by the horrific events which took place around 10 years ago. She finds it hard to make eye contact whilst telling the story.
Meet other human rights defenders CAFOD supports
Following her brother's murder, Liney and her family were forced to flee the village and abandon their home.
Colombia's conflict had thrown Liney two massive blows. But she was still alive. "I think all that had happened gave me the strength to do something."
Getting organised
"I received training and set up an organisation to help other women who are victims of the conflict in Colombia. I thought that on my own I couldn't do much, but that together we could do much more."
Liney is one of the women risking her life to help the peace process in Colombia. She founded the Association of Women Victims of the Armed Conflict, a women's organisation supported by CAFOD that empowers female survivors of the conflict in the region of Montelibano, Córdoba, and helps them to fight for their rights.
Now Liney is 44 years old, and the women's association is going strong. She also represents other victims, lobbying for their rights on the municipal and national victims' roundtables.
But standing up for others is a dangerous job in Colombia. 186 human rights defenders were killed between 1 January 2016 and 1 July 2017, according to Colombia's Ombudsman (Defensoria).
"Some people have had to step down from the roundtable because of threats" she explains.
A peace deal between the Colombian Government and FARC guerrillas was signed last year and thousands of guerrilla members have now demobilised. Yet other armed groups remain and the demobilisation has left a power vacuum in some areas, with a number of other armed groups stepping in to fill the space.
Crucial role of human rights defenders in Colombia
For the peace deal to be successful, Colombia will need courageous women like Liney who can help victims of the conflict open-up, tell their stories, and claim the justice and reparation they are entitled to.
"The most rewarding part is working with women who have suffered abuse" Liney tells me. "You can see women gradually wake up. When they arrive they say 'I can't do anything', but we work with them and give them training. Soon they start to build up their self-esteem. It is the women that inspire me to keep going."
Join Liney in speaking out about peace and justice – sign up to our campaigns e-newsletter
CAFOD's Human Rights Defenders Programme in Colombia was supported by the European Union. The contents of this article are the sole responsibility of CAFOD and can in no way be taken to reflect the views of the European Union.