Mary Lucas, our representative for the Middle East, describes what life is like for one young boy living in Gaza.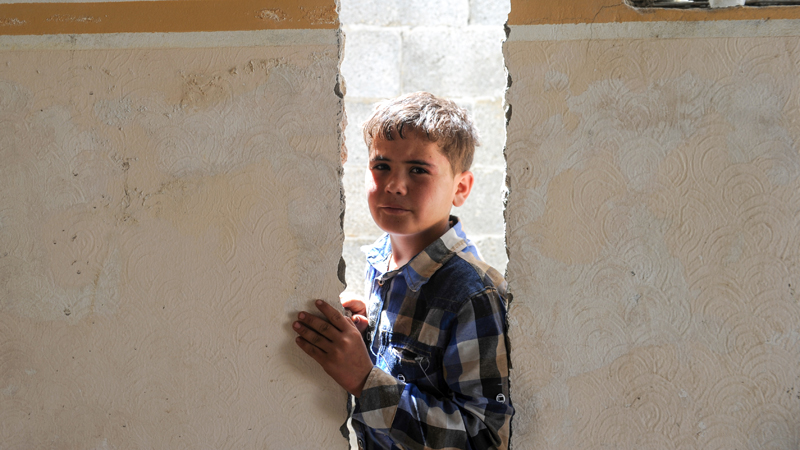 Mohammed was just nine when he and his sister, Doha, were orphaned. It was a hot summer in 2014 and the people of Gaza were struggling to survive an extreme military bombardment. Apartment blocks were falling in clouds of dust throughout the territory. Some nights, entire neighbourhoods were given a few minutes' warning to leave – fleeing their homes to find safety wherever they could.
Mohammed's family had to leave their home as it wasn't safe. They were evacuated to a nearby school and like so many caught up in the conflict, struggled to get the essentials. Water pipes were damaged and food was expensive and running low in shops because of the bombing.
To ensure the family could survive, Mohammed's parents would wait until there was a ceasefire and run to collect water and food.
That day, they decided to check on the house that they had spent years investing in for their family. As they approached the house, an explosion killed them both instantly. Shortly afterwards, another bomb reduced the house to rubble.
In the blink of an eye, the children went from having a childhood, a home and loving parents, to nothing. It was a time of darkness.
Bring light and hope to children like Mohammed with a World Gift
"We couldn't do anything," says Doha, now 17 years old. "We had to stay in the school – if we went out, we would have been killed too. All we could do was stay here. I was so sad. I didn't know what to do. I cried a lot."
Emotional turmoil for children in conflict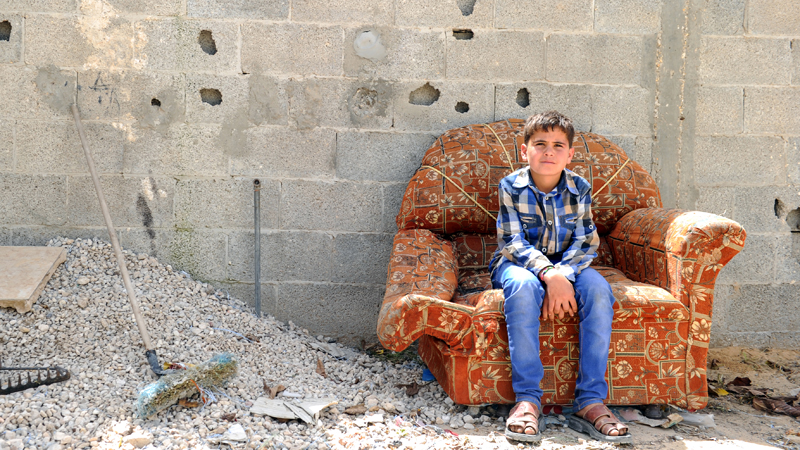 During those seven weeks of conflict, 1,500 children like Mohammed and Doha were orphaned, and a staggering 160,000 were left in need of counselling. Imagine the scale of need – it would be like all the children living in Leeds suddenly in desperate need of emotional therapy.
After the death of their parents, Mohammed and Doha were taken in by their uncle and offered a small room in his house with a rug and a few cushions to sleep on. While the children had shelter, they didn't have a safe water supply in the house – like so many other families in the neighbourhood.
The trauma these young children have experienced will likely stay with them for the rest of their lives. Israelis and Palestinians both need security and peace and to live free from threats if communities are to flourish. But in these moments of insurmountable darkness, we can find ways to bring a little light and hope.
Providing clean water in Gaza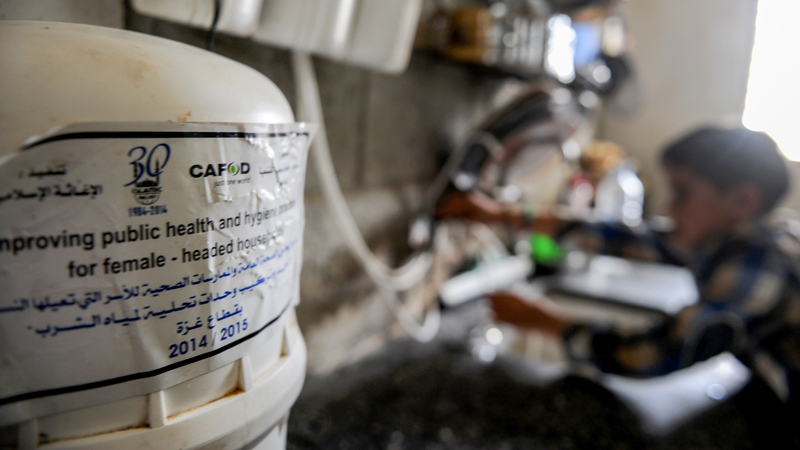 With CAFOD's support, our expert partner in Gaza – Islamic Relief Palestine – provided Mohammed, his sister and his uncle's family, with clean safe water. They installed a special reverse osmosis water filter that purifies otherwise dangerous water so it is safe to drink. It means the children and their uncle don't have to buy water from expensive sources. Since 2014 we have provided 220 families and 65 nursery schools with these clean water filters.
We have also ensured that vulnerable families such as Mohammed's understand how to stay healthy in often overcrowded, temporary shelters. Our partner has worked with the families in Mohammed's devastated neighbourhood to ensure that the children have soap, toothbrushes and toothpaste.
Find out more about how CAFOD are working in Gaza
Incredible projects like this one help the most vulnerable people wherever they live in the world. While Mohammed's life is still a daily challenge, he and his sister Doha can at least turn on a tap in their house to get something to drink. Millions of children and young people living through conflict can't do this.
Bring light to others this Christmas
So many across the world will spend this Christmas in desperate situations, struggling with the most basic of needs. Over the next few weeks, please take a moment to remember all those who are afraid and who live their lives in the shadow of death. Remember those who are searching for light and for peace.
And remember those who bring light and peace to others. Those who have opened their homes, their lives, their wallets or their hearts to make a real difference to someone else's life.
As we welcome the light of Christ into the world, may we walk out together into the way of peace, and bring light to all our brothers and sisters in darkness.
Bring light to others this Christmas. Please donate to our Advent appeal