Ask an election question: challenging my candidates on poverty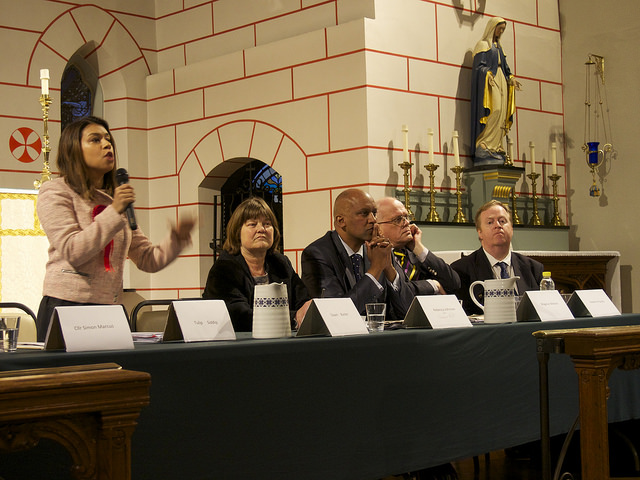 Susan works in CAFOD's Education team. This blog was written just before the 2015 UK general election.
I have a confession to make. Despite years of working for CAFOD and writing to my MP about social justice, I had never attended a hustings meeting of election candidates in my constituency until this month.
Email your candidates  during the 2017 general election campaign with a question on poverty and climate change.
My parish, the Church of the Transfiguration in Kensal Rise, decided to host a hustings for the first time this year. The parish is on the border of two particularly interesting constituencies.
Hampstead and Kilburn is the most marginal seat in the country. Glenda Jackson won in 2010 with a majority of only 42. She is standing down this year, as is Sarah Teather, who has been my constituency MP. She had a slightly higher majority, but this is still the 51st marginal seat. So there's a lot to play for!
We had a great turn-out, from the candidates – almost all of whom came – and the audience, there were a mix of parishioners and other local community members. 
Questions, questions
Some were obviously already involved in local politics, but many, like me, were attending for perhaps the first time, simply interested to hear what the candidates had to say.
That, I think, is the essence of a hustings – the opportunity for everyone and anyone to question those wanting to represent them in parliament.
Each candidate started with a few words about themselves: their backgrounds, why they were standing and their key policies.
Then we had the opportunity to ask questions, which ranged from assisted suicide to Europe to the future of the local libraries.
What will you do for the poorest people?
We were getting towards the end – a good two hours of debate! – when I asked one of the questions suggested by CSAN and CAFOD: What will you do to speak out for the poorest and most vulnerable people around the world?
As the candidates gave their answers, I scribbled down what they said.
The Conservative candidate shared his experience of travelling to Ghana and of the importance of spending the development aid budget "more efficiently", seeking greater accountability for where the money was spent.
The Liberal Democrat candidate spoke of his work with minority communities and his personal interest in ending the abuse of children in war zones.
The Green candidate spoke about the importance of not just sending aid, but in working for education and empowerment, particularly of women. She also said that we are "very good at digging in our pockets but not good at dealing with the consequences" and spoke climate change, saying "we have to change our behaviour".
The Labour candidate spoke of the danger of the rhetoric of just "looking after ourselves", and gave the example of her own work against the trafficking of women.
The UKIP candidate turned the question back to me: "What will you do?" and spoke about the great British tradition of giving money and volunteering.
Act now: Email your candidates about poverty and climate change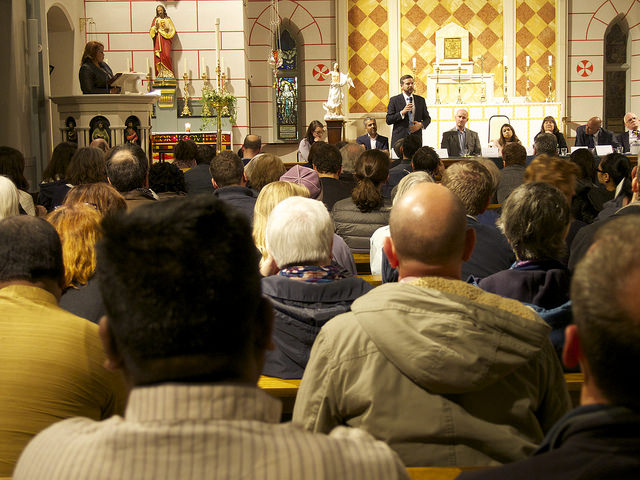 What next?
I'd definitely encourage others to attend a hustings, and to prepare a question to ask the candidates. It was a great atmosphere; there was a vitality about it that I really enjoyed. Download CAFOD's 2017 election resources
I have to say that I feel more confused about who to vote for though, as I've been weighing up what each candidate said and the way that they presented themselves.
But I look forward to casting my vote – once I've decided who to vote for, of course! When the election is over and I have a new MP, now that I've met most of the candidates, I look forward to contacting them again. In particular to invite them to meet their constituents at the Climate Coalition lobby of parliament on Wednesday 17 June, just weeks after election day.
Since the hustings, I have tweeted about it, and I've emailed all my candidates again – to thank them for coming and to ask more specific questions. I've only received one reply so far – but don't worry, I'll tweet them all this blog post too!
Act now: Email your candidates about poverty and climate change