The significance of St Francis in the light of Laudato Si'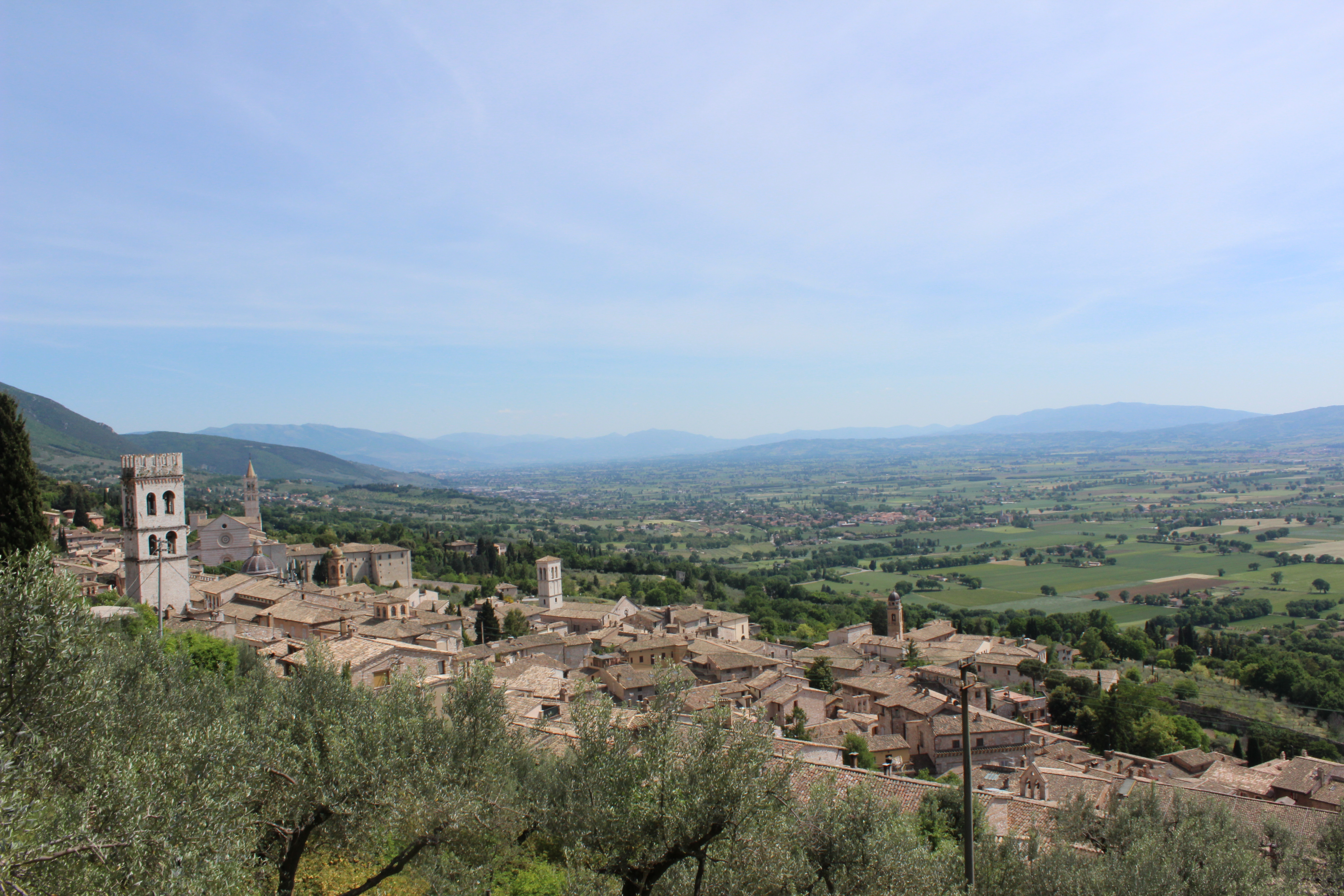 Megan Cornwell is CAFOD's UK News Officer. She visited Assisi in May for her wedding anniversary and tells us what she learned about St. Francis, whose writings inspired the title of the encyclical Laudato Si'.
As you stare out over the lush, verdant Umbrian countryside that surrounds San Damiano church – the place where St Francis of Assisi wrote 'The Canticle of the Sun' – it's easy to see why the man who inspired the Franciscan Order was so convinced of mankind's inherent unity with nature. The view is spectacular and must have been even more breath-taking 800 years ago when Francis was convalescing at this little church.
In May I had the privilege of visiting Assisi in Umbria, the birthplace of St Francis. It's a truly special place and San Damiano, in particular, is the jewel in the Umbrian crown.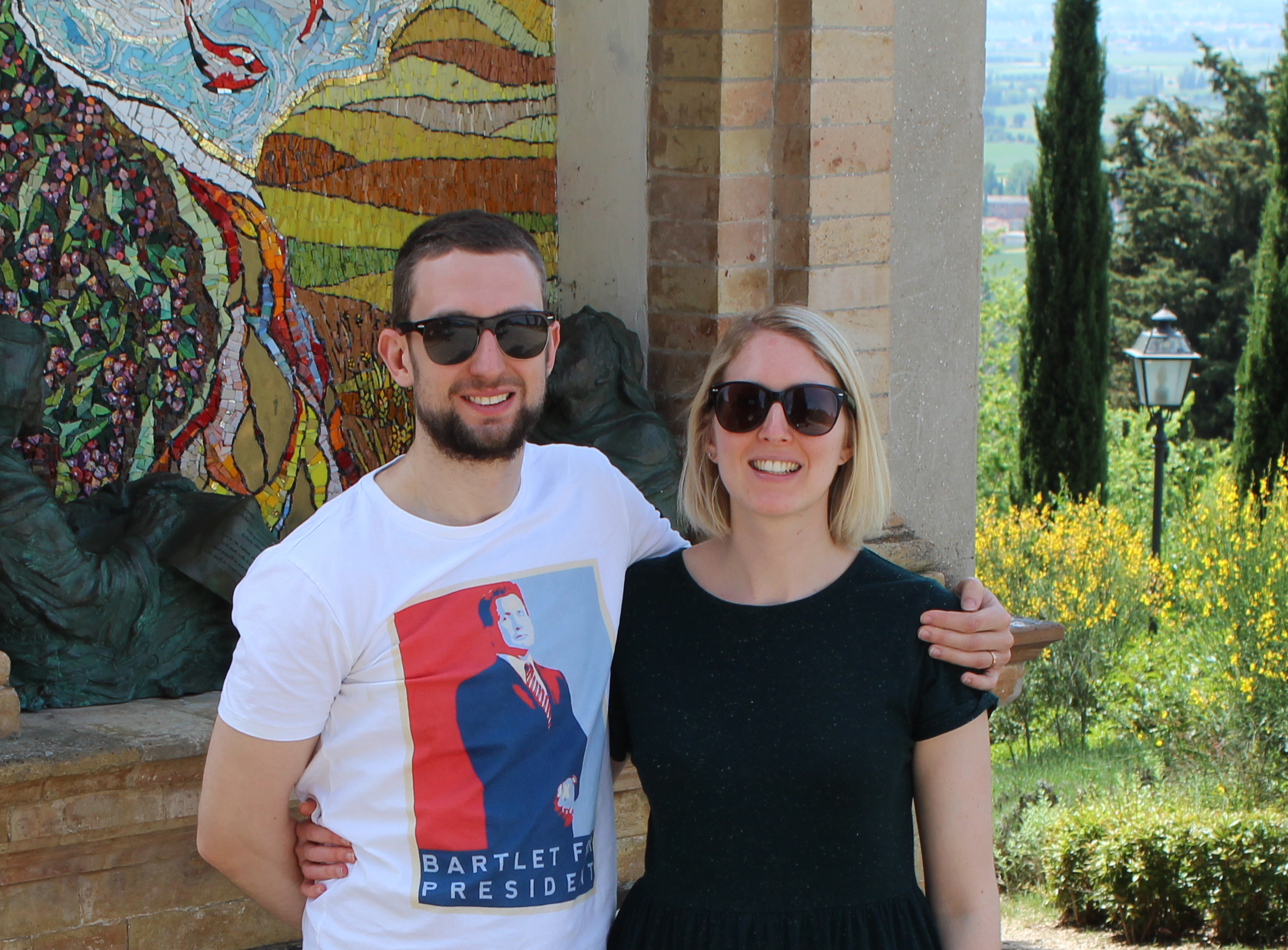 Now that the papal encyclical, Laudato Si', has been published, taking its title from St Francis' canticle, no less, I've been reflecting on the significance and legacy of "the little poor man of Assisi".
Download The Canticle of the Sun prayer
The significance of St Francis
St Francis is an inspiring character; born into a wealthy merchant family, he chose to reject comfort, pleasure and position by embracing an ascetic life that called for obedience to God and fellowship and solidarity with the poor. I think he is a great example for us today as we challenge ourselves to live out gospel values of peace, patience and self-control while living in wealthier countries that tell us we can have it all.
Pope Francis asks us in Laudato Si' to consider how much we consume and what effect this has on others. He encourages us to learn how to enjoy life's simple pleasures, saying "Happiness means knowing how to limit some needs which only diminish us, and being open to the many different possibilities which life can offer."
I have found this to be true in my own life. As I've challenged myself to greater generosity and as I've carefully considered purchases rather than profligacy, I've realised that there is joy to be found in living more simply, as well as a spiritual benefit in learning to trust God's provision.
Find ways to engage with the papal encyclical
St Francis shows us what being in love with God's creation should look like: an overflow of love to all people, and including all creatures great and small. He invites us into a communion that extends to our environment – and calls us to experience an ecological conversion.
What can we do in response?
The most important thing we can do if we want to engage and grapple with the messages in the encyclical is firstly to read Laudato Si' – or as much of it as we can – and allow the Pope's words and the Holy Spirit to speak to us.
2015 is a particularly significant year for the environment and for the future of humanity. Just next week the UN will meet in Addis Ababa to agree a framework for providing the necessary aid for poor countries to develop. In September the UN gathers again to agree the next set of goals to reduce world poverty and in December, world leaders will establish a legally binding deal to cut carbon emissions and tackle climate change.
Pope Francis made clear in his encyclical that political will has not gone far enough and that recent world summits have "not lived up to expectations." He deliberately released Laudato Si' in this year of key political moments.
As we approach these crucial summits we must keep up the pressure on world leaders by asking them to push for international climate and development deals that are ambitious and fair.
Inspired by the encyclical, thousands of Catholics are coming together to ask David Cameron to prevent climate change pushing people deeper into poverty. There are 1.2 billion Catholics in the world. If we all signed this petition and prayed for positive outcomes at this year's UN meetings, can you imagine the impact?
Sign our petition to David Cameron today