'We are fighting together to save the planet'
Sunday, 9 August is International Day of the World's Indigenous Peoples. Our partner Davi Kopenawa Yanomami has dedicated his life to working to ensure that the rights, culture and land of Yanomami and Ye'kuana indigenous people are respected. In 2004, he founded our partner organisation Hutukara Yanomami Association, HAY. In September last year, Davi left his home in the Amazon to visit us here in the UK. He walked with CAFOD pilgrims in Hexham and Newcastle Diocese and met school children in Jarrow. He joined the march in London that launched our One Climate One World Campaign.
This is what Davi has to say about how we can work with his people to build a better future for us all.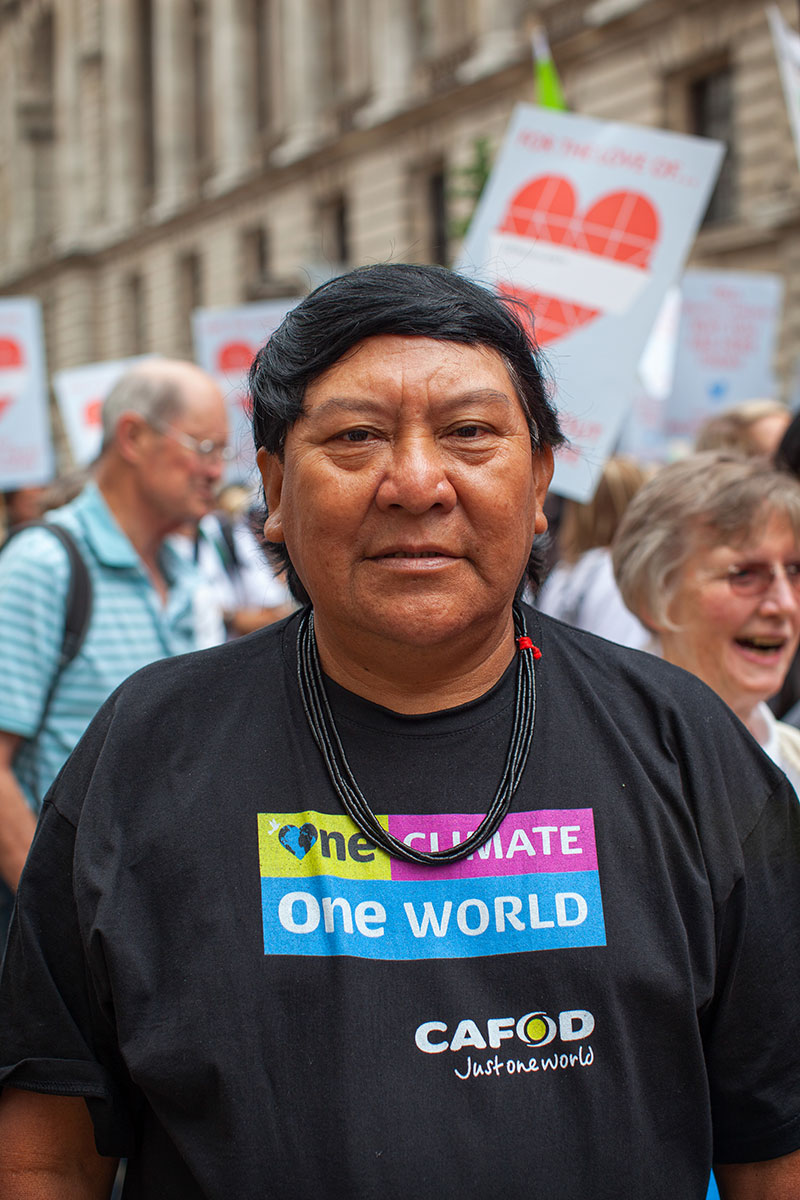 "Hutukara means the World; the World where we live: you and us. Hutukara wants to protect, to preserve the Earth. We want to take care of the streams. Water is a priority. Everything that exists in the planet: the land, water, mountains, trees, the clean air, and we the indigenous people and you, we all live in this World. Hutukara's role is to ensure that the land stays alive for our future and generations to come. Hutukara defends the people, the land, the forest, the rivers, the animals, clean air, health and education. We, the Yanomami people, are the guardians of the forest of our country.
Reflect on care for our common home with our Laudato Si' study guide
Here [in the UK], people have understood. They are worried about the lungs of the planet. So they did something. The indigenous people did something, and the people from here did something. We are fighting together to save the planet. This is very good. It is the first time I have seen a demonstration for our planet. I really liked it.
The role of the Church and CAFOD is really important. The Church can defend indigenous people. It cannot let our land be destroyed. It cannot let our people be destroyed. It cannot let our language, health, traditions, music and dances disappear. The Church can speak on our behalf.
As long as there are Yanomami and our relatives in Brazil and Europe, there will be work to do and we will continue to work and to fight, to speak with other people and with the Government.
Take a look at this short film to learn more about the work of our partner Hutukara Yanomami Association (HAY)  in the Amazon and their efforts to defend our common home:

[youtube https://www.youtube.com/watch?v=t7X9Bw7w8zE]

CAFOD can have campaigns, report rights violations, say when things are wrong. CAFOD can do that. You live far away. We are there in the mountains, but you know that we are there.
The partner of indigenous people is you: CAFOD, Survival International, Rainforest Foundation. You represent our indigenous people here in the city, in the capital. You can talk on TV, talk to other friends, to other politicians, other Governments. You can do demonstrations here in London where there is a Brazilian embassy. You can raise awareness. It is very important that we have friends in the city who watch out for us."
Be inspired by our indigenous partners in Brazil and Speak Up for our common home