Fast Day: Three simple soups to share from our families
CAFOD Writer Mark Chamberlain collects three recipes from his colleagues to share with you in case you need inspiration for your Friday fast. Thank you to everyone involved!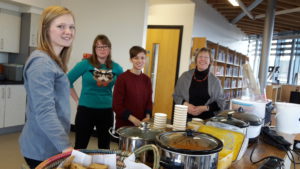 Simple soups are all the rage here at CAFOD this Lent. I sat down with a colleague on Monday and we each shared some. If food was music, his was a clever symphony of kale and spinach. Mine was a panicked free-jazz improvisation on the theme of black beans and veg.
In advance of our fast on Friday together, here are three recipes from my wonderful colleagues' families, just in case you needed inspiration.
Share a simple Fast Day soup lunch and donate what you save
Guillermo's Sopa di frijoles – soup from El Salvador

My colleague, Laura says: "My husband, Guillermo, is from El Salvador. A regular Salvadoran dish in our house is Sopa de Frijoles (bean soup). A large pan of bean soup would always be available in Guillermo's kitchen in El Salvador – with beans eaten every day and at any meal. This simple soup is great comfort food, and allows you to add any additional ingredients and spare vegetables you have at home. The recipe below will keep a family going for a few days."
Ingredients
4lb of Salvadoran red beans or red kidney beans
2 onions (quartered)
4 cloves of garlic (crushed)
Salt
1 chicken stock cube.
Method
Add to a large pan of water, 4lb of Salvadoran red beans (or red kidney beans), 2 onions (quartered), 4 cloves of garlic (crushed), salt and 1 chicken stock cube.
Bring to boil and leave to cook for 3 hours (or until beans are soft). Add meat or vegetables, such as sweetcorn, carrots, yuca (cassava), green beans and courgettes (a British addition for when we have lots of courgettes from the allotment).
Serve with fresh chopped tomato, chopped white onion, lime, grated cheese, single cream (optional) and Salvadoran tortillas.
You can keep the soup for up to a week by bringing the pan to the boil once a day and adding more water. You can also blend some of the beans and have them refried.
Mrs Finn's carrot soup
The cakes Liam brings back from a visit home are the stuff of legend here in Romero House. One made a magical appearance last year near Shrove Tuesday and it was devoured. It's therefore good to see his mum's soup making an appearance.
Ingredients
1 large onion, chopped
2 cloves of garlic, crushed
1 tablespoon of olive oil
450g /1lb carrots, chopped
1 teaspoon of mixed herbs
850ml/ 1 1/2 pints of stock (use a vegetarian stock cube)
140 ml 1/4 pint of soured cream
Salt and pepper.
Method
Liam's mum says: "Saute the chopped onion and garlic in the oil until transparent. Add the carrots, mixed herbs and stock. Bring to the boil and simmer for about 30 minutes until the carrots are soft. Cool a little and then liquidise until smooth. Add the soured cream, season to taste and mix thoroughly. Heat through gently and serve with a bread bun. Don't allow soup to boil after adding the soured cream. Enjoy!"
Give what you can this Lent so our family overseas can support themselves
Sally's mum's parsnip soup
Sally's one of those smart, natural cooks who can make something delicious from any leftover ingredients. I've enjoyed treats she's made before using up whatever's in. I haven't tasted this soup, but I'm sure her genius came from her mum. Just look – five ingredients! Five!
Ingredients
Onion
Butter
Parsnips
Cumin
Stock
Method
Sally's mum says: "I saute an onion in oil or butter (or both) for a few mins, put in chopped (chunks) of parsnip, stir around, put the lid on and let 'sweat' a bit – five mins or so. Add half a teaspoon of cumin and/or the same of curry powder (if you want it) then add enough veg stock to cover the parsnip – you can always add more at the end. Simmer for 10 mins or so till parsnip is cooked, then whizz in blender till smooth. You can put it through a sieve if you think the parsnips may have any woody bits and add more stock till you have the consistency that you want. Add salt and pepper if you haven't used spices."