Warriors against Climate Change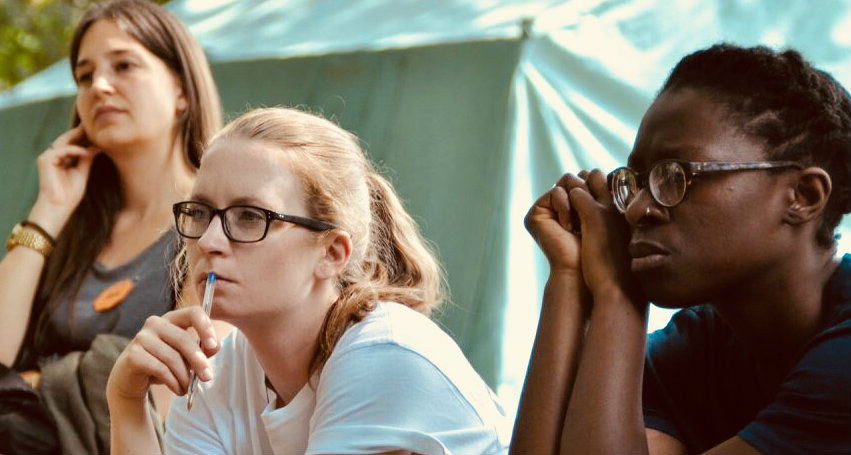 Eighteen CAFOD supporters gathered in Belgium last month at a sustainability camp. They joined other Catholic sister agencies for a one week camp. They got together to reflect on topics related to climate change, ecological living, Laudato Si', activism and sustainability. Bridgid Duffy, a CAFOD Climate Champion, shares with us her experience.  
After a long, hot day of carrying several tents from the UK to Belgium, we reached our destination – Wereldkamp 2018.  We were all invited by CIDSE. CIDSE is an international alliance of Catholic development agencies working together for global justice. The smiling faces of the CIDSE volunteers were the first people to greet us. As soon as we caught sight of the camp, there was an undeniable sense of community. Children were playing football on the dusty ground under the hazy sunshine. The adults were preparing dinner on the peripheries of the magical forest.  In that moment I realized that everyone was there for one common goal: to learn what our role is in creating a more sustainable world. My heart began to race. I knew it was the beginning of a powerful and inspirational week.
Get inspired and become a CAFOD campaigner
A step towards a more sustainable world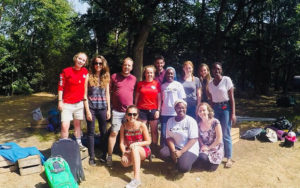 As a CAFOD climate Champion, I decided to go to Belgium because I saw it as an opportunity to meet motivated and like-minded people from around the world. I saw it as a great time to discuss, connect and create the bases for meaningful change for a more sustainable world.
The camp programme was packed full of insightful and enlightening workshops, lectures and debates.  All the talks explored various social themes linked to what happens in our world. However, there were two workshops that I found particularly inspiring and informative. The first was lead by the Pacific Climate warriors, and the organisation Climate Tracker ran the second.
Read more about our Climate Champion scheme
Climate change: a daily reality for the Pacific Islanders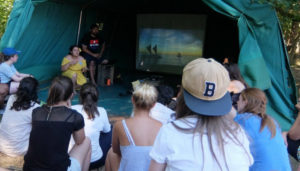 Prior to this camp I had never encountered the Pacific Climate Warriors. Within the first five minutes of their workshop I began to understand how they are such a fundamental part of the global climate change movement. Their organisation is formed through a group of young Pacific Islanders. They come together to empower other young people to fully comprehend the issue of climate change. They explained how their organisation give them the confidence to take action.
I was already aware that a global temperature rise would lead to a sea level rise, but I was astounded to hear first hand that many of the Pacific Islands face losing everything to this. The Warriors really helped me grasp the reality that climate change doesn't just impact the world, but more importantly the people in it.
Every time there is a cyclone, the prevalence of domestic violence and miscarriages increases. I found this incredibly shocking. But for me, the most heart breaking fact was that due to the stress caused by this erratic weather, children are growing up with mental health issues. Children are affected by depression, anxiety problems, and post traumatic stress. Before hearing this, I would not have initially linked climate change to an increase in mental health issues. But now it is at the forefront of my mind for why I believe campaigning about climate change is essential.
Campaign on climate with CAFOD
The need for political decisions on climate change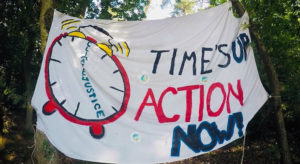 The Warriors provided me with the raw motivation and desperate desire to rush back to the UK and continue campaigning. I got much needed political insight from a workshop run by the organisation Climate Tracker. Climate Tracker is an organisation of young climate journalists from around the world who provide insight into climate action. The Paris agreement was a prominent feature in their workshop. Even though the Paris agreement unites all of the world's nations to tackle climate change for the first time in history, scientists have pointed out that the ambition needs to be raised. The current pledges could still enable global temperature rise by around 3.2C, but with the agreement there is a hopeful vision that we can keep it below a rise of 1.5C.
Make your voice heard on climate change
Climate change has to end with us
The camp gave me three great opportunities: first, I reconnected with nature. Secondly, I made new friends. Last and most significantly, I drew inspiration from all the experts and activists for how I can move forward in the way I continue to campaign. The emotions I experienced during the camp will stay with me for the rest of my life.  It will become the motivation for my campaigning. I felt an irrefutable sense of anger and sadness towards humanity for not taking care of our planet. But towards the end of my time there, I found hope in the smiles and laughter of all the people working so hard to make a change.