"Our needs back home are being considered"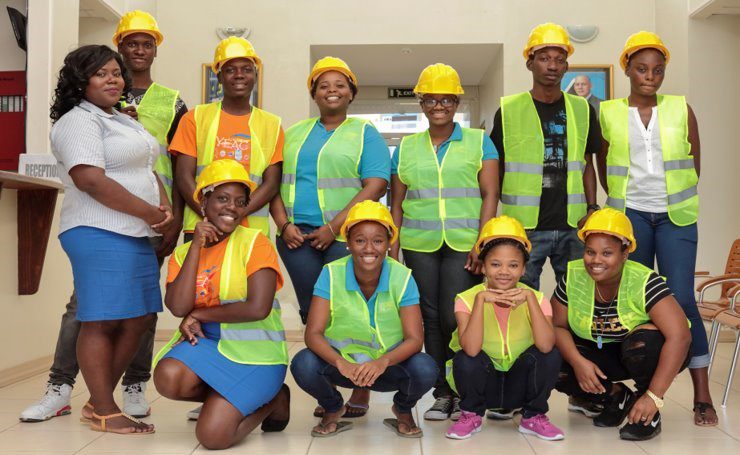 Allie Phillip leads Caritas St Lucia's 'Youth Emergency Action Committees' (YEACs), which help vulnerable communities be their own first responders when disasters strike.
St Lucia is in the 'hurricane belt' of the Caribbean. The YEACs are run by young people who train other community members to be prepared for, mitigate, and manage responses to extreme weather.
Allie also coordinates the Church's regional emergency response and the network of YEACs in the Caribbean. Hurricane Irma in 2017 was a particularly bad hurricane, killing people and destroying communities in 14 countries.
Here, Allie offers Sam from our campaigns team her reflections on her current work, climate change and young people.
Sam: Tell me a little bit about the work you do for Caritas Antilles.
Allister: As a project manager, I am able to work with young people and to help them holistically. I can train them and plan the progression of the projects.
Sam: What is the YEAC and what does it do?
Allister: Youth Emergency Action Committees – there are several of them around St Lucia. We have other YEACs in Jamaica, Grenada and Dominica. They go into their communities to train and inform in CPR and first aid. We provide shelter management and we train them in leadership skills and fire suppression (bucket brigade). Things that will make them resourceful in their communities, because help is not always available from the outside. For example, we have landslides that block and separate communities from each other. The idea is if you have capacity from within you are better able to support people.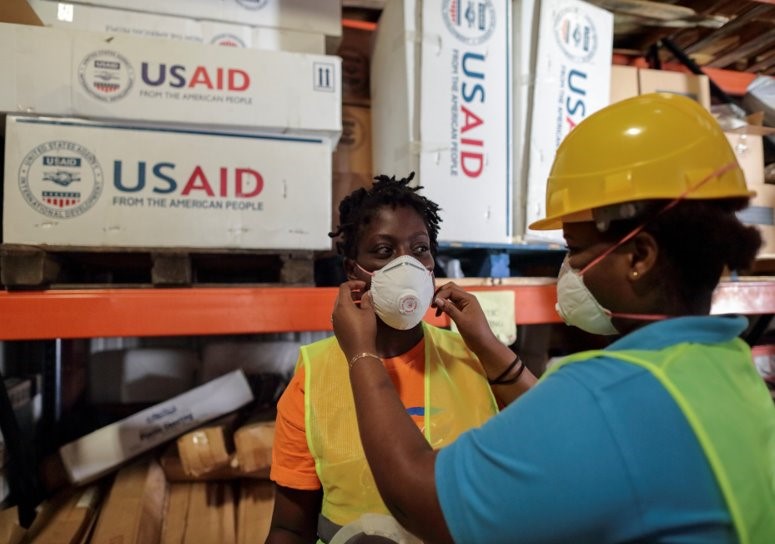 Sam: What about climate change and natural disasters? What kind of things are people in the Caribbean experiencing?
Allister: Hurricanes are more frequent and more intense. We have landslides and earthquakes. It's scary to think that scientists are saying we are overdue for a big earthquake (with possible tsunami as well). Because of climate change we are seeing temperatures rising, so there is an increased possibility of having droughts.
Read more about the Our Common Home campaign
Sam: What type of young people would sign up to YEAC?
Allister: The organisation depends on volunteers. If you look at the bigger picture it is not about the money, it is about doing something for others not yourself. It's about being dedicated; these young people go out on a daily basis with the education that they have received. As a young person you are trained and you hope to impact your colleagues. Having a discussion with your young colleagues will have more of an impact than hearing it from an older person.
Sam: Do they come from a range of backgrounds?
Allister: Yes. We focus on people aged 16-25 but what often happens is younger people are interested as well, so we don't send them away. Our initial targets were vulnerable young people – those who have dropped out of school, those with behavioural issues but it has grown to people who are pursuing higher education and many from middle income households. We still target vulnerable people but we acknowledge volunteerism is a general love and anyone who loves what we do is welcome.
Sam: So, what makes you do the work you do?
Allister: I just love community. I have been inspired to do community work and to be selfless. We are called to do good and we are called to look after our environment, to be considerate of our world and our elderly and the world will be a better place. If you can have this awareness that it's not just me, have the mentality that everyone matters, the environment matters and we could have something there for our children and our children's children. We don't want to wake up 25 years from now and find things like butterflies and bees seem like a fairytale or something we only have in books. That would be sad. It means we have to wake up.
Sam: How was your experience speaking at CAFOD's MP Correspondent reception?
Allister: First of all, the panel of ladies speaking was welcoming. Amid all the grandeur, the experience made me feel important, the ambiance was wonderful. It made me feel that our needs back home are being considered. It made me feel that CAFOD and the team are interested in the voices of those in the Caribbean, those who are being affected most.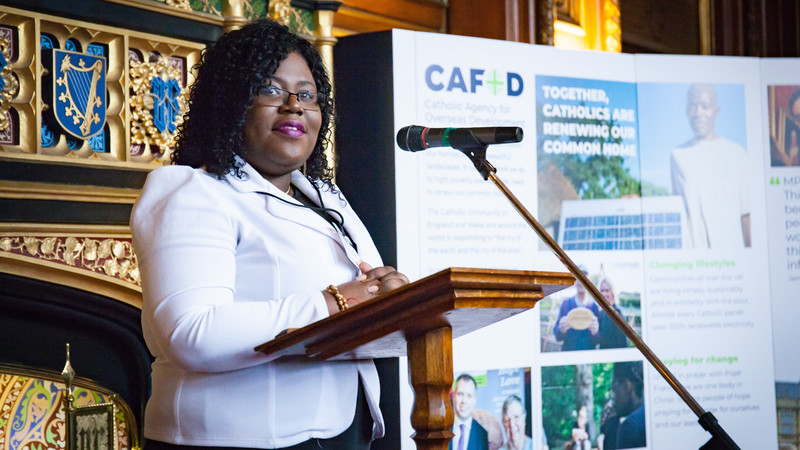 Sam: Speaking of beautiful animals and landscapes, you are from St Lucia. Tell me a little bit about what life is like there.
Allister: St Lucia is breathtaking. The people are very friendly and we have points of interest like the Diamond Falls. You can go hiking and see nature at its best, beautiful sunsets, peace and tranquility….. you can be in awe of God's creation, what He in His infinite wisdom has designed. Unfortunately, the beaches are deteriorating. One thing that shocked me a couple of years ago, I was just strolling around in my community and I saw butterflies over some flowers. I hadn't seen them for a few years, so I used my phone to take a video. Butterflies are scarcer, bees are scarcer. What is happening to the environment? We are being affected. It is a matter of urgency. It is a matter of life and death in the Caribbean. As much as we portray the Caribbean as somewhere that is fun, colourful, it's also what our livelihoods depend on. We depend on tourism. We depend on agriculture. So if a hurricane hits, it impacts tourism and impacts our crops. People lose out on items that they work for, you may work hard to buy things to build a house and it gets destroyed in a hurricane. Imagine losing your family, for hours or days because of an emergency.
Read more about the Our Common Home campaign
Sam: What would you say to young people here in terms of the power they have to affect change?
Allister: You have to believe in yourself and what you are capable of doing, the sky is the limit. You have creativity, vibrancy, you are innovative, you have a lot of the solutions. I mean you are brave, you rally and you petition and are confident in your own skin. What you can do now is to enact change no matter how small it is. Everything you can do now to positively impact the world is welcome. You are the heartbeat.
Sam: For our supporters here in the UK. What is the best way to show solidarity with communities in the Caribbean, particularly in regards to climate change?
Allister: Be advocates. Rally and petition because your voices back here are better able to persuade the politicians, to open their eyes as to what actions or lack of actions cause problems in the Caribbean islands. So if you continue to educate others, sharing experiences, I think that it will be meaningful because you are strong in your numbers and you need to remind the politicians that you want to put them in the position they are in and they have to be held accountable for their actions.
Sam: Thank you very much Ally. It was illuminating to hear your words.