CAFOD: Lampedusa cross carpenter's message of hope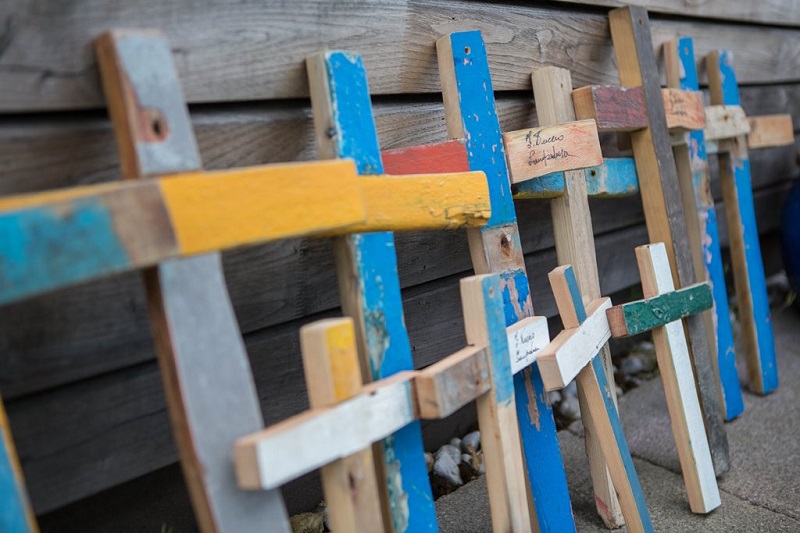 Sicilian carpenter Francesco Tuccio makes rough crosses from the wreckage of boats carrying refugees that sank off the island of Lampedusa to offer to survivors as a symbol of their rescue and a sign of hope. Here, Francesco explains what motivated him to act.
In 2009, refugees started landing on the coast of Lampedusa. We, as residents, got to know the people, the victims and their families. I felt angry that no one was caring about so many tragedies and losses. It was a real injustice.
We were on the front line to help: to welcome refugees, feed them and treat them with respect. I got the impression that for the media they were second-class citizens not worth of attention, not even worth being mentioned in the papers.
I had never witnessed so much suffering in all my life. To see people going through so much pain, seeing mothers losing their children or a husband was very hard. It is difficult to describe how I felt when faced with so many tragedies.
So, as a Catholic inspired by the suffering Jesus Christ went through on the cross, I wanted to create crosses to give hope and a better future to those who were suffering so much. This action has been appreciated by so many people.
Send your own message of hope, inspired by the Lampedusa cross
The wood comes from the boats in which the refugees travel, some are carried to the coast by big sea waves. Most come from boats found and taken to the coast by the helpers who rescue refugees.
I was very pleased when one of the crosses was displayed in the museum. I hope it is a strong signal to encourage people to embrace brotherhood. There is so much need for that.  We are living on this earth on a temporary basis, we all deserve the opportunity to live with dignity.
I hope my crosses can play a role in sharing a strong message for politicians: we need brotherhood and solidarity. I would like everyone to look at the crosses and see all the suffering that our brothers and sisters go through.
I hope that politicians will listen and decide to start acting to relieve the pain of those who are struggling right now. I hope they will establish a process for humanitarian aid to be delivered effectively.
These people risk their lives every day because they are looking for freedom from war and desperation.I hope the crosses will be a strong reminder to everyone of what is happening. No one should forget.
I hope all of us can contribute to helping them. There is still too much indifference. My hope is that things will change for better for them all.