November 22, 2016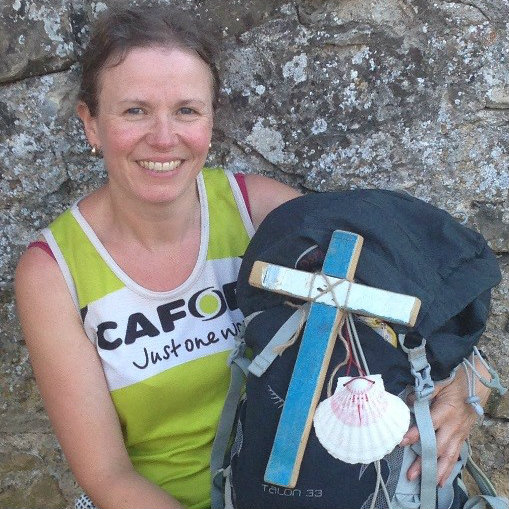 This year, November marks the end of the Extraordinary Jubilee of Mercy. Leah Parker-Turnock spoke to one CAFOD supporter, Judith Tooth, who was inspired by her faith to undertake a pilgrimage along the Camino de Santiago to stand in solidarity with refugees.
Central to Judith's pilgrimage were those affected by the global refugee crisis. "Walking a pilgrimage can be challenging," said Judith. "But it's nothing compared to the perilous journeys so many refugees face. As I walked the long, hot road, I tried to imagine being on such a journey, and, worse, being separated from my four children, not knowing when, or even if, I'd see them again. It was unbearable to think about. And thousands of families are still trying to escape war, poverty and persecution, often only to be met by hostility and further hardship."
Judith carried a special cross on her journey – the Lampedusa cross. In 2013, hundreds of refugees who were fleeing Eritrea and Somalia drowned off the coast of Lampedusa. Francesco Tuccio, a carpenter from the small Italian island, was moved to gather the driftwood from the wrecked boats and turn them into crosses. He offered the crosses to survivors as a symbol of their rescue and a sign of hope.
Learn more about the Lampedusa Cross 
The cross was also a powerful symbol for Judith throughout her pilgrimage: "I fixed the 30cm cross to my backpack along with my scallop shell – the symbol of the pilgrim route. Fellow pilgrims were profoundly moved when I explained to them that the carpenter had offered the crosses he'd made to survivors as a symbol of their rescue and a sign of hope, and that I was carrying one of those crosses to continue that message of hope.
Continue reading "Pilgrim Judith's symbol of suffering is also one of hope"