November 16, 2018
Presenter and reporter Julie Etchingham travelled to Lebanon to see the work of CAFOD partner Caritas Lebanon.
It is Wednesday afternoon and we're sitting on the floor of a shack covered in tarpaulin with eight year old Karim, where he's been living with his family since fleeing Syria.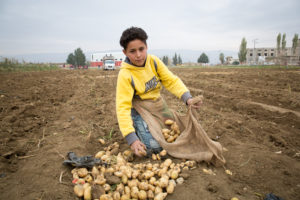 He was up at 6am this morning picking potatoes in the neighbouring field to bring in a few dollars a week for his family. He is a strikingly handsome young boy – bright eyed and smart – and he's sick of having to work.
Help a refugee child Continue reading "Future? What do you mean by future?"